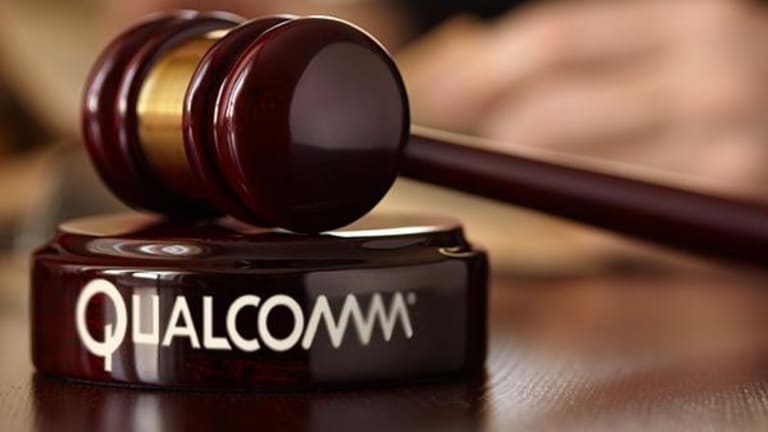 Qualcomm's IP Battle With Apple Intensifies
Days after resolving a dispute with Nokia, Apple's IP war with Qualcomm flares up.
While Apple (AAPL) - Get Apple Inc. Report  recently settled a royalties dispute with Nokia (NOK) - Get Nokia Oyj Report , the iPhone maker's battle with Qualcomm (QCOM) - Get Qualcomm Inc Report is only intensifying.
Qualcomm asked the U.S. District Court in the Southern California to order the contractors that manufacture iPhones and iPads to make good on withheld royalties payments, allegedly at Apple's instruction. The chipmaker also updated its counterclaims against Apple in related litigation.
Qualcomm named manufacturers Foxconn, Compal, Pegatron and Wistron as defendants in its latest litigation.
Apple withheld payments from the contractors and instructed them not to pay Qualcomm, the chipmaker alleges. Further, Qualcomm said that Apple agreed to indemnify its manufacturers against any damages. 
Qualcomm argues that Apple should pay the manufacturers. "But if Apple refuses to do so, defendants should stop manufacturing devices for Apple," pleadings state. "Or defendants should pay the royalties owed to Qualcomm out of their own pockets to be repaid by Apple based on its indemnification promise to Defendants."
In revised counterclaims against Apple, Qualcomm has accused the iconic device maker of abusing its power. "With a market capitalization of more than $800 billion, more than a quarter of a trillion dollars in cash reserves, and a global sphere of influence, Apple has more money and influence than many countries," pleadings state.
"By withholding billions of dollars in royalties so long as Qualcomm defends itself against Apple's claims, Apple is hoping to make litigation unbearable for Qualcomm and, thereby, to extract through a forced settlement what it knows it cannot obtain through judicial process—a below market direct license," the chipmaker states.
Apple was able to resolve a royalties dispute with Nokia, the company said Tuesday. 
The Nokia agreement could strengthen Apple's hand in its dispute with Qualcomm, BMO Capital Markets analyst Tim Long wrote. "For Apple, we believe the settlement comes at a critical time, as it demonstrates a willingness to negotiate fair and reasonable terms for wireless [intellectual property rights]," Long suggested. The fact that it could reach a deal with Nokia arguably demonstrates that Apple is not the intransigent power that Qualcomm describes in pleadings.
Apple referred to an April statement in which the company said, "Qualcomm's demands are unreasonable and they have been charging higher rates based on our innovation, not their own."
During the iPhone maker's second-quarter earnings call in early May, Tim Cook expanded on the suggestion that Qualcomm seeks payment for Apple's work. "They do some really great work around standards-essential patents, but it's one small part of what an iPhone is," Cook said. "It has nothing do with the display or the Touch ID or a gazillion other innovations that Apple has done."
Meanwhile, anticipation builds for the launch of the ten-year anniversary iPhone later this year. Jim Cramer and the Action Alert Plus team suggest that Apple shares will appreciate as the iPhone 8 nears. Get a free trial subscription to Action Alerts PLUS.
Qualcomm questions just how much Apple deserves the iPhone profits and the resulting quarter-of-a-trillion-dollar cash stockpile.
"In recent years, Apple has captured upwards of 90 percent of all profits in the smartphone industry," Qualcomm argues in pleadings. "But Apple achieved its success without contributing much, if anything, to the innovations at the heart of cellular communications."
Read More Trending Articles:
Ulta Beauty Rips to an All-Time High After Strong Quarter -- Here's the Trade
Best Buy's Stock Blows Up After Massive Earnings Beat - What You Must Know Now