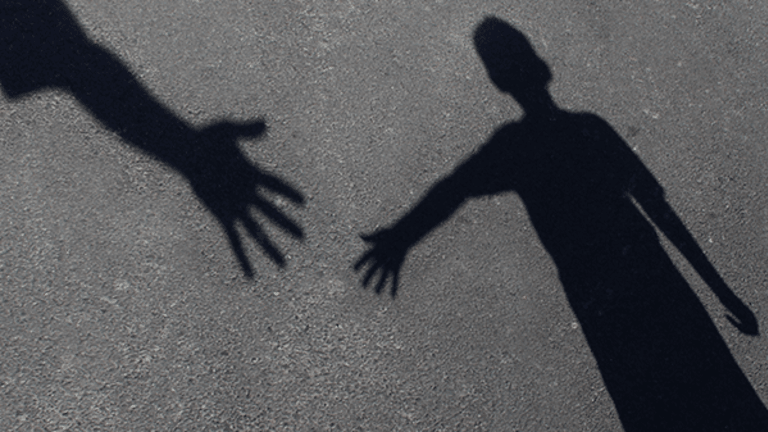 Qualcomm's Bitter Dispute With Apple Is Overshadowing Everything Else
What you need to know.
With good reason, Qualcomm Inc.'s (QCOM) - Get Qualcomm Inc Reportroyalty dispute with Apple Inc.  (AAPL) - Get Apple Inc. Report has often been framed as an existential one for a patent-licensing business that still accounts for a solid majority of its profits.
The escalation of a dispute with another, unnamed, Qualcomm licensee (possibly Samsung), and its impact on Qualcomm's guidance, just might drive the point home.
After the bell on Wednesday, Qualcomm reported June quarter (fiscal third quarter) revenue of $5.3 billion (down 12% annually) and adjusted EPS of $0.83 (down 28%), slightly topping consensus analyst estimates of $5.26 billion and $0.81.
With Qualcomm having slashed its quarterly guidance on April 28 in response to news Apple's contract manufacturers were no longer paying royalties owed under licensing deals, expectations were low.
September quarter sales guidance, buoyed by healthy chip demand, is set at a range of $5.4 billion to $6.2 billion (down 13% to flat), above a $5.48 billion consensus at the midpoint. But adjusted EPS guidance, stung by an expected 31% to 47% decline in licensing revenue that carries much higher margins than chip revenue, is at $0.75 to $0.85 -- below a $0.90 consensus.
Shares fell 1.7% in after-hours trading to $55.82. They're now down 15% on the year.
Qualcomm notes its guidance assumes no royalty payments on 3G/4G device sales from either Apple or the other major licensee it's at odds with. Three months ago, Qualcomm noted the other licensee only paid some of the royalties it was owed during the March quarter, and that this had a $150 million revenue impact. The company now says the licensee paid no royalties during the June quarter, and is thus assuming no payments will be made for the September quarter.
For now, Qualcomm, whose legal team clearly has its hands full already, is holding off on suing this licensee, and hoping it can negotiate a resolution.
One has to wonder if the no-holds-barred nature of Qualcomm's dispute with Apple is emboldening the other licensee. With Apple halting royalty payments and insisting that it should only pay royalties based on a percentage of the selling price of the 3G/4G modem going into a device (rather than the price at which contract manufacturers sell Apple an iPhone), the other licensee, which likely pays royalties based on its device sale price (subject to a cap), might feel more comfortable about halting its own payments. The fact Qualcomm is also dealing with regulatory disputes or probes involving U.S., EU and South Korean authorities over its licensing practices might also be playing a role here.
Qualcomm, aware of the stakes, has been pretty aggressive with its legal tactics against Apple. The company has sued both Apple and its contract manufacturers, has requested an ITC import ban on iPhones containing Intel Corp. (INTC) - Get Intel Corporation Reportmodems (but not ones containing Qualcomm modems) and recently filed suit against Apple and requested import bans in Germany, a locale that has historically been a friendly one for patent-suit plaintiffs.
However, the battle will take a while to play out. The ITC suit isn't expected to be tried until 2018, and Qualcomm thinks an outcome is likely for its German suits "in approximately 12 months." In the meantime, Qualcomm's licensing revenue is taking a big hit, and its legal expenses are surging.
Due to steep litigation expenses and 5G-related investments, Qualcomm's adjusted R&D and SG&A spend rose 6% sequentially last quarter, topping a guidance midpoint of 3%, and are forecast to rise another 1% to 3% sequentially this quarter. On the bright side, with the Apple dispute lowering the amount of heavily taxed U.S. profits Qualcomm records, Qualcomm only recorded a 5% adjusted tax rate last quarter.
The licensing issues are overshadowing what are generally solid numbers for Qualcomm's chip unit (QCT). Though MSM modem/app processor shipments fell 7% annually to 187 million and missed the midpoint of a guidance range of 180 million to 200 million -- Qualcomm blames weak shipments into the low-end and mid-range phone markets -- QCT revenue rose 5% to $4.05 billion, beating a $3.9 billion consensus.
Tech analyst Patrick Moorhead calls Qualcomm's ability to beat estimates despite its licensing woes a testament to the improved position of its chip business. He also thinks the business maintains a technology lead for both 4G and 5G modems, albeit while adding that "very credible competitors" exist in the fixed-wireless 5G market.
Strong sales of Qualcomm's Snapdragon 835 flagship processor -- used by some Galaxy S8 models, and also found in other high-end Android devices -- gave QCT a boost last quarter. So did share gains with Chinese OEMs, aided by Qualcomm's 4G modem edge relative to Asian rivals such as MediaTek and Spreadtrum.
The business also benefited from burgeoning sales of processors, modems and connectivity chips into non-phone markets such as cars, IoT devices and Wi-Fi access points. Qualcomm, which recorded $2.4 billion in non-phone chip sales in fiscal 2016 (ended last September), expects its sales related to such "adjacent opportunities" to grow over 25% in fiscal 2017. The company's pending acquisition of Dutch chipmaker NXP Semiconductor NV (NXPI) - Get NXP Semiconductors NV Report will of course significantly grow its non-phone exposure.
Jim Cramer and the AAP team hold positions in Apple and NXP for their Action Alerts PLUS Charitable Trust Portfolio. Want to be alerted before Cramer buys or sells AAPL or NXPI? Learn more now.
Some 205 million to 225 million MSM chips are expected to be shipped in the September quarter. Though this only implies shipments will be down 3% to up 7%, it's above a consensus estimate of 198 million, and backs up a June Bloomberg report stating that Apple will rely on both Qualcomm and Intel modems for this year's iPhones, just as it did for the iPhone 7. Apple might only be doing this because (per Bloomberg) an Intel modem that supports the 3G EV-DO networks used by Verizon, Sprint and a few overseas carriers won't be ready in time, but this is a moot point as far as Qualcomm's bottom line is concerned.
Nonetheless, even with Qualcomm shares already trading at multiples that are pretty depressed after factoring the potential of a very accretive NXP deal, licensing worries are overshadowing everything else for investors following the June quarter report. Markets hate uncertainty, and with the company's latest disclosures, the uncertainty surrounding Qualcomm's most profitable business just grew a little more.
More of What's Trending on TheStreet:
Amazon Faces a Potential Existential Threat That Could Hammer Its Shares, Doug Kass Reveals
What's the Fallout From Chipotle's Latest Food Safety Concern? Who Knows?!
Honda Finally Makes a Cool-Looking Accord Sedan Because Everyone in America Is Buying SUVs
Facebook Exec Campbell Brown: We Are Launching a News Subscription Product
Stock Market Bulls Are Wrong and It Could End Badly