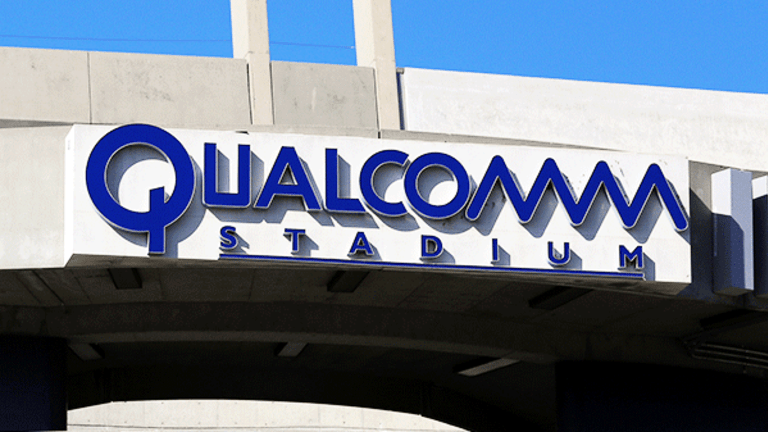 Qualcomm Looks Like It's Digging In for a Long and Costly Battle With Apple
The chip giant's quarterly revenues weren't terrible, but it's clear that its skirmishes with Apple and the FTC are taking precedence.
This article originally appeared on Real Money on Jan. 25, 2017.
No one can accuse Qualcomm's (QCOM) - Get Qualcomm Inc Report management of ignoring what's on investors' minds: The company dedicated a huge portion of the prepared remarks on its earnings call to discussing the legal disputes it's now embroiled in with the U.S. FTC, South Korea's Fair Trade Commission (the KFTC) and especially Apple (AAPL) - Get Apple Inc. Report. And it can't be accused of backing away from a fight with a major client: Qualcomm went to lengths to counter the claims Apple just made while suing Qualcomm for $1 billion and demanding big licensing practice changes.
But Qualcomm's remarks and responses to analyst questions didn't do much to soothe fears that the company is in for a prolonged fight that has the chance to upend some of the business practices of a licensing business that (at least prior to the pending NXP Semiconductor (NXPI) - Get NXP Semiconductors NV Report acquisition) produces well over half of its operating profit. And with the company's results and guidance merely ho-hum, its shares continue to take a beating.
Shares were down more than 5% on Thursday, which leaves them around 20% below where they traded before the FTC announced on Jan. 17 that it's filing antitrust charges against Qualcomm. The lion's share of the losses came after Apple announced its lawsuit on Jan. 20.
On its call, the company reported fiscal first-quarter revenue of $5.99 billion (up 4% annually) and adjusted EPS of $1.19. The latter slightly beat a $1.18 consensus analyst estimate with the help of margin improvements, but the former missed a $6.11 billion consensus. Q2 guidance is roughly in-line: Revenue of $5.5 billion to $6.3 billion (down 1% to up 13%) and EPS of $1.15 to $1.25 versus a consensus of $5.93 billion and $1.19.
Softer-than-expected chip division (QCT) sales of $4.1 billion (below a $4.2 billion consensus and flat annually) led to the revenue miss. The shortfall came even though Qualcomm reported 217 MSM chip shipments, down 10% but topping a guidance midpoint of 215 million. Samsung's Galaxy Note 7 mess may have been responsible, by hurting sales of Qualcomm's high-end Snapdragon 820 processor and leading its MSM sales mix to shift toward the low-end.
Apple and NXP are holdings in Jim Cramer'sAction Alerts PLUS Charitable Trust Portfolio. Want to be alerted before Cramer buys or sells AAPL or NXPI? Learn more now.
MSM shipments are expected to be down 2% to 13% annually in Q2: Apple's decision to partly use Intel (INTC) - Get Intel Corporation Report modems in the iPhone 7 continues to weigh, and a relatively late Galaxy S8 launch might also be playing a role. Samsung recently confirmed the S8, unlike its predecessors, won't be unveiled at the Mobile World Congress, which runs from Feb.27 to March 2. Some S8 models are expected to use the Snapdragon 835, Qualcomm's latest flagship processor.
On the other hand, Qualcomm's licensing division (QTL) expects to see reported device sales (on which it collects royalties) to rise 6% to 17% annually in Q2, after growing 4% in Q1. New licensing deals with Chinese phone makers continue providing a tailwind; a dispute with Meizu was settled in late December. Qualcomm estimates it's now collecting royalties on about 80% of 3G and 4G device sales from Chinese OEMs.
Of course, QTL wouldn't see positive revenue growth if iPhone-related royalties came to a halt due to the Apple dispute, something that isn't the case for the time being. Qualcomm noted Apple contract manufacturers such as Foxconn -- responsible for iPhone royalties at relatively low ASPs thanks to a loophole -- continue to pay. However, it couldn't make any promises that this will continue as the legal battle goes on.
Qualcomm also indicated it was seeking to directly license Apple before Apple's lawsuit was filed, and that it has patents that aren't covered by its licensing deals with the contract manufacturers (potentially ammo for a countersuit). It also didn't directly respond to an analyst question about whether estimates that it would take a 25% to 30% EPS hit if Apple royalties stopped were accurate. Instead, the company just reiterated it gets 40% of its revenue (chips + licensing) from Apple and Samsung.
Meanwhile, Qualcomm's combative response to Apple's legal claims suggests it's digging in for a lengthy battle, during which there's no guarantee its current iPhone-related chip and licensing streams won't be affected. Among other things, the company argued Apple's insistence on wanting royalties to be based on chip sales rather than device sales runs counter to industry norms, that it's justified in collecting higher royalties for more expensive iPhones since their features are made more valuable by Qualcomm's 3G/4G IP and that it's not required to license standards-essential patents (SEPs) at the component level.
Qualcomm also denies the payments it has recently withheld from Apple (alleged to be royalty kickbacks given in exchange for using Qualcomm's modems) are retaliation for Apple cooperating with regulators against the company, and that it has never stopped Apple from turning to a third-party modem supplier such as Intel. It went as far as to accuse Apple of making "irresponsible claims of extortion," and said it looked forward to a legal discovery process that would shine a light on Apple's business practices.
There are two problems here. One is that Qualcomm's arguments aren't quite a full refutation of Apple's claims. Among other things, Apple also argued Qualcomm refuses to supply chips to phone makers who don't agree to its inflated royalty rates, and that some of the patents it declares to be standards-essential aren't.
The other issue is that some of the arguments made by Apple -- both ones that were and weren't refuted by Qualcomm on the call -- are also being made by U.S. and Korean regulators, and mulled by EU regulators. To defend its current, highly lucrative, licensing model, Qualcomm may have to score victories in several different courts.
Thus, it looks as if many of those who listened to Qualcomm's call didn't leave feeling as if their main concerns about the company's legal battles had been addressed, which is leading to further pressure on shares. A lot has already been priced in, and there are reasons to think a doomsday scenario won't play out. But there's also quite a lot at stake.