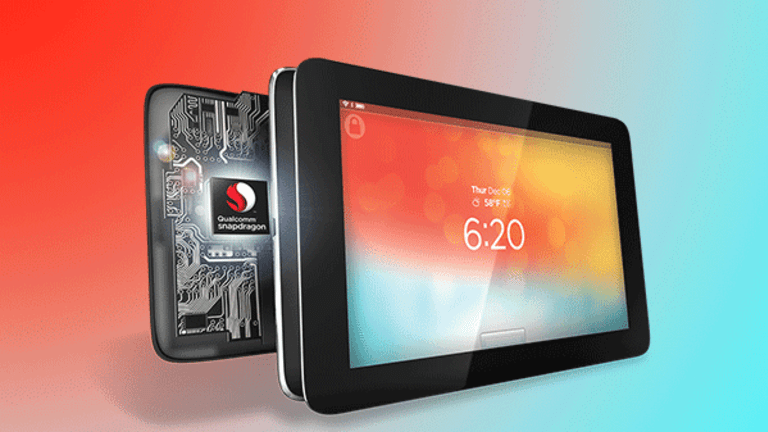 Qualcomm Has Been Brutally Beaten Up, but Is Surprisingly Easy to Own Here
Here comes earnings.
Shares of Qualcomm (QCOM) - Get Free Reportwere climbing by more than 2% during afternoon trading on Wednesday ahead of the company's fiscal 2017 first-quarter earnings results, due out after the close.
Analysts expect the semiconductor company to report earnings of $1.18 a share on $6.12 billion in revenue. For the same period last year, Qualcomm posted earnings of 97 cents a share on $5.77 billion in revenue.
However, casting a significant shadow over Qualcomm's earnings is that fact that the stock has been brutally beaten up at the start of 2017. Shares are lower by more than 14% on a $1 billion lawsuit fromApple (AAPL) - Get Free Report , and a separate suit from the FTC.
"To historians of the stock, [the Apple suit] is going to look a little reminiscent of the Broadcom (AVGO) - Get Free Reportlitigation from about 12 years ago. Guess what? Qualcomm navigated through that," Lebenthal Asset Management CEO Jim Lebenthal said on CNBC's "Halftime Report" on Wednesday afternoon.
Lebenthal contended that Qualcomm has overcome litigation issues in the past, and sees no reason why it can't again.
"I think what you are going to see in the earnings tonight is improvements from China, which have been going on for a year now," he asserted. "And a pickup in royalties from Korea, where they had some holdbacks this time a year ago that are going to make the comps very favorable."
Qualcomm's valuation currently is "so forgiving" that the downside is minimal, Lebenthal said. "Qualcomm is easy to own here."
(Qualcomm is held in David Peltier's Dividend Stock Advisor portfolio. See all of his holdings with afree trial.)