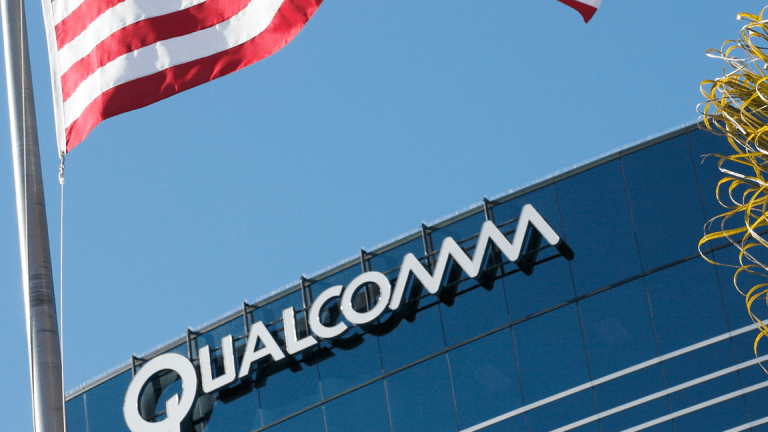 Qualcomm Continues Legal Battle With Apple, Files Suit Over Software License
The suit is the latest development in what has been a lengthy legal battle between Apple and Qualcomm.
Once again, it's  (AAPL) - Get Apple Inc. (AAPL) Report  vs. Qualcomm (QCOM) - Get QUALCOMM Incorporated Report  .  
Qualcomm has sued Apple, alleging that the iPhone maker violated the terms of a software license, adding that it may have utilized its unprecedented access to that code to support Qualcomm-rival Intel (INTC) - Get Intel Corporation (INTC) Report , according to a report in Bloommberg.
Qualcomm filed the suit against Apple in California state court in San Diego
Shares of Qualcomm were rising over 2.5% while shares of Apple were higher nearly 1% in afternoon trading on Thursday. 
The suit is the latest development in what has been a lengthy legal battle between Apple and Qualcomm. In January Apple first filed a $1 billion lawsuit against Qualcomm, alleging it commanded "royalties that they had nothing to do with."
Apple then filed a second lawsuit in China against Qualcomm for $145 million over patent-related disputes. Apple then levied a third lawsuit against the chipmaker in the U.K. in March over patent and design disputes.
In April, Qualcomm countersued Apple claiming that Apple "chose not to utilize certain high-performance features of the Qualcomm chipsets for the iPhone 7 (preventing consumers from enjoying the full extent of Qualcomm's innovation)."
Then in July, Qualcomm filed complaints in the U.S. District Court for the Southern District of California and with the United States International Trade Commission, seeking the ban of iPhone imports.
Qualcomm argued that Apple has allegedly infringed on six of its patents that improve iPhone performance and battery life, and wants it to pay damages.
"Apple continues to use Qualcomm's technology while refusing to pay for it," Don Rosenberg, executive VP and general counsel of Qualcomm, said in a statement.
In October, Qualcomm expanded its attack and launched a new lawsuit seeking the ban of iPhone sales in China.
This week, reports indicated that Apple would develop 2018 iPhones and iPads that don't use Qualcomm modems. The Wall Street Journal noted Apple plans to instead rely on modems from Intel.
More of What's Trending on TheStreet: