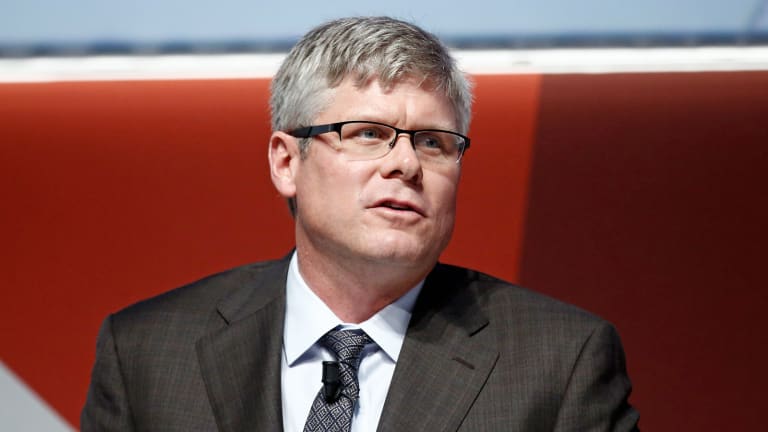 Qualcomm CEO: We Will Be Successful Against Apple
Steven Mollenkopf discusses Qualcomm's planned acquisition of NXP, the latest in its pricing dispute with Apple and his high hopes for 5G.
Steven Mollenkopf discusses Qualcomm's planned acquisition of NXP, the latest in its pricing dispute with Apple and his high hopes for 5G.
Even as a series of anti-trust investigations and an ugly pricing dispute with Apple Inc. (AAPL) - Get Report threaten its lucrative licensing business, Qualcomm Inc. (QCOM) - Get Report is looking aggressively ahead to its future opportunities.
Chief among them, of course, is its planned acquisition of NXP Semiconductors  (NXPI) - Get Report , the leader in producing chips for the automotive industry. That deal, which was first announced last October, is receiving significant pressure from activists and investors who want Qualcomm to improve upon its offer of $110-per-share.
But the chip giant, which retains lucrative patents on the technologies that allow smartphones to access data from cellular networks, is also betting heavily that 5G, the next major digital wireless technology, will present a host of enormous new opportunities, particularly in the automotive, industrial and health industries.
The antri-trust investigations and disputes with Apple and at least one other major cell phone maker have taken some wind out of Qualcomm's sails, with its stock price declining about 22% in the past year. But its CEO, Steven Mollenkopf, who took over the company from the founder's son in 2014, is nothing if not an optimist.
TheStreet spoke with Mollenkopf recently about the status of the NXPI deal, its battle with Apple and hopes for 5G, what he thinks of the iPhone X and more. What follows is an edited and condensed version of the interview.
TheStreet: Where is Qualcomm right now with the transition to connected car technology?
Mollenkopf: When you look at the company, the strategy is essentially to take the scale and IP roadmap from mobile and to spread it into new markets. And we are doing that. There are basically several technologies that are going into the car. One is that the car is connected, it's smarter. We have a very strong position in connectivity. We now have a pretty strong pipeline in the infotainment side. Once we add NXP, we will probably have the largest portfolio of electronics that go into the car at a time in which the car is seeing dramatic architectural change. 
TheStreet: How far away are we from connecting cars to other cars? Is it just a pipe dream?
Mollenkopf: The technology is really there. It's now just in the regulatory domain. We have been pushing cellular bands. There is an alternative technology, that is to use a wifi derivative technology -- we have both. We think ultimately the advantages of having the cars managed and connected through a very robust, well-designed architecture is key. Nobody argues that cars shouldn't be connected to one another. You don't put a plane into the air without connecting it to other planes. 
TheStreet: Is Qualcomm involved in the regulatory aspect of this?
Mollenkopf: Yes. We tend to be the running blocker for the rest of the industry, making sure the frequency standards are allocated in a certain way and ensuring people get access to the technology. The key pieces at the ecosystem level to make these technologies real worldwide are what Qualcomm does. 
TheStreet: Regarding the NXP deal, do you still expect it to close at the end of the year?
Mollenkopf: We haven't really seen anything we didn't expect to see. Obviously it's a big deal, with a lot of pieces. We expect to close the deal by the end of the year. We are very happy in terms of what we see in the potential. Of course we don't know everything, but we are pleased with how it's progressing so far. 
TheStreet: Have you been in contact with Elliott Management about their thoughts on Qualcomm increasing the price of the deal?
Mollenkopf: Not really. We hear from our shareholder base, and are focused on integration planning. 
TheStreet: Adding NXP would be a fundamental change for Qualcomm, no?
Mollenkopf: I wouldn't view NXP as a tremendous change in strategy; it's an acceleration of a strategy that already is in place. It will accelerate our ability to deliver strategies into these developing markets. In automobile, we will get all the pieces of the car we were missing and we patch some of the areas. In Internet-of-Things and security, it's really about how we can sell to multiple customers at the same time. 
We will be a much larger at-scale provider to multiple industries at the same time. It's timed well because it's happening when 5G is happening. 5G is really the first 'G' transition where a significant benefit will occur in an industry that isn't cellular. There will be huge benefits to the cellular and telecom industries. But huge benefits will also be seen in industries that don't use cellular today. For example, we have data that estimates 20% of the impact of 5G will be in the auto space.
TheStreet: How big is 5G in China going to be?
Mollenkopf: If you look at China's approach to 5G compared to 3G and 4G, the biggest difference is that they want to go at the same time as the rest of the world. Before, they really didn't. I think part of that is that they realize how important it is for their existing industries, but also the ability to connect things is such an important part of industrial policy and developing industries. The Internet-of-things and industrial, just the things you can get out of things is a big deal. For an economy the size of China, you want to take advantage of that quickly. 
TheStreet: How did China handle the transitions to 3G and 4GS?
Mollenkopf: China tended to take a position where they had a regional standard. They almost took a wait-and-see approach. 
TheStreet: What other industries besides cars will 5G have the most impact on?
Mollenkopf: I think you will see it in industrial. Every industrial company is trying to figure out a digital strategy. This will be a large opportunity. Connected healthcare, remote delivery of healthcare, mission-critical services are other areas. This is probably not something you will see on day one, but it illustrates the concept. For instance, if you put a pacemaker in the cloud what type of network and connectivity will you need to provide that level of important service. 
TheStreet: Your pacemaker in the cloud? That sounds scary.
Mollenkopf: I think you will see wearable medical devices improve the quality of life and efficiency of delivering healthcare. You will see the science of healthcare dramatically increase because you are essentially applying big data to something you don't have big data on. It's strange we have all this car data, but you don't have it for yourself. Once we get this, it will have dramatic benefits for society. 
What that means to Qualcomm is: we are relevant in many more industries. 
TheStreet: Where do things stand with your licensing disputes with Apple?
Mollenkopf: I would say we have both stated our positions. We are in the process of executing the legal strategies on both sides. I like to describe it as if you are watching a movie and you only watch five minutes of the movie, you really can't tell what's going on with the plot. That's probably what people are seeing. But at the end, we are defending our existing contract that we have had in place for a very long time. We think we will be successful. We think it will take time to do that. We were pleased to get such a fast trial timeline. 
We have a business model that we think has a record that is pretty clear. It allows for a lot of competition and easy ability for people to get into this industry. We think we will be able to defend that. We have a lot of confidence, but it will take some time. 
TheStreet: Is the very foundation of Qualcomm being challenged here?
Mollenkopf: We have two big businesses in Qualcomm. The product business, the semiconductor business, which I think people forget is doing pretty well and is growing into new markets. On the licensing business, you are really just looking at a pricing dispute about the cost of IP. It just takes a while to defend those pricing numbers. We have been doing this for a long time, and haven't really heard any new arguments. 
TheStreet: Do you think we've reached peak smartphone?
Mollenkopf: We still project growth in the handset market. Not just unit growth, but value growth. I think people have been under-calling how strong the average selling prices of smartphones have held up in the U.S. and worldwide. It isn't growing at the same rate it grew let's say when no one had a smartphone and they were getting one. It's natural for a company like us to be looking for other sources of growth. 
TheStreet: How do you think the iPhone X will do?
Mollenkopf: Well, it's hard to say. There seems like there is a lot of excitement about it. We always like upgrade cycles. But I think there is a significant amount of innovation still going into phones broadly. We think this theme will continue.
TheStreet: There have been lots of reports of culture problems in Silicon Valley nowadays, but not necessarily from the older tech companies. What is going on?
Mollenkopf: I consider ourselves as having one foot in old tech, one foot in new tech. It's a great advantage because we can talk to an auto company or Facebook (FB) - Get Report . We have a strong culture and people with longevity. The company is 32 years old, I have been there 24 years. I am only the third CEO. I view myself as having a connection to the founders and the culture of the founders, which is a good culture. I think also it's beneficial that we have gone through some challenging periods. Not the super hard ones that kill you, but hard enough where you have to re-up on the culture. That's actually healthy as a company. 
TheStreet: Can these issues be solved?
Mollenkopf: Look, I am pretty optimistic. You don't go into business if you aren't super optimistic. I think these things will get solved. The market is pretty efficient at getting these things solved. 
TheStreet: You mentioned car companies -- are automakers finally more receptive to tech companies? 
Mollenkopf: Very much so. I think they get a bad rap for innovation, but they do a tremendous amount of really good stuff in the tech world. Their areas of emphasis are different. You think about production life, not necessarily things like developing the cloud. It's amazing how safe cars really are. If you look at the self-driving technology, it's companies in the old car space doing great stuff. 
We feel like we are being embraced. The reason is they know if the car doesn't look like it does at the Consumer Electrics Show, it probably won't be relevant after some period of time. We are a good partner to help. 
TheStreet: How far away are we from seeing self-driving cars on a mass scale?
Mollenkopf: I think it's farther away than people think. People are talking about it and doing some great things. But it doesn't interact with your daily life. But a lot of safety features that are on the way to driverless cars, like driver assistance, have improved tremendously. One thing you will see [sooner] is self-parking cars -- like a valet feature. You drive in, and [your car] parks itself. 
You should also think of cars as not just ferrying around people. The whole idea of logistics and shipping goods will be about smart and connected vehicles. 
Facebook, Apple and NXP are holdings in Jim Cramer's Action Alerts PLUS Charitable Trust Portfolio. Want to be alerted before Cramer buys or sells FB, AAPL and NXP? Learn more now.
More of What's Trending on TheStreet: