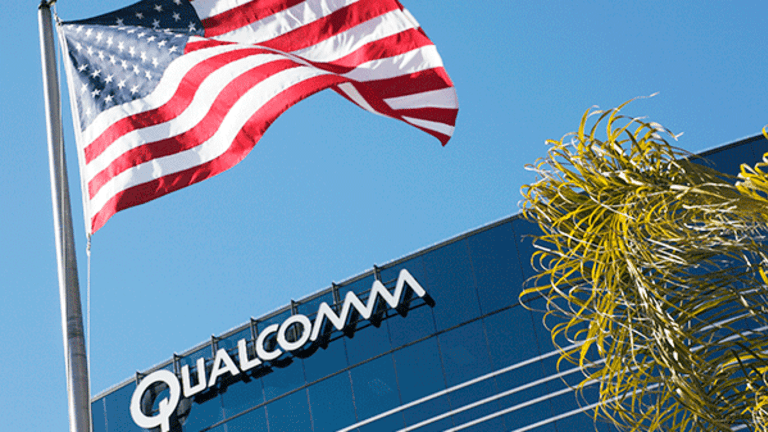 Qualcomm and the FTC Both Have Some Explaining to Do
Some of the FTC's allegations against Qualcomm are questionable. But other claims are more worrisome, particularly given that foreign regulators have made them as well.
If the $853 million fineQualcomm (QCOM) - Get Qualcomm Inc Report was assessed by South Korean regulators last month over its patent-licensing practices arguably showed why it's in the company's interests to diversify by acquiring NXP Semiconductor (NXPI) - Get NXP Semiconductors NV Report, the antitrust charges just brought by the FTC do so even more emphatically.
The company's core mobile chip and licensing businesses, while at no risk of collapsing, is now facing a host of regulatory, competitive and growth pressures that are bound to make life challenging in the coming years.
That said, while some of the FTC's charges against Qualcomm could lead to a large fine and/or business practice changes, others appear to be on shakier ground. And there's a chance that a pending leadership change at the Commission could result in the case being dropped or Qualcomm getting off with a slap on the wrist.
Much like the case brought by Korean regulators, as well as the probe being conducted by EU authorities, the FTC's suit against Qualcomm has much to do with the ties between the company's chip and licensing operations. In a partially redacted complaint, the Commission alleges:
Qualcomm would only supply its baseband modems to phone makers that agreed to its "preferred" license terms, and that those using modems for rival suppliers had to "pay elevated royalties to Qualcomm" for the privilege. As a result, the Commission thinks Qualcomm has been able to achieve royalty rates well above what it could be expected to get via the fair, reasonable and non-discriminatory (FRAND) licensing terms agreed to by other owners of standards-essential mobile patents.
Qualcomm has refused to license its standards-essential patents to rival baseband modem makers such as Intel (INTC) - Get Intel Corporation Report and Samsung. As a result, these rivals can't convey the rights to Qualcomm's mobile patents to their customers, which in turn gives Qualcomm leverage in its licensing talks with those customers.
From 2011 to 2016, Qualcomm had a modem exclusivity deal in place with Apple (AAPL) - Get Apple Inc. Report. This deal involved Qualcomm providing "billions of dollars in conditional rebates" to Apple that amounted to partial royalty relief, in exchange for Apple solely using Qualcomm modems within iPhones and iPads.
The FTC concludes by declaring Qualcomm has "monopolized" the 3G EV-DO (CDMA) and 4G LTE baseband modem markets, and that its licensing deals and supply agreements with phone makers amount to an "unreasonable restraint of trade." It calls on a Northern California federal court to issue a permanent injunction against these perceived violations, and to "order ancillary equitable relief."
Qualcomm's shares fell 4% on the news on Tuesday. They're up 1.1% today following analyst defenses of the company. Chances are that Tuesday's decline would've been larger if not for the pending $47 billion NXP deal, which lowers Qualcomm's dependence on mobile baseband and royalty revenue streams.
NXP and Apple are holdings in Jim Cramer's Action Alerts PLUS Charitable Trust Portfolio. Want to be alerted before Cramer buys or sells NXPI or AAPL? Learn more now.
Qualcomm was quick to respond to the suit, declaring it's "based on a flawed legal theory, a lack of economic support and significant misconceptions about the mobile technology industry." The company insists it "never withheld or threatened to withhold chip supply in order to obtain agreement to unfair or unreasonable licensing terms."
In Qualcomm's defense, the company does face credible 3G/4G modem competition. As the FTC admits, Apple began partly relying on Intel for its iPhone modem needs last year, via the iPhone 7 launch. Taiwan's MediaTek and China's Spreadtrum supply a number of Chinese phone makers, and Samsung partly uses its own 4G modems within its phones. If Qualcomm is indeed providing royalty kickbacks in exchange for the exclusive use of its chips, and charging "elevated" royalties on sales of phones using rival modems, the strategy has only been modestly successful.
At the same time, charging higher royalty rates on sales of phones that don't feature Qualcomm modems would -- assuming the FTC's claims are accurate -- appear to be an antitrust violation. If the difference in royalty rates is significant -- Qualcomm often keeps details about its licensing deals under wraps -- changes in licensing agreements that remove this "tax" on the use of rival products would ding Qualcomm's royalty income, which still accounts for a majority of its operating profit.
And perhaps more importantly, the FTC's claim that Qualcomm doesn't grant rivals standards-essential patent licenses that allow them to convey those licensing rights to customers is echoed by Korean regulators, and at first glance seems to break with licensing norms.
If rival chipmakers are able to pass on such licensing rights to clients, those clients would probably still need licenses from Qualcomm, just as they need them from other big mobile patent owners such as Nokia (NOK) - Get Nokia Oyj Report and Ericsson (ERIC) - Get Telefonaktiebolaget LM Ericsson Report. But it could give them more leverage in licensing talks to negotiate lower royalty rates, given how high Qualcomm's rates are (up to 5% for phones supporting 3G networks) and the fact many of the company's older 3G patents have expired.
But as The Deal's Bill McConnell pointed out, Donald Trump's pending inauguration could help provide Qualcomm with a reprieve. Republican Commissioner Maureen Ohlhausen dissented from the FTC's decision, and is expected to be named chairwoman after Trump takes office. And as Qualcomm notes, current chairwoman Edith Ramirez (a Democrat) is about to depart and only 3 of 5 FTC commissioners are currently in place.
All of that paves the way for a majority-Republican FTC, one that could take a very different view of the agency's case against Qualcomm. But given the nature of the FTC's allegations, and the existence of overseas regulatory probes that touch on the same or related issues, it's far from certain that this case will be completely swept under the rug following an FTC leadership change.