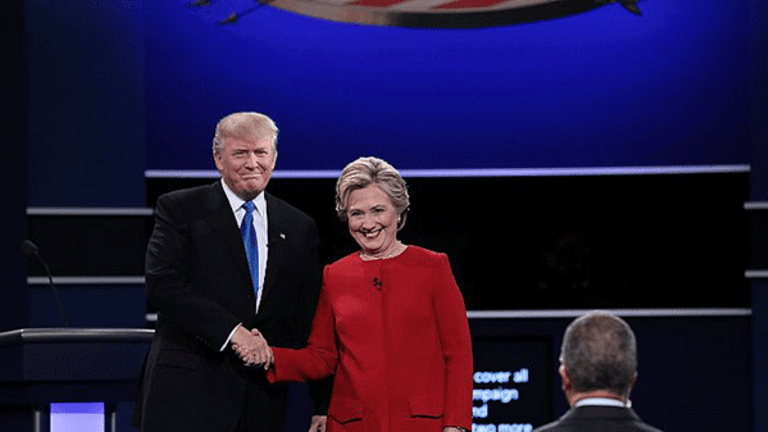 Q4 Preview: What Analysts Expect From the World Economy, the U.S. Election, and More This Quarter
The new president's stimulus policies, the possibility of a 2016 rate hike and lower movie receipts are among the topics analysts are studying for the final months of the year.
With the final three months of 2016 following a volatile September, here's a look at what Wall Street analysts predict next quarter. 
MACRO
Credit Suisse analysts in a Sept. 29 note predicted that global GDP will rise in 2017, ahead of their previous forecast of 2.6%, up from 2.4% in 2016.
"We see this as a midcycle speed-up, rather than the last spurt of a global expansion that has run since 2009," the Credit Suisse analysts wrote. "The global economy is analogous to a well-diversified portfolio: unspectacular performance, but with low actual and implied volatility."
They attribute increased growth to trade recovering from the shock of a strong dollar and falling commodity prices, and to "the resilience of the European economy in the wake of Brexit." Still, further growth "is unlikely in the absence of effective new policy stimulus," despite expansionary policies in Europe and Japan "already at full pelt."
Political considerations could dampen that forecast, however. The Credit Suisse report warns that the presidential election in the United States "does pose a material risk to our forecast," with a Trump victory expected to "deliver a more inflationary policy mix." A December referendum in Italy and elections in the Netherlands, France and Germany next year all contribute further political risk.
They point out that wage growth in the United States has increased, and the trade balance is becoming more neutral, but job growth has slowed somewhat. They expect moderate consumption and "continued sluggishness in business spending," with slower industrial production and manufacturing.
While a December rate hike is possible, the Credit Suisse analysts said they do not expect further tightening in the United States until May 2017. According to IIF, the market-implied probability of a December hike is above 60%.
In Asia, the Credit Suisse analysts said they expect improving emerging market growth, but believe that monetary policy innovations from the Bank of Japan will not "be successful in either raising inflation or boosting growth," although they concede that "its impact will be more to prevent a slowdown than to generate a speed-up."
U.S. ELECTION
The United States presidential election wraps up in 38 days, with two presidential debates and one vice presidential debate remaining. Analysts are keeping a close eye on the impact on the stocks they cover.
"In our view, a Clinton victory would likely lead to a continuation of the status quo, while a Trump presidency would likely bring increased policy uncertainty and changing forecasts," the Credit Suisse analysts wrote. "Some of Trump's policy proposals might be positive for growth in the short-run, but increased uncertainty could offset the boost from easier fiscal policy and reduced regulation. While the effects may not be immediate, much of his agenda is likely to put upward pressure on inflation."
Industrial goods analysts at Oppenheimer wrote in their own report that "the majority of stocks under coverage will benefit more from a Clinton victory," but "the downside risk from a Trump presidency differs in magnitude among various sectors of our coverage, and could potentially benefit certain of our names given Trump's emphasis on boosting industrial production and infrastructure investment."
For their solar sector, they assert, a Clinton presidency is a "significant positive," while a Trump presidency is an "unequivocal negative," as Clinton has pledged to install 500 million solar panels in four years, while a Trump presidency could cause the U.S. to "not meet its commitments under the Paris agreement." They caution, however, that Clinton's solar pledge is "not only unrealistic but also would add excessive volumes of power to the grid, further deflating the value of existing infrastructure unless new environmental regulations accelerated plant retirements. All told, however, her plan is "decidedly pro-solar growth" and a "net positive for solar."
Similarly, a Clinton presidency would be a "positive catalyst" for yieldcos "given her support for significant investments in new clean energy." Potential beneficiaries include Nextera Energy Partners (NP) - Get Neenah Inc Report , Pattern Energy (PEGI) - Get Pattern Energy Group, Inc. Class A Report and 8Point3 Energy Partners (CAFD) .
Extrapolating from Trump's "stated view on climate change" and "the views of his key energy and environmental policy advisers," the Oppenheimer analysts assume that "a Trump administration would actively look to roll back environmental mandates including the CPP [Clean Power Plan], effectively extending the lives of coal-fired power plants and slowing the replacement cycle in the U.S.," while a Clinton administration would enforce the CPP. "For companies under our coverage, we see potential of contagion risk to global renewable and energy efficiency investments if the U.S. abandons the CPP," they add.
In a similar vein, the analysts expect that Clinton would "uphold and strengthen" the Corporate Average Fuel Economy (CAFE) standards, "while a Trump administration could look to weaken or repeal." On this issue, the Clinton campaign has been explicit where the Trump campaign, has not, they note.
If CAFE standards were rolled back, companies such as Johnson Controls (JCI) - Get Johnson Controls International plc Report , Ideal Power (IPWR) - Get Ideal Power Inc. Report and Maxwell Technologies (MXWL) - Get Maxwell Technologies, Inc. Report could take a hit. Tesla Motors (TSLA) - Get Tesla Inc Report could benefit if Clinton adds federal tax credits for electric vehicles.
Similarly, if Trump is elected and curtails the oversight of the Environmental Protection Agency, "larger integrated waste players" including Waste Management (WM) - Get Waste Management, Inc. Report , Republic Services (RSG) - Get Republic Services, Inc. Report and Waste Connections (WCN) - Get Waste Connections, Inc. Report would see increased uncertainty.
"The Clinton campaign has explicitly stated that it will 'defend, implement and extend' fuel economy standards," Oppenheimer writes. "In contrast, the Trump campaign has not commented specifically on the CAFE standards, but has said it would undo many of the Obama-era environmental regulations. We further note that Trump's appointee to lead the EPA transition team has called for a repeal of the CAFE standards as recently as June 2015."
Lighting and related-efficiency companies like Cree (CREE) - Get Cree, Inc. Report , Energy Focus (EFOI) - Get Energy Focus, Inc. Report , Hannon Armstrong (HASI) - Get Hannon Armstrong Sustainable Infrastructure Capital, Inc. Report , Ameresco (AMRC) - Get Ameresco, Inc. Class A Report and Johnson Controls would benefit from either candidate winning, provided they stick to campaign pledges of increasing "energy efficiency and smart infrastructure spending."
Jefferies analysts note that both candidates agree that "higher infrastructure spending would help U.S. competitiveness and that the associated jobs created would help the economy." They posit that a significant infrastructure increase would contribute 50 basis points to GDP plus additional externalities and multiplier effects.
While unemployment is low at under 5%, Jefferies economist Ward McCarthy points out that infrastructure increases would provide jobs to "those with lower educational attainment," among whom unemployment is higher. As a result, higher infrastructure spending wouldn't significantly reduce wages, although it might "moderately boost inflation."
Both candidates have criticized companies for inversions to lower-tax countries. McCarthy attributes these to the United States' "uncompetitive tax rate" and hopes that the candidates will address meaningful tax reform for the first time since 1986: "While corporations are often vilified by the political class, it is worth noting that approximately 85% of U.S. payrolls reside in the private sector. So, tax structures that hurt U.S. corporate entities also hurt U.S. workers."
Metals analyst Chris LaFemina notes that increased infrastructure spending would benefit metals and mining companies, with highly leveraged copper miners like Freeport-McMoRan (FCX) - Get Freeport-McMoRan, Inc. Report benefiting the most and major diversified miners like BHP Billiton (BBL) - Get BHP Group Plc Report also benefiting. "Based on our analysis, the market is not discounting even a remote possibility of a fiscal stimulus-driven recovery in these equities," he wrote.
Steel analyst Seth Rosenfeld similarly points to Commercial Metals (CMC) - Get Commercial Metals Company Report and Nucor (NUE) - Get Nucor Corporation Report as infrastructure proponents due to their large exposure to the construction sector.
Among diversified industrials, analyst Bhupender Bohra points to Pentair (PNR) - Get Pentair plc Report , A.O. Smith (AOS) - Get A. O. Smith Corporation Report , Regal Beloit (RBC) - Get Regal Beloit Corp Report , Tennant (TNC) - Get Tennant Company Report and Harsco (HSC) - Get Harsco Corporation Report . The first three, he writes, have significant commercial businesses, while Tennant "could benefit from the sale of scrubbers and sweepers for maintaining the new infrastructure square footage," Northwest leads among providers of "drinking and wastewater infrastructure" and Harsco specializes in rail infrastructure.
According to the Jefferies analysts, various stocks across all sectors, from banking to consumer, would welcome increased infrastructure spending.
IPOs
The IPO market may be perking up. Nutanix (NTNX) - Get Nutanix, Inc. Class A Report , a venture capital-backed, unprofitable data storage company which filed an S-1 on Dec. 22, finally priced its IPO at $11 to $13 per share, upping the price to $16 per share on Thursday. Shares opened at $26.50 on Friday, closing at $37, up 131%. The offering raised $238 billion and valued the company at double its 2014 VC valuation.
Nutanix is only the second traditional venture-backed tech IPO of the year, following Twilio's (TWLO) - Get Twilio, Inc. Class A Report successful debut in June.
However, the IPO market is still looking dismal, with only Nutanix and Twilio among the tech unicorns braving the public markets despite all-time-high stock markets and relatively low volatility. In 2014, there were 11, and last year, five. Thomson Reuters Equity Capital Markets found that IPO proceeds are at their lowest level since 2009. Highly touted start-ups like UberTechnologies and Airbnb have had no problem raising billions privately.
MOVIES
MKM Partners analyst Eric Handler said he expects that the first weekend in October will generate $102 million in revenues from the top 10 performing movies, a decline of 27% year-over-year. He notes, however, that comparisons are difficult, as "last year's same period was by far October's strongest grossing weekend," led by a $54 million open for The Martian and $33.2 million for the animated Hotel Transylvania 2.
"The 3Q16 box office is up 11.5% through Sept. 27," Handler wrote. "We believe the 3Q box office is on pace to at least achieve our above consensus +11.5% growth outlook for the quarter." Part of that bump stems from the third quarter ending on Friday, whereas last year's quarter ended on a Wednesday. Handler estimates that that alone will increase 3Q16 box office receipts by $25 million.
Next quarter, he said that he expects a 5.5% decline from the same quarter in 2015. October and November 2015 were weak, with 5.6% and 7.8% declines from 2014, respectively. However, December was "the highest grossing December ever for the domestic box office," up more than 44%.