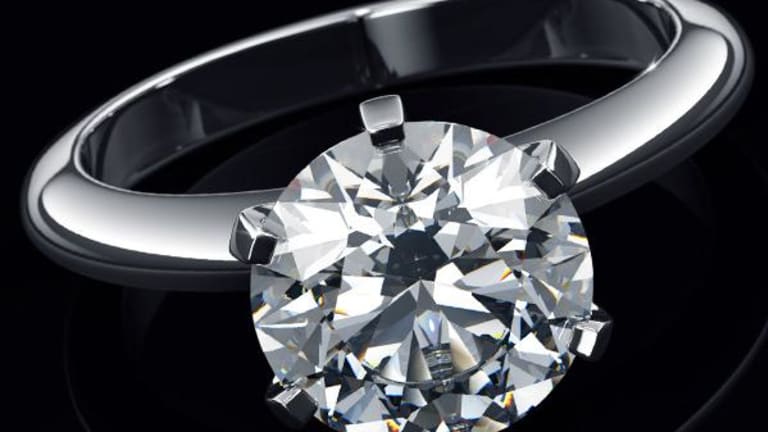 Putting Signet Stock Under the Jeweler's Loupe
What will it take to renew the sparkle?
Shares of Signet Jewelers (SIG) - Get Signet Jewelers Limited Report have certainly lost their luster, down 31% just this year. As the company gets set to report results on March 9 shareholders should be used to disappointment. The stock is down nearly 60% in the last two years and shows no signs of any renewed sparkle.
In early October I warned Signet shares could go lower. After the company cut fourth-quarter and full-year guidance pretty substantially, I believed if management didn't have any confidence in the holiday season, why should I?
If that wasn't enough, management came back with another guidance cut in early January. Signet lowered fourth-quarter adjusted earnings to a range between $4.00 and $4.05 per share, about $0.05 lower than the previous estimate. The company also cut comp guidance to 2-4% from 4.3-4.8%.
With over 3,600 jewelry stores (Kay Jewelers, Zales, Jared and Piercing Pagoda) in malls throughout the U.S., Canada and the U.K., the company is clearly not immune to the decline in mall traffic.
And to make matters worse, holiday e-commerce sales were down 2.4% to $142.5 million. Management blamed site issues (slow page loads) for the poor e-commerce results.
Oh, and then, on Friday, The New York Times went after the company for its accounting. The Times story brought up the issue, as a lot of short-sellers already have, of whether the company offers easy financing in order to pump up sales. Looking at the sales results over the last few quarters, maybe the financing should have been even easier! (just kidding).
According to William Ryan, an analyst at Compass Point Research & Trading, the company crossed the line in fiscal year 2015 (ended January) when credit participation at its Sterling division went from 57.7% to 61.5%. By contrast, credit participation at Zales, which has traditionally outsourced it's financing, is around 40%.
Ryan says every 1% of sales supported by in-house financing, adds about 4% to the company's pre-tax profits. Sterling's credit portfolio stood at $1.7 billion in the most recent quarter.
If the company fails to write off losses in its credit portfolio, there is a mismatch between the recognition of revenue and losses. In other words, the company books the sale, but then slowly writes it off. In the most recent nine months, Signet wrote off 8.1% of its portfolio for the most recent nine months. So is that really a sale? Seems more like a gift.
According the Times, Signet reported a delinquency rate of 22.9% in in its most recent quarter, up slightly from the 22.3% in the year-earlier period.
Signet is scheduled to report fourth-quarter fiscal 2017 results on March 9. Analysts are looking for EPS of $4.01 on $2.29 billion in revenue, according to Yahoo Finance.
Management has been conducting a credit review of its lending portfolio and reportedly has been in negotiations to sell all or part of the portfolio to a third party.
If Signet can successfully sell off the lending portfolio, bite the bullet and take any one-time write-offs related to credit delinquencies, the stock would likely bounce higher. I think it could probably make it to $100 per share on a "clearing the decks" type of bounce. But even after a bounce, Signet would still be trapped in a tough retail environment and stuck with weak mall traffic.
So for those who want to take a high-risk shot on a big bounce, Signet might regain its sparkle -- at least for a few days.
This article is commentary by an independent contributor. At the time of publication, the author held no positions in the stocks mentioned.