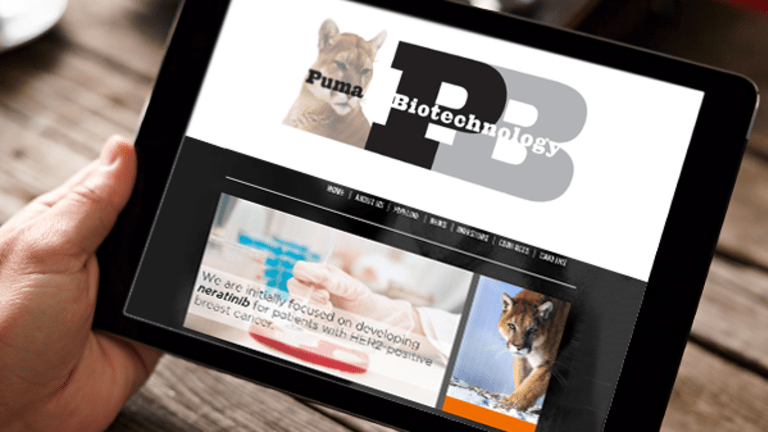 FDA reviewers played their review of Puma Biotechnology's (PBYI) - Get Puma Biotechnology, Inc. Report controversial breast cancer drug neratinib fairly straight, raising expected questions about changes made to the pivotal clinical trial and expressing concern about the drug's diarrhea risk, but otherwise leaving the decision to recommend approval or not to the outside experts who will meet and vote on Wednesday.
The lack of "OMG" bombshells in the FDA's neratinib review are a Monday win for Puma bulls, particularly because bears (and I'm definitely in that group) were expecting the agency to come down much harder on neratinib in the briefing documents released ahead of Wednesday's advisory panel meeting.
Puma shares rose 39%, or $14.80,  to $52.60 Monday.
The Los Angeles-based biotech company is seeking FDA approval for neratinib as an extended adjuvant breast cancer therapy. That means treating post-surgery breast cancer patients first with one year Herceptin/chemo (standard adjuvant therapy) and then switching them to one year of neratinib.
Here's how FDA summed up its neratinib review:
There were several major unplanned amendments made to the trial impacting enrollment, the number of iDFS events observed, and the period of patient follow up. The primary analysis showed an improvement with neratinib with an absolute difference in iDFS of 2.8% after a 2-year follow-up [stratified HR: 0.66 (0.49, 0.90); p value: 0.008 ]. Despite the unplanned amendments and potential uncertainty introduced with respect to the magnitude of neratinib effect, based on the sensitivity analyses conducted, the results appear to be generally similar to the primary analysis results, supporting an effect of neratinib. The tolerability of neratinib in this patient population is a concern given the frequent dose interruptions, reductions, and discontinuations observed, mostly due to diarrhea. In Study 3004, nearly all patients experienced any Grade diarrhea and 40% of patients experienced Grade 3 diarrhea. Results from the ongoing Phase 2 Study 6201 suggest that antidiarrheal prophylaxis decreases the incidence and severity of diarrhea. [emphasis added.] 
No surprises there, which is why Puma bulls are breathing a sigh of relief.
The outcome of the advisory panel scheduled for Wednesday is still very much up in the air. How the outside experts view the changes made to Puma's study -- and whether those changes skewed the efficacy data reported -- should be a key discussion point.
At a meeting in March 2016, FDA officials recommended to Puma that it not file for neratinib's approval based on the phase III "ExteNet" study because of the multiple design changes. Puma ignored FDA's advice and filed anyway. Investors are first hearing about this meeting today from the FDA's summary of its correspondence with Puma.
The FDA is also asking the experts at Wednesday's panel to place the neratinib data in context with other adjuvant approvals.
These discussion points, again from the FDA's review document, could be important turning points for the penultimate vote at Wednesday's advisory panel:
The neratinib extended adjuvant therapy for breast cancer study results in the context of other FDA approved adjuvant breast cancer therapies:
Demonstrate a similar rate of benefit in disease-free survival when compared to approvals of adjuvant hormonal therapies, but with a different toxicity profile.
Uses a placebo control in comparison to an active comparator used in most of other adjuvant approvals in breast cancer. This lack of comparator should be considered when assessing the magnitude of benefit.
Show a lower number of DFS events in the extended adjuvant setting compared to prior approvals. It is not clear whether this is due to the extended nature of the study (i.e., in a population where patients were randomized into the study after receiving at least one year of adjuvant therapy who were disease free at the time of randomization) in that a higher number of events would be anticipated prior to initiation of neratinib.
Does not have prior FDA approval in the metastatic setting, compared with all prior adjuvant approvals.
The FDA's neratinib advisory panel begins Wednesday morning at 8 am. I'll be live blogging the event. 
Read More Trending Articles:
11 Countries to Visit With Caution
Adam Feuerstein writes regularly for TheStreet. In keeping with company editorial policy, he doesn't own or short individual stocks, although he owns stock in TheStreet. He also doesn't invest in hedge funds or other private investment partnerships. Feuerstein appreciates your feedback; click here to send him an email.