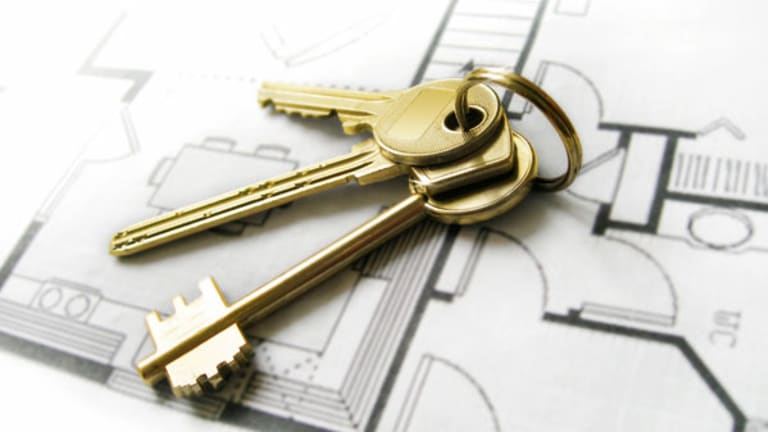 Pulte Ends Era of High Homebuilder Debt
Pulte Homes' lenders slash the homebuilder's available debt by 25% -- in a move that is the latest to signal the end of what had been an era of atypical mass lending to the homebuilding sector.
BLOOMFIELD HILLS, Mich. (
) --
Pulte Homes
(PHM) - Get PulteGroup, Inc. Report
has reached agreement with its lenders to give up $250 million in available debt to comply with the covenants in its credit facility. The new lending agreement, just filed with the Securities and Exchange Commission, drops the credit facility from $1 billion to $750 million.
While homebuilders are sitting on mountains of cash -- and the slow pace of recovery in the sector does not imply a great need to tap extensive credit any time soon -- the move by Pulte is the latest in a series of debt reductions by the homebuilding sector in the past year.
The general trend in debt reduction by the homebuilders is noteworthy in the sense that analysts do not expect homebuilders will again be able to achieve the historically high level of lending from banks that had become typical before the housing bubble burst.
"It's going to be a real challenge to get back to the lending levels where the homebuilders had been in the past few years," said Robert Rulla, an analyst at Fitch Ratings.
Does that mean the homebuilders are going to be handicapped in executing on business strategies as they have less debt at their discretion? Not likely, according to Rulla and other debt analysts who cover the homebuilders. The fact of the matter is that homebuilders just won't need that level of debt anytime soon.
"It's a meaningful level in terms of the size of the reduction in available credit, but remember, just a few years ago we never would have seen homebuilders at a level of $1 billion in credit," said one debt analyst who covers Pulte.
The strategy for most homebuilders right now is buying finished lots to turn quickly, and using the cash generated from those deals to purchase more finished lots as the market heads toward an upturn. "These homebuilders just won't need that much in the intermediate term because of their cash holdings and high level of inventory," Rulla said. "The strategy to hold less land overall means there will be less need for debt," Rulla explained.
With its last earnings announcement, Pulte acknowledged that it needed a waiver until mid-December to remain in compliance with its debt covenants, because the homebuilder had violated a tangible net-worth threshold. Earlier this year, Pulte acquired
Centex Homes
in a big bet on its ability to execute as the largest company in the homebuilder sector.
The new credit agreement also provides Pulte with a little more wiggle room in terms of its debt to capital, according to analysts who cover Pulte. Previously, Pulte had a maximum debt to capitalization ratio of 55%; with the new agreement Pulte has a maximum debt to tangible capital limit set at 60% for the next year, which will go back down to 55% after June 30, 2011.
While the outlook for the homebuilding sector is hesitantly positive, the wiggle room afforded to Pulte in the new lending terms does hint at the probability for a slower-than-anticipated road to recovery.
"It gives them a little more room if conditions continue to deteriorate," Rulla said.
-- Reported by Eric Rosenbaum in New York.
RELATED STORIES:
>> Toll Brothers: Buy or Sell?
>>Horton CEO Comp Up, Profits Lacking
>>See our new stock quote page.
Follow TheStreet.com on
and become a fan on
Copyright 2009 TheStreet.com Inc. All rights reserved. This material may not be published, broadcast, rewritten, or redistributed.