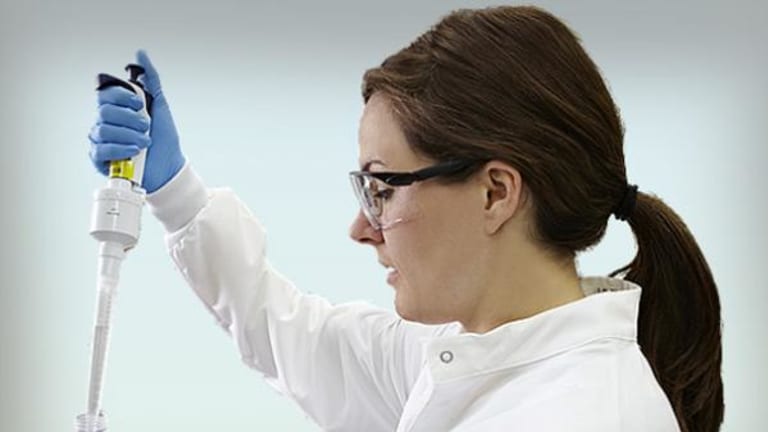 Protalix Cystic Fibrosis Drug Study Results Worsen Over Time
The Protalix medicine alidornase alfa is designed to help cystic fibrosis patients clear their lungs by making mucus thin and loose.
Protalix BioTherapeutics (PLX) - Get Free Report is based in Israel so perhaps "positive" means something different over there than it does in the U.S. Maybe something got lost in translation. When final results of a tiny clinical trial come back looking worse than the interim results announced three months ago, "positive" is not the first adjective I'd reach for.
On Wednesday, Protalix said 16 cystic fibrosis patients treated for four weeks with alidornase alfa improved lung function by 3.4 points from baseline.
Last January, an interim look based on the first 13 patients enrolled into the study tagged alidornase alfa with a lung function improvement of 4.1 points.
So, Protalix analyzed data on three additional patients between January and today and the alidornase alfa lung function score went down.
Protalix says this is a positive result, but the data got worse.
Alidornase alfa is an inhaled medicine designed to help cystic fibrosis patients clear their lungs by making mucus thin and loose. Heavy, thick mucus typically builds up in the lungs of cystic fibrosis patients, making breathing difficult and putting them at greater risk of infections.
There's already a medicine on the market to help cystic fibrosis patients clear mucus from their lungs. It's called Pulmozyme, marketed by Roche (RHHBY) . The drug's sales totaled close to $650 million worldwide last year.
Protalix's alidornase alfa is essentially a knock off of Pulmozyme, just made differently using the company's plant cell-based protein drug manufacturing system. Protalix has preclinical data suggesting alidornase alfa might do a better job clearing lung mucus than Pulmozyme but that theory has not been tested in cystic fibrosis patients.
Importantly, the phase IIb study discussed Wednesday did not compare alidornase alfa to Pulmozyme. All 16 cystic fibrosis patients entered the study on treatment with Pulmozyme. They were then taken off Pulmozyme (washed out) for two weeks before starting treatment with alidornase alfa.
When lung function was measured from right before patients stopped taking Pulmozyme through four weeks of alidornase alfa, the improvement was 2.8 points, Protalix said Wednesday.
Again, that's worse than the 3.1 point improvement Protalix reported from interim results in January.
Protalix doesn't have clinical data to determine how well its drug stacks up against Roche's Pulmozyme. That's the only comparison that really matters. Instead, Protalix decides to compare alidornase alfa against the Vertex Pharma (VRTX) - Get Free Report drug Orkambi.
Here:
A commercially available small molecule CFTR modulator for the treatment of CF has reported a mean absolute increase in ppFEV1 [lung function] of 2.5 from baseline in its registration clinical study. This score was achieved while 74% of the patients participating in the trial of the CFTR modulator were also treated with the modulator on top of Pulmozyme. While this marketed CFTR addresses a certain mutation applicable to less than 50% of CF patients, alidornase alfa is being developed to treat all CF patients.
Strange. Orkambi treats an underlying cause of cystic fibrosis. Alidornase alfa, if approved ever, would treat a disease symptom -- lung mucus.
No one with any cystic fibrosis expertise compares Pulmozyme to Orkambi. In fact, patients take both drugs. So, why is Protalix comparing alidornase alfa to Orkambi?
Maybe it's another exaggeration lost in translation.
Adam Feuerstein writes regularly for TheStreet. In keeping with company editorial policy, he doesn't own or short individual stocks, although he owns stock in TheStreet. He also doesn't invest in hedge funds or other private investment partnerships. Feuerstein appreciates your feedback; click here to send him an email.