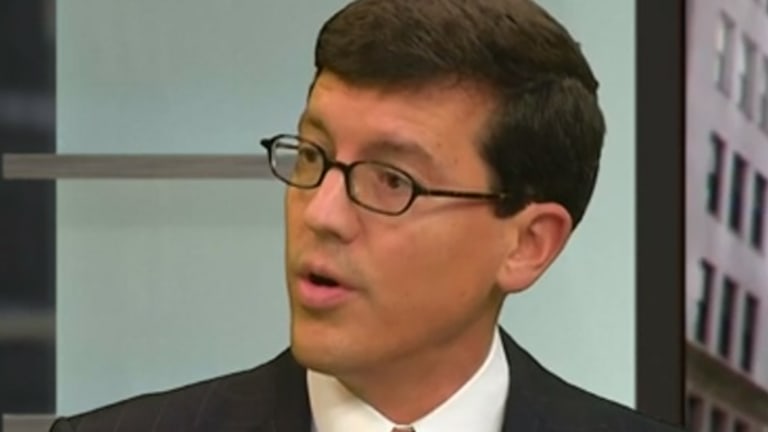 Prospect Capital Shares May Rise Despite Accounting Games
Prospect Capital shares are likely to see a short term rally once the company resolves an accounting dispute with the Securities and Exchange Commission, an event expected within one to five weeks.
Prospect Capital shares are likely to see a short term rally once the company resolves an accounting dispute with the Securities and Exchange Commission, an event expected within one to five weeks.
Prospect Capital story updated from 10:25 a.m. with reference to shareholder lawsuit in eighth paragraph.
NEW YORK (TheStreet) -- Prospect Capital's (PSEC) - Get Report accounting dispute with the Securities and Exchange Commission has scared investors, and for good reason. But the shares are likely to see a short-term rally once it's resolved, an event expected within one to five weeks.
The dispute draws attention to a questionable accounting maneuver by Prospect Capital's management that appears to line its own pockets at the expense of shareholders. But the SEC looks likely to prevail, which will provide a modest boost to earnings. Greedy and/or overly aggressive management may be a longer-term worry, but that risk appears to be understood by the market and will likely remain in the background as long as the economy keeps improving.
Prospect is one of the riskiest bets in a space referred to as business development companies, publicly traded lenders that target small to mid-sized companies, pay few if any taxes and distribute large dividends to investors.
That the market views Prospect as high risk can be inferred from its dividend yield, says KBW analyst Greg Kelly. Prospect's yield is a whopping 13.29% compared to more conservatively run Golub Capital BDC Inc. (GBDC) - Get Report, which offers 7.56% yield as of Wednesday's close.
Unlike nearly all other BDCs, Prospect acquires companies outright rather than lending to them. Kelly says there is just one other BDC among the 30 he covers that owns any companies and that BDC, Solar Capital (SLRC) - Get Report, owns just one.
Prospect shares dropped 5% to $10.20 May 7, after the company disclosed the dispute with the SEC in its 2014 fiscal third-quarter earnings filing. They have been fairly weak since then and were quoted at $9.97 as of the close of trading Wednesday.
Shares opened slightly higher Thursday after Evercore Partners upgraded the stock to "equal weight," and remained up a nickel at $10.02 even after a class action law firm announced an "investigation" into what it called "violations of federal securities laws." A press release gave few details, but referred to losses resulting from the accounting dispute with the SEC.  
Slightly more detailed allegations, along with an actual lawsuit, came from a different law firm on Wednesday. A press release announcing the suit from Block & Leviton LLP states Prospect "was suffering from grossly deficient internal controls and therefore was susceptible to accounting fraud."
Prospect drew the SEC's attention for treating equity investments in seven of the companies in its portfolio as debt. Thus, when it receives a distribution from those companies, Prospect classifies the distribution as interest income. If the investment is classified as equity, as the SEC believes it should be, the distribution would be considered dividend income only if the portfolio company earns enough to cover the dividend. If earnings are insufficient, it must be classified as a return of capital.
If the distribution is a return of capital rather than an outgrowth of earnings, Prospect's net investment income would decline, which would require the BDC's management to return incentive fees it gets based on that metric. While KBW's Kelly estimates the return of those fees would likely add no more than 10 cents per share to Prospect's earnings, it is still a positive for shareholders.
Prospect President and COO Grier Eliasek acknowledged this point during the question and answer session following a May 20 presentation at a conference hosted by Wells Fargo.
Through a restatement, our net income would go up, shareholders will make more money, net income will go up, net asset value will go up, taxable earnings will go up, where we've undistributed in the bank $60 million of excess, that will go up. And we haven't quantified exactly by how much, but it's only positive for shareholders. So while the stock dropped 8% in two weeks, SEC restatement, sell first, ask questions later. The reality is, shareholders got more money in their pockets.
Another positive for shareholders arising from the dispute is that Prospect has put equity issuance on hold until the issue is resolved.
"Folks who were worried about equity issuance ... that's done for a while," Eliasek added.

A few things are unusual about this dispute between the SEC and Prospect. First, unlike in many instances where companies get fined for misdeeds, effectively punishing shareholders twice, in this case the SEC is putting more money in shareholders' pockets.
I wonder if Eliasek is right that investors are selling first and asking questions later or if, instead, they are questioning whether they want to own shares in a company that plays complex accounting games which detract from earnings and seem to serve no purpose other than to increase management compensation.
I called Eliasek to ask him this question. General counsel Joe Ferraro returned my call to take down my questions, but I never heard back from the company despite a follow-up call to Eliasek.
In its quarterly filing disclosing the dispute with the SEC, Prospect says classifying the equity as debt facilitates "borrowing of structurally subordinated debt against the holding companies, which is a common private equity industry practice employed to make possible attractive financing terms for operating company debt and to achieve other important benefits, including enhanced supplier, customer, and insurance terms."
These benefits sound somewhat abstract when compared to the very real boost to earnings shareholders will see if the SEC gets its way.
Prospect said May 7 it expected the issue would be resolved within a month. KBW's Kelly called that timetable "aggressive" and thinks it may take six to eight weeks -- suggesting it could drag into early July. However, he expects Prospect will eventually give in to the SEC and restate its earnings.
Once the issue is resolved, though, why wouldn't the shares rise?
A longer-term risk is a lack of visibility on the underlying fundamentals of the portfolio companies.
Because Prospect is the controlling investor in its portfolio companies, it "has discretion to use cash in a variety of ways without us knowing the fundamentals of the business," Kelly wrote in a May 7 report. He added, "the key question with regard to control equity investment income is, do you trust management?"
Investors may trust them less after an SEC mandated restatement. However, "if the economy keeps growing Prospect's probably going to be fine," Kelly says.
>>Read More:
Neutral Tandem, CenterPoint, AstraZeneca, Intuit: 3 Dividend Pros to Buy and 1 to Sell
Moynihan Mum on Dividend Makes Bank of America Shareholders Angry
Disclosure: TheStreet's editorial policy prohibits staff editors, reporters and analysts from holding positions in any individual stocks.