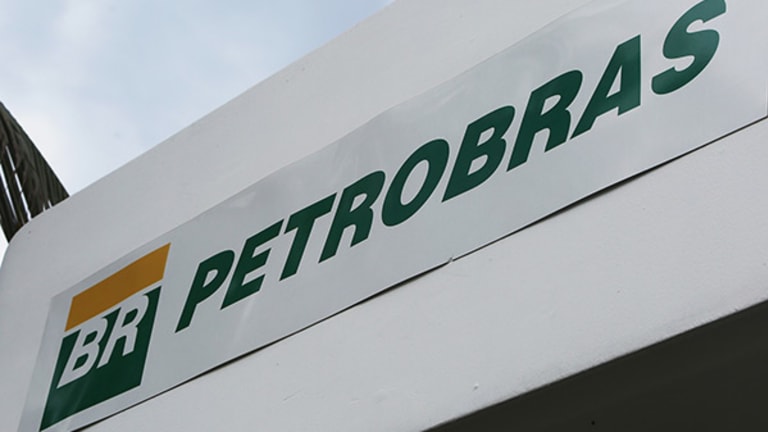 Publish date:
Promising Developments Don't Put a Dent in Petrobras' $126B in Debt
The Brazilian government-backed energy company's new CEO faces a challenging mandate, including what analysts say is dealing with the most debt of any publicly traded commodity company anywhere.
The Brazilian government-backed energy company's new CEO faces a challenging mandate, including what analysts say is dealing with the most debt of any publicly traded commodity company anywhere.
Debt markets opened their arms to Petroleo Brasileiro (PBR) - Get Petroleo Brasileiro SA Sponsored ADR Report soon after the suspension of Brazil's president Dilma Rousseff, as her impeachment seems imminent and investors anticipate that a more business-friendly administration will take her place. However, the stock has remained in the doldrums despite the promise of a new Petrobras CEO as analysts warn that daunting fundamentals, particularly a staggering debt burden, outweigh positive short-term developments.
The Brazilian government-backed energy company announced Friday that its board will meet Monday to discuss installing Pedro Parente as its CEO. Brazil's acting president Michel Temer appointed Parente to that role on Thursday evening.
Parente, currently the chairman of the largest stock exchange in Latin America, Brazil's BM&FBovespa, served on Petobras' board from 1999 to 2003, according to data from BoardEx. He has also served as the president of agribusiness concern Bunge (BG) - Get Bunge Limited Report 's Brazilian operation and held various government positions between 1985 and 2002, the data provider shows.
The current CEO, Aldemir Bendine, took on the role 15 months ago after serving as the president and CEO of Banco do Brasil.
Parente is shouldering a difficult task.
Debt research firm Gimme Credit warned in a Friday report that despite market optimism over Rousseff's exit and expectations for a more investment-friendly atmosphere in Brazil, which could benefit Petrobras, headwinds abound.
"Petrobras is working hard to contain its deteriorating credit metrics, but not hard enough," the report asserted. Gimme Credit criticized the lack of progress on asset sales to reduce debt, and cautioned that it expects Brazil's economy to remain in a recession for another year, which will hinder Petrobras' prospects for sales growth.
As that firm sees it, "there is a fair bit of denial going on: the government recently brushed aside any recapitalization."
Moody's Investors Service suggested in a Thursday report that Petrobras will likely need financing from Brazil's government starting as early as 2017 if it can't execute on the $14.1 billion in asset sales it hopes to complete this year.
Petrobras' New York Stock Exchange-listed shares initially rose 6% Friday morning on the news of Parente's appointment, but fell to a positive change of 1% midday, trading at $6.49 with a $36.66 billion market cap. The stock is down nearly 30% over the past twelve months.
The shares had sunk about 4.88% on Thursday after Raymond James & Associates downgraded the stock to "underperform."
Raymond James analysts cautioned in Thursday's report that even though the impeachment of Rousseff is underway, her Workers Party is still powerful in both houses of Brazil's congress, and is likely to resist major energy policy reforms, structural deregulation, and other pro-business initiatives that the market expects.
The elephant in the room, of course, is Petrobras' debt load, the largest of any publicly-traded commodity company in the world, according to Raymond James.
Those analysts asserted, "equity investors should ask themselves: Are you comfortable having $126 billion of debt above you in the capital structure (even if it's quasi-sovereign debt), for a business that may end up generating no organic growth?"
It's worth noting that Petrobras has significant maturities coming up, with $11.34 billion due next year, $16.09 billion due in 2018, and $22.51 billion due in 2019, according to its financial statements.
Terms of a new debt issuance show that markets perceive more risk at Petrobras than they did a year ago.
On Tuesday, Petrobras sold $6.75 billion in new unsecured bonds with high borrowing costs. Its Petrobras Global Finance BV subsidiary issued $5 billion in 8.375% notes due May 23, 2021, and $1.75 billion in 8.75% notes due May 23, 2026.
The borrowing terms are far harsher than Petrobras faced last June, when it sold $2.5 billion in unsecured bonds maturing in 100 years on June 5, 2115, and charging 6.85% in interest.
Its most recent quarterly report, released May 13, shows the strain on its financial performance.
During the first quarter ended March 31, Petrobras' sales revenue fell to $17.99 billion from $25.97 billion during the same quarter last year amid depressed energy prices. It recorded a $318 million net loss for the quarter, compared to $1.86 billion in net income during the first quarter of 2015.
As of March 31, the company recorded $241.41 billion in assets and $166.56 million in liabilities.
Beyond macroeconomic concerns, Petrobras faces scrutiny under an ongoing corruption investigation dubbed Operation Car Wash.
Media contacts at Petrobras didn't respond to requests for comment.