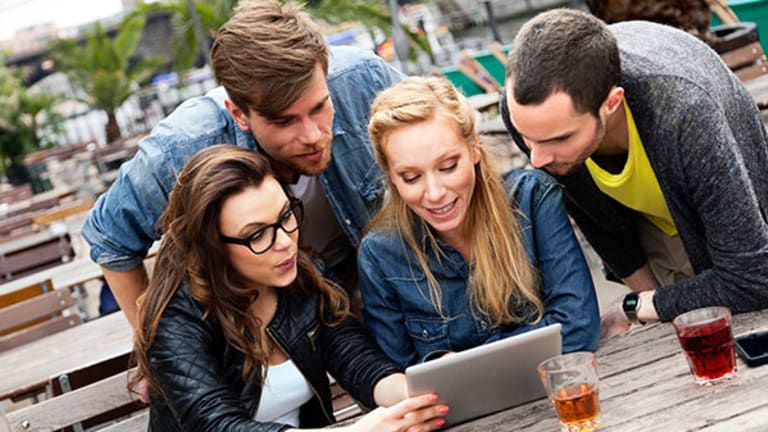 Programmatic Ad-Buying Is Just Google Search Writ Large
Programmatic ad-buying is the new rage in the advertising world, but boiled down, it's Google Search for online video and display.
NEW YORK (TheStreet) -- Internet search, as refined and even perfected by Google (GOOG) - Get Alphabet Inc. Class C Report , was really the first programmatic advertising platform, said Dennis Buchheim, Yahoo!'s (YHOO)  vice-president of product management, at an opening session Monday of Advertising Week, the industry's annual confab.
Some 15 years after Sergey Brin and Larry Page threw the fear of God into ad agencies and media executives, nearly everyone in the constellation known as the advertising industry is embracing programmatic digital platforms to buy and sell online video marketing. Programmatic platforms use sophisticated technologies to match "buy" and "sell" orders for advertising, especially online display and video ads.
At the core of programmatic are the reams and reams of data being produced by digital communications. Yet all of that data have come to mean many things to many people.
"We're at a point now where agencies are pushing efficiencies and marketers are focused on how do I really take advantage of this data and platforms to buy effectively and measure effectively," Buchheim said at a session entitled Inside the Programmatic Ring. "Those are hard questions."
Google forced the advertising industry to admit it wasn't exactly sure whether television and radio or even print media ads were actually reaching its intended audiences. Overall, advertising did seem to work, but in the Digital Age, marketers can access far more information about the effectiveness of their spending to gain a better understanding of what is working and why.
Using programmatic technology, spending on digital advertising is expected to reach $9.3 billion globally this year, a 52% jump over 2013, according to a study by Magna Global. All programmatic advertising is forecast to climb from $21 billion in 2014 to $53 billion by 2018, an average annual growth rate of 27%. 
The value of programmatic might be best understood by invoking one of the most popular pieces of jargon to emerge in recent years: the long tail. There is little doubt that broadcast networks such as CBS (CBS) - Get CBS Corporation Class B Report will never open their primetime hours to programmatic bidding; there's just too much at stake.
But more and more of the 100 or so advertising-supported television networks that can be viewed through a pay-TV package are opening their inventory to programmatic buying, said Dan Ackerman, who heads up AOL's (AOL) automated ad platform, Adap.TV. Programatic has a multitude of advantages over traditional telephone-based ad-buying when it comes to selling volumes and volumes of hard-to-find or marginal commercial time to lots of would-be customers.
"What programmatic is going to do is to start to value that inventory that's been the long tail," said Doug Ray, global president of Carat, the advertising agency. "And from a monetization standpoint, we're enabling those cable networks and major broadcasters to extract more yield from that inventory."
Even "some national TV companies" are warming to the idea of opening more of their commercial time to programmatic buying, said Kris Magel, chief investment officer at Initiative U.S., a unit of Interpublic Group (IPG) - Get Interpublic Group of Companies, Inc. Report .
"It's all about identifying value, particularly undervalued opportunities that can deliver on business objectives," Magel said. "There are national partners playing in this space, quite a lot of them actually."
Even so, Magel said that programmatic isn't likely to account for more than 2% to 3% of all advertising revenue by the end of 2015. In three or four years, he's hoping programmatic can reach the 10% milestone.
Leon Lazaroff is TheStreet's deputy managing editor.