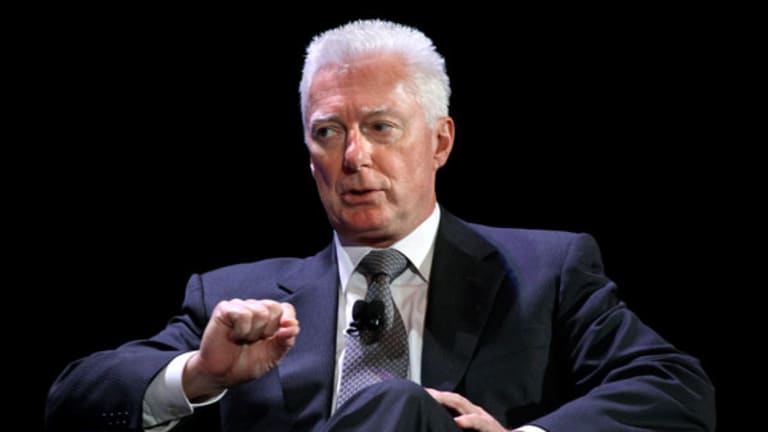 Procter & Gamble Investors Cheer Lafley, but Bounce Won't Last (Update 1)
Lafley may not find it so easy to repeat his previous success.
Lafley may not find it so easy to repeat his previous success.
Updated from 9:33 a.m. ET with additional information throughout.
NEW YORK (
) --
Procter & Gamble
(PG) - Get Report
shares were gaining Friday on news A.G. Lafley will return to lead the company as it searches for a permanent CEO, but Lafley may not find it so easy to repeat his previous success.
Lafley, who takes over from Bob McDonald, led Procter & Gamble for a successful stretch from 2000 to 2009. During those years, P&G returned more than 12% to shareholders excluding dividends, while all the major indices posted losses.
Since then, however, P&G performance has been a disappointment. The underperformance drew the attention of activist hedge fund investor Bill Ackman, who has acquired 28 million shares and large stake and has aimed to shake up the company. Ackman, who went public with his stake in 2012, was critical of McDonald in a presentation at the Ira Sohn investor conference May 8 of this year. He noted the CEO's multiple board positions on other companies and argued McDonald was "distracted by outside interests." Ackman cited Lafley positively in his recent presentation.
P&G shares were up 3.9% to $81.78 in morning trading, and news of Lafley's return sparked an upgrade from UBS on Friday.
Also see: 44% of Homeowners With a Mortgage Can't Sell: Zillow >>
"In our view, the announcement of AG Lafley re-taking the helm of P&G is a positive, mainly because: 1) he is a familiar entity with investors and the P&G organization, 2) he has turned P&G in the past, 3) he has leadership qualities that can align the organization along a few core principles and 4) he will have latitude to re-base earnings to re-ignite top line," wrote analyst Nik Modi.
However, Credit Suisse was more circumspect, noting the outperformance of P&G under Lafley "was clearly during a time of global macro-economic prosperity and when some of PG's global competitors were punching below their weight (notably Unilever)."
As a result, Credit Suisse analysts urged "caution against expecting immediate miracles," adding they "would view PG as being in a transition phase."
Also see: Gundlach: 'We Own Apple' >>
And who is to say the transition is the right one to make? According to Credit Suisse, "some of the issues PG are still dealing with today (such as premium price points in many categories, and a sub-scale presence in some key emerging markets) are ones Mr. McDonald inherited and partly originate from this period of time."
Goldman Sachs analysts were similarly cautious. "Don't forget performance was sliding when
Lafley left the firm and that he left it in the state that Bob McDonald (his former protégé) inherited. A.G.'s intense focus on good-better-best ultimatelydeserves part of the blame for the company's creation of price umbrellasthat gave competitors fertile hunting ground," they wrote.
Even Ackman, who hailed Lafley's return in a statement to
CNBC
Friday, complained in his May presentation that P&G "never fully integrated the massive Gillette acquisition of 2005." Whose fault is that? While one could argue four years isn't long enough to integrate a $57 billion deal, certainly Lafley should have put P&G on the right path to enable McDonald to finish the job.
Also see: Citi Bike Arrives, Skids Amid Controversy >>
P&G investors got their pop on Friday. Now the long slog begins. If Lafley isn't the miracle man investors expect, the longtime blue chip could suddenly find itself in serious disarray.
--
Written by Dan Freed in New York
.
Disclosure: TheStreet's editorial policy prohibits staff editors, reporters and analysts from holding positions in any individual stocks.