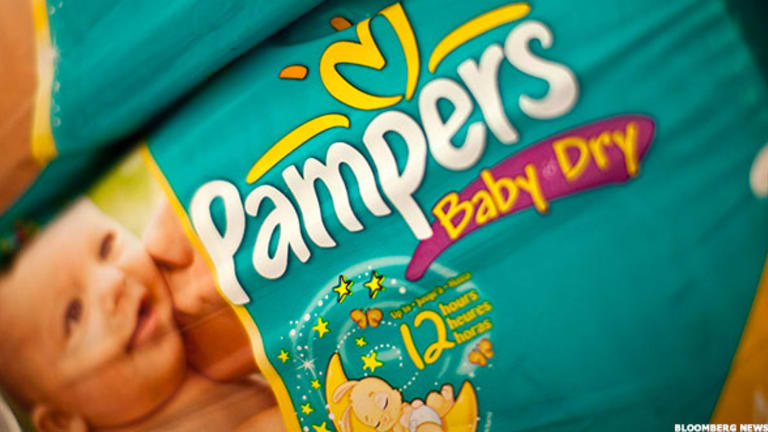 Procter & Gamble Popped Despite 'Unprecedented' Amount of Geopolitical Disruption and Uncertainty
Risks are increasing.
Updated from 7:47 a.m. with new details
So far, sluggish sales and increased promotions at major retailers such as Target (TGT) - Get Target Corporation Report haven't derailed Procter & Gamble (PG) - Get Procter & Gamble Company Report . But never say never. 
Shares of the Tide detergent maker closed up 3.25% to $87.45 on heavy trading volume Friday after the company surpassed Wall Street's earnings and revenue estimates for the 2017 fiscal second quarter. More than 19.44 million of the company's shares traded today vs. its average 30-day volume of 8.51 million shares.
Earnings came in at $1.08 a share, above analysts' projections of $1.06 per share. Revenue for the period was $16.86 billion, higher than the consensus estimate for $16.80 billion. Organic sales increased 2%, in line with forecasts.
Organic sales and organic volume increased in all five business segments.
P&G also upped its full-year organic sales growth outlook to be between 2% and 3% from prior guidance for an increase of about 2%. The company maintained its expectation for core earnings per share growth of mid-single digits.
Executives took a more cautious stance on the outlook for the year ahead, however, on a call with reporters. 
P&G Chief Financial Officer Jon Moeller said the company decided to maintain its profit outlook "for now", and then cited "geopolticial disruption" and general macroeconomic turbulence as key risks. Moeller added that P&G will continue to cut costs in order to counteract some of these headwinds. 
On an earnings call with analysts, Moeller pointed out the company is dealing with an "unprecedented" amount of geopolitical disruption and uncertainty, which is impacting market growth, currency and commodities. He specifically called out "difficult operating environments" in markets such as Nigeria, Egypt, Turkey and Argentina. 
Economic crises in Egypt and Nigeria are dramatically impacting category size, while market contractions in Russia, Argentina and Turkey pose "real challenges," he said. The company has also had to manage the market impacts of politically-related currency devaluation in places such as the U.K. and Mexico. 
Another source of concern: increasing promotional activity and slowing at major U.S. retailers, where P&G products dominate aisles. "Your observation is true about increasing promotions in some categories," Moeller told TheStreet, adding that not all categories were feeling pressure. 
"We will be competitive on price," Moeller said. But he noted the company will not lead with promotions as a way to grow market share as that is not a sustainable method and there is "nothing proprietary" about it. 
"In the U.S., we note the promotional environment has become increasingly difficult for P&G," said Morgan Stanley's Dara Mohsenian in a recent note. Mohsenian says P&G's sales in the U.S. slowed as the fourth quarter progressed, citing latest industry data.
Lauren Lieberman, managing director of equity research at Barclays, said the second-quarter earnings are "probably the most solid set of numbers we have seen from P&G in some time." She added that it is "encouraging" to see the company boost its organic revenue forecast for the year. 
"We do take the company at its word that the turnaround strategy is constructed to drive growth through innovation and marketing and not through promotion over the long term, but do suspect that in the 1H of the year there have been a handful of 'hot spots' where brands may be playing it a little cute for now," Lieberman noted. 
Goldman Sachs analysts see P&G shares modestly outperforming the market today following the results and expectations that had been drifting lower throughout this quarter. "Implied guidance for 1-3% organic growth in 2H and an in-line EPS outlook, however, is unlikely to be strong enough to drive material outperformance, in our view," they said.