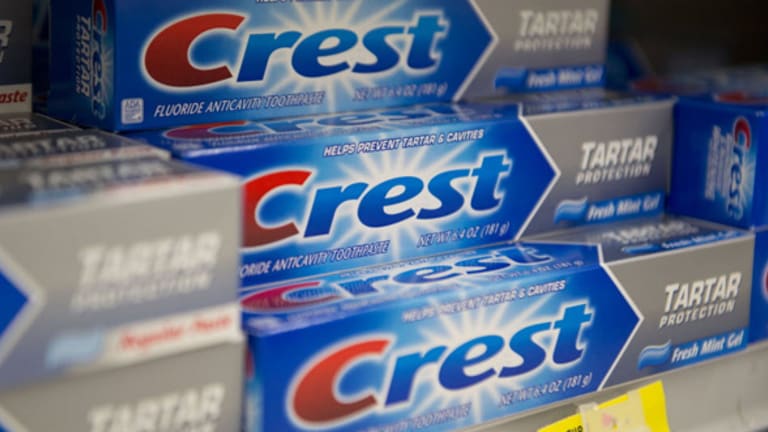 With already sprawling companies across many sectors showing a renewed appetite to do big deals ahead of a potential rise in interest rates next year -- headlined by AT&T's (T) - Get AT&T Inc. Reportblockbuster $85 billion deal for Time Warner (TWX) -- investors in consumer products giant Procter & Gamble (PG) - Get Procter & Gamble Company Report are likely hoping it, too, will enter the deal-making fray real soon.
Up until this point, however,  P&G has spent the year trying to slim down. The maker of Crest toothpaste and Gillette razors closed this fall on a $15 billion deal to slice off 40 underperforming beauty brands that subsequently merged with Coty (COTY) - Get Coty Inc. Class A Report . With the closing of the beauty divestiture, P&G completed its massive portfolio overhaul announced two years ago targeted toward cutting 100 non-core brands.
Now that the 40 beauty brands -- which generated roughly $6 billion in annual sales -- are separated from P&G, it will save the company a good chunk of change to be reinvested in stronger-performing brands. Money could also be put toward acquisitions of interesting upstarts in a bid to enter faster-growing consumer products categories in supermarkets such as better-for-you baby diapers. 
P&G's new CEO David Taylor has signaled he understands investors are hungry for the company to return to deal-making to keep pace with recent efforts from rivals such as Unilever. When P&G reports fiscal first-quarter earnings on Tuesday, Wall Street will be looking for Taylor to reiterate his openness toward acquisitions.  
"Am I open to bolt-on acquisitions that we think are strategic and would help accelerate the growth in any of our 10 core categories? The answer is clearly yes," Taylor told analysts on an Aug. 2 call.
And the market has taken Taylor on his word.
Since 35-year P&G veteran David Taylor took over from long-time CEO A.G. Lafley on Nov. 1, shares of Procter & Gamble have gained a cool 10%. Shares touched a 52-week high of $90.33 on Oct. 10, only to come back slightly since. The Dow Jones Industrial Average -- where P&G is a component -- has only risen about 1.8%. during Taylor's tenure. 
Here are the headline grabbing deals made by P&G's competitors this year. Judging by the headlines, it may be time for P&G to flex its muscle.
Unilever has been the king of consumer products deals this year.
Unilever Buys Dollar Shave Club and Seventh Generation
It has been a busy year for M&A at Unilever as the conglomerate seeks to ignite growth.
In July, Unilever (UL) - Get Unilever PLC Sponsored ADR Report shelled out a reported $1 billion to purchase Dollar Shave Club, a mail-order service that ships disposable razors and other grooming products to consumers for a flat monthly fee. Launched in July 2011 with a funny YouTube video poking fun at the high cost of shaving, Dollar Shave Club reportedly has over 3.2 million members. The startup had revenue of $152 million last year and is on pace to reach $200 million this year, says Unilever. It's not profitable yet.
For Unilever, Dollar Shave Club gives the company access to the lucrative shaving market long dominated by Procter & Gamble's Gillette brand.
Then in September, Unilever agreed to purchase Seventh Generation, a maker of "green" household products such as laundry detergent and diapers. Seventh Generation racked up sales of more than $200 million last year, with compound annual growth in the double digits over the past decade, said Unilever. Financial terms of the deal weren't disclosed.
Unilever was reportedly in talks to buy Seventh Generation rival Honest Company, which was founded in 2011 by movie star Jessica Alba.
Clorox CEO Benno Dorer, who took over as CEO in Nov. 2014, has shown an appetite for deals. 
Clorox Buys Renew Life
Clorox (CL) - Get Colgate-Palmolive Company Report , which has been making its eponymous bleach since 1914, purchased digestive health company Renew Life in May for $295 million in cash. Renew Life, founded in 1997, sells full-body cleanses and probiotic products mostly at natural grocers such as Whole Foods (WFM) and Sprouts (SFM) - Get Sprouts Farmers Markets, Inc. Report as well as supplement retailers like Vitamin Shoppe (VSI) - Get Vitamin Shoppe, Inc. Report . Clorox said Renew Life generated sales of about $115 million last year and had gross profit margins generally in line with its existing portfolio.
In Renew Life, Clorox gains access to a growing area of the supplements market. According to research firm Mintel, the digestive supplement market currently hauls in annual sales of about $10 billion in the U.S. and is growing at about 7%. The probiotics sub-category, which is valued at $1.3 billion in the U.S., is expected to grow about 15% per year, according to Mintel.
"We have talked about three priorities for M&A -- natural personal care, where we think there is still opportunity to tack on brands to be complementary to Burt's Bees; food enhancers such as dressings and marinades, where we have been successful with Hidden Valley Ranch and we think there is more space for us to grow; and, finally, broader health and wellness, where we think about products that can go in, on or around a person," said Clorox CEO Benno Dorer in an interview with TheStreet.