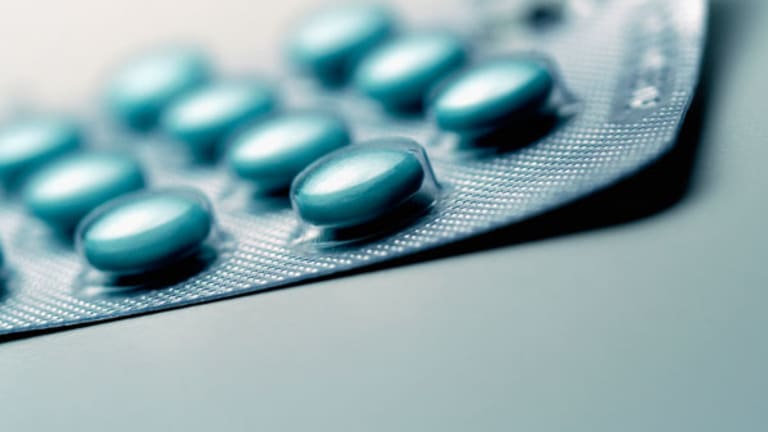 Problems Found With Insmed's Analysis of Arikace Cystic Fibrosis Study
Insmed claims its antibiotic is a success but refuses to answer questions due to self-imposed quiet period.
MONMOUTH JUNCTION, NJ (
) -- There are some significant red flags flying from
Insmed's
(INSM)
phase III study of the antibiotic Arikace in cystic fibrosis patients.
Insmed claims the phase III study demonstrated the still-experimental Arikace was just as effective as currently approved
Novartis'
(NVS)
TOBI in treating bacterial lung infections afflicting cystic fibrosis patients. The company issued a press release declaring
Arikace's success last July
and promised to present actual data from the phase III study at a later date.
Those Arikace data were finally published this weekend at the North American Cystic Fibrosis conference but they don't exactly support Insmed's claims -- unless you're willing to accept some dodgy analysis and ignore missing data.
Insmed was unable to discuss the Arikace phase III results because the company was in a self-imposed quiet period ahead of third-quarter financial results on Nov. 5, according to a company spokesperson. Why the company chose to publicize the Arikace phase III results during its quiet period but not answer questions about the data was not explained.
Let's dig into the Arikace study results. You can download a
poster presentation of the data from Insmed's web site
.
First, take a look at this diagram pulled from the poster.
It shows how patients were enrolled and randomized into the study. Of the 302 cystic fibrosis patients randomized, 148 were treated with LAI, which is the scientific name for Arikace. The other 146 patients were treated with TOBI. This comprises the modified intent-to-treat patient population (mITT) -- defined as all patients who received at least one dose of study drug.
The set of boxes underneath discloses the "per protocol" patient population, which is not defined explicitly anywhere on the poster but seems to exclude patients who discontinued the study for some reason. There are 129 Arikace and 137 TOBI patients in the per protocol group, or 28 fewer patients than in the mITT group.
19 Arikace and 9 TOBI patients missing.
Generally speaking, efficacy analyses conducted on ITT or mITT patient populations are more conservative, more stringent and more reliable than analyses done with per protocol patient populations. When you omit patients from a study analysis, bias can creep into results.
This next chart graphs the primary endpoint of the phase III study, which compares the relative change in FEV1 from baseline to week 24 (Day 168) between Arikace and TOBI. FEV1 is a commonl measure of lung function.
Insmed says the study achieved the primary endpoint because Arikace demonstrated statistical non-inferiority to TOBI. The lower bound of the 95% confidence interval was -4.95 -- greater than -5%, which was set prospectively as the non-inferiority margin necessary for the study to be successful.
Look at the chart again and notice that Insmed relies on the per protocol patient population for the analysis of the study's primary endpoint. Why not use the more stringent mITT patient population? Insmed doesn't explain.
The per protocol patient population excludes 28 patients. If you look closely at the chart, you'll see that the number of patients remaining in the study at Day 168 is even smaller. Another four patients are missing.
What would an analysis of the FEV1 non-inferiority primary endpoint look like if the mITT patient population was analyzed? As disclosed, the per protocol analysis is just barely positive. If FDA decides to analyze the study more conservatively using the mITT patient population, this study is at risk of failing.
Insmed declined to answer questions about the analysis of the primary endpoint due to its self-imposed quiet period.
On a related note and from another chart on the poster (not reprinted here) we know that 15 Arikace and 7 TOBI patients discontinued the study due to side
effects. That still leaves 10 patients unaccounted for at Day 168. What happened to these 10 patients?
This next chart details a secondary efficacy endpoint of the phase III study. The actual data is relatively unimportant so I won't discuss but notice that the analysis for this secondary endpoint is based on the mITT patient population. This is concerning. Why is Insmed using the more robust mITT population to analyze a secondary endpoint while conducting a per protocol analysis on the more important primary endpoint?
In fact, Insmed analyzed four different secondary efficacy endpoints from the Arikace study using the mITT patient population, according to the poster presented this weekend. The only endpoint using the per protocol patient population was the primary.
I'd certainly like to know what compelled Insmed to analyze the phase III study in this manner but the company is in a quiet period so I guess we'll wait for Nov. 5 for an explanation.
Speaking of secondary efficacy endpoints, Insmed omitted a bunch from this weekend's poster.
You can obtain a
detailed description of the Arikace phase III study
on Clinicaltrials.gov.
Key Arikace efficacy secondary endpoints NOT reported by Insmed include:
-- Time to and proportion of subjects experiencing a pulmonary exacerbation.
-- Time to first antipseudomonal antibiotic treatment for pulmonary exacerbation.
-- Time to and number of hospitalizations.
This is important information required to compare the efficacy and safety of Arikace relative to TOBI but Insmed decided not to disclose despite prior promises to do so.
Insmed is also developing Arikace as a treatment for nontuberculous mycobacteria (NTM) lung infections. A phase II study is underway with results expected in 2014. The primary endpoint of this study is rather obtuse:
Change in semi-quantitative mycobacterial culture results from baseline to end of treatment.
Insmed has created its own "
seven-point scale
" to measure this endpoint. This scale has never been used in any previous clinical trial.
Why use a made-up endpoint to assess Arikace's efficacy in NTM lung infections rather than a commonly used and widely accepted endpoint like clinical cure i.e. how many patients are free of disease?
Sshh.... Insmed is in a quiet period. The company can't answer any questions.
-- Reported by Adam Feuerstein in Boston.
Adam Feuerstein writes regularly for TheStreet. In keeping with company editorial policy, he doesn't own or short individual stocks, although he owns stock in TheStreet. He also doesn't invest in hedge funds or other private investment partnerships. Feuerstein appreciates your feedback;
to send him an email.