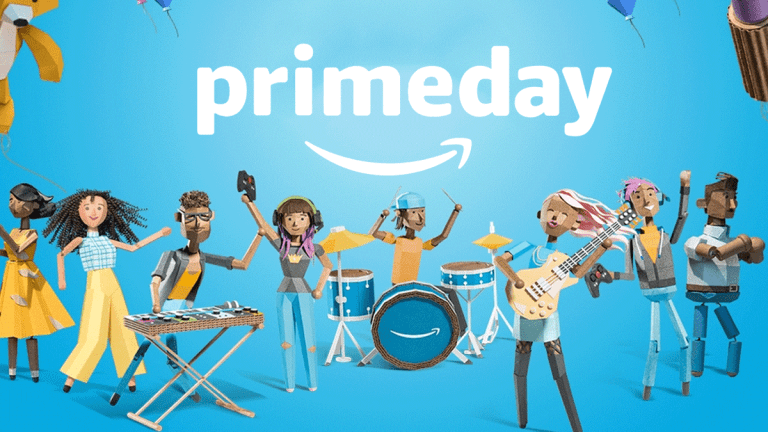 Prime Day Isn't Just For Amazon -- Target, Walmart, Others Want a Piece Too
Amazon's retail competitors will see a 79% revenue lift around Prime Day, according to a projection from Adobe Analytics.
"Black Friday in July" is in full swing, and it isn't just Amazon (AMZN) reaping the spoils. 
Prime Day, which runs Monday through Tuesday this week, is the linchpin of the mid-summer shopping surge -- but other retailers, such as Walmart (WMT) and Target (TGT) , have been getting in on the action too. Amazon shares closed 0.50% higher on Monday, while Walmart shares were up 0.33% and Target's down 0.83%. 
In a note on Monday, Moody's retail analyst Charlie O'Shea described how Amazon big-box rivals Target and Walmart bracketed the 48-hour Prime Day with their own slew of discounts.
"This heavyweight 'Black Friday in July' battle will have ripple effects throughout retail, and will highlight how effective the delivery investment of key players has been. It's a challenging retail environment for everyone, but for the largest it just got more challenging," O'Shea wrote.
Both Walmart and Target are offering an array of deals and free shipping this week. Their strategies and resources are a bit different, though. O'Shea noted that Walmart is leveraging its network of 5,300 physical stores as pickup locations for free deliveries; Target, meanwhile, is using ShipIt, which it acquired in 2017, to grow its same- and next-day delivery capabilities.
"With the additional day, Amazon created an incredible ripple effect that's pulled retailers like Target and Walmart to compete with the e-comm giant with their own 'Prime Days'. It's allowed Amazon to put even more pressure on retailers to up their game especially when tackling discount strategies," said Kayla Marci, an analyst at Edited, a market insights platform for retailers. She added that rather than playing "catch up" by offering heavy discounts on a wide array of products, other big-box retailers are better off offering targeted discounts on a more limited set of products.
Anchored by Prime Day, consumers are primed for doing all kinds of shopping in proximity to the event. Total sales on Amazon are expected to reach $6 billion this year, but retailers of many different stripes see a revenue lift, too: According to a projection by Adobe Analytics, Amazon's competitors will see a revenue lift of 79 percent during Prime Day.
"Days like this present opportunity for everyone. Retailers of all types can take advantage of this -- whether they have a digital, brick-and-mortar, or blended presence," added Tom Buiocchi, CEO of facilities management platform ServiceChannel.
Any Prime Day-related sales lift is also an opportunity for retailers to flex their logistical muscles, and to get the message out about what they offer over the competition. 
Speaking at the Fortune Brainstorm Tech conference on Monday, Walmart CEO Doug McMillon expressed admiration for Amazon's "speed, innovation, and customer centricity" and aims to bring those qualities to Walmart's ecommerce business. 
Asked what advantages Walmart holds over rival Amazon, however, McMillon pointed out Walmart's very large network of distribution and fulfillment facilities -- which "can be leveraged to do other things," he said, in addition to Walmart's more than 4,700 stores in the U.S., which he likened to profitable picking centers.  
"Yeah, we fell behind and have been playing catch up," he said of Walmart's forays into ecommerce. "But what we have really learned in recent times is that these things come together in an interesting way [that has advantages for Walmart].
Amazon is a holding in Jim Cramer'sAction Alerts PLUS Charitable Trust Portfolio. Want to be alerted before Cramer buys or sells AMZN? Learn more now.