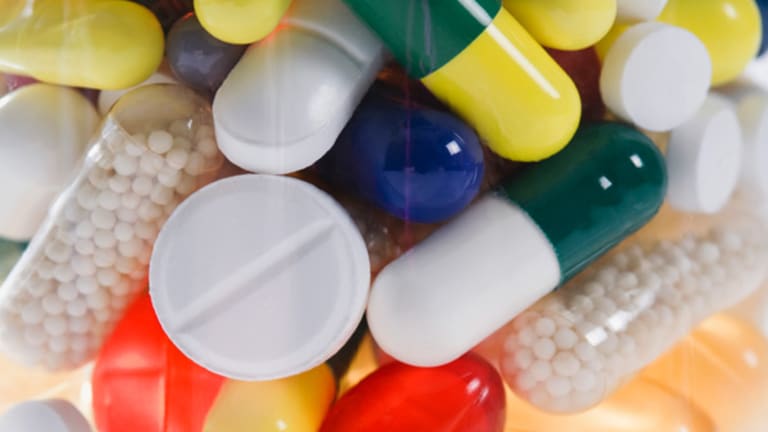 Priced In at Alexion
For this stock to go higher, the biotech company needs more than one orphan drug.
A recent theme that has emerged in my coverage of the biotech sector has been companies with novel drugs whose stocks are fully priced, if not overpriced.
Now, to my
article on
New River Pharmaceuticals
(NRPH)
and
another one on
OSI Pharmaceuticals
(OSIP)
, you can add another to the list of stocks where the good news is already priced in:
Alexion Pharmaceuticals
(ALXN) - Get Alexion Pharmaceuticals, Inc. Report
.
Alexion is the manufacturer of Soliris, a phase III drug for the treatment of paroxysmal nocturnal hemoglobinuria, an uncommon blood disorder in which red blood cells are destroyed. Soliris was granted ultra-orphan drug status by the Food and Drug Administration because of the rare nature of the disease.
The FDA's orphan-drug program provides incentives for companies to develop products for diseases that affect few people. Estimates are that 8,000 to 10,000 people worldwide have PNH. Although final phase III data aren't expected until the fourth quarter, Alexion reported positive preliminary phase III results in June. The company hopes to gain FDA clearance in the first half of 2007.
Though PNH is rare, the economics of Soliris should be strong. Ultra-orphan drugs tend to be priced extremely high, well into the six figures per patient per year.
For example, Myozyme, made by
Genzyme
(GENZ)
for Pompe disease, costs patients or their insurance companies north of $200,000 annually.
BioMarin's
(BMRN) - Get BioMarin Pharmaceutical Inc. Report
Naglazyme for Maroteaux-Lamy syndrome can cost nearly $400,000. Soliris will likely cost between $100,000 and $200,000, according to Alexion's management.
Paying a High Price
The number of patients who will use Soliris is debatable. Cowen & Co.'s research indicates that at least 70% of patients with PNH will be treated with Soliris. Cowen managed a public offering for Alexion in the past three years.
However, Morningstar's Karen Yiu believes the figure is more likely to come in around 50% to 60%, owing to the high price of the drug and the fact that there is a significant number of people who don't require frequent blood transfusions.
Patients who are highly or moderately transfused are the most likely candidates for Soliris, according to Yiu. Morningstar doesn't engage in investment banking.
She says Alexion could attempt to expand the label for Soliris to include renal transplantation and asthma, but it would then have to lower the price because the drug would no longer be considered ultra-orphan by the FDA.
So What's the Problem?
So far, I've described what appears to be a highly effective drug with great economics that is expected to generate $166 million in revenue in 2008, according to Thomson Financial consensus estimates. The high estimate is $312 million. Sales are projected to be even higher from 2009 to 2011. Alexion could become profitable as early as 2008, although the consensus remains a loss of 72 cents a share.
My issues with Alexion revolve around the belief that the potential of Soliris is already priced into the stock. After all, this is not new news to the followers. The stock has doubled in the past nine months, including a 6% move Tuesday on heavy volume.
I don't see any catalysts on the horizon. Approval of Soliris is expected, but the only positive surprise that I can picture would be a faster-than-anticipated ramp in sales. However, that's unlikely because of the high price and the challenges facing a brand-new sales force.
Alexion is building its first sales force from scratch, so there's no track record to rely on. Additionally, it will face the hurdle of marketing a drug across the globe that is required by very few people.
Don't look to Alexion's pipeline to get the stock moving. Pexelizumab for heart attacks failed to meet the endpoints of phase III trials, and the company has said it won't devote any more resources to the drug. After that, two other drugs haven't even entered into phase I trials yet, meaning another marketable product is years away.
Alexion also has a poison pill in effect until March 6, 2007, that could make it very difficult for an acquiring company to complete the transaction. Those two items leave me with the feeling that Alexion might not be the most shareholder-friendly company in the space. Alexion executives weren't available to comment on this article.
Soliris likely will be a big winner for patients and for Alexion. But at $38 a share, investors need something more than a drug that everyone is already looking forward to. And Alexion doesn't have anything else up its sleeve.
In keeping with TSC's editorial policy, Lichtenfeld doesn't own or short individual stocks. He also doesn't invest in hedge funds or other private investment partnerships.
Marc Lichtenfeld was previously an analyst at Avalon Research Group and The Weiss Group and a trader at Carlin Equities. He holds NASD 86, 87, 7 and 63 licenses. His prior journalism experience includes being a reporter/anchor for On24 in San Francisco and a managing editor of InvestorsObserver, a personal finance Web site. He is a graduate of the State University of New York at Albany. He appreciates your feedback;
to send him an email.