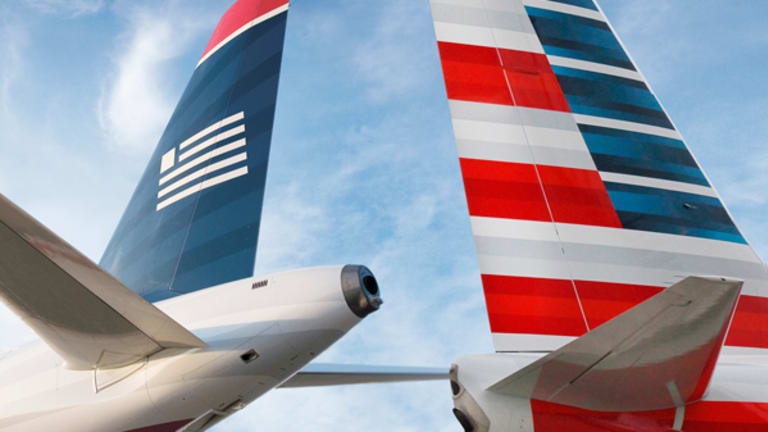 Pressure Mounts on DOJ to Accept US Airways/American Merger
Mayors, members of Congress and state attorneys are all asking DOJ to drop its opposition to the US Airways/American merger.
CHARLOTTE (
) -- From many quarters, pressure is mounting on the U.S. Justice Department to drop its lawsuit opposing the proposed merger of
US Airways
(LCC)
and
American
( AAMRQ).
On Wednesday, the mayors of seven hub cities -- Charlotte, Chicago, Dallas, Fort Worth, Miami, Philadelphia and Phoenix -- sent a letter to Attorney General Eric Holder, asking him "to reconsider this ill-conceived lawsuit." Most prominent among the mayors is Rahm Emanuel of Chicago, who was President Obama's chief of staff from 2008 to 2010.
Also Wednesday, Oklahoma Attorney General E. Scott Pruitt served notice that Oklahoma will file a "friend of the court" brief in support of the merger. "The Department of Justice should drop its lawsuit and allow the merger of American Airlines and US Airways to continue," Pruitt said in a press release. Tulsa, Okla., is the site of American's largest maintenance base.
Three weeks ago, Texas Attorney General Greg Abbott dropped his opposition to a merger, leaving six attorneys general joined with the Justice Department in support of the lawsuit and 45 attorneys general not in support of the lawsuit.
Last week, 68 Democratic members of Congress sent Obama a letter advocating for the merger. "Maybe someone at Justice may not have understood the impact (of stopping the merger) would have on union workers and on thousands of jobs," said Texas Congressman Marc Veasey, in an interview. "This is management and labor working together. Justice may not have had a good understanding that (its action) would create a duopoly."
Labor support for the merger has been
and may conceivably have an impact on a Democratic administration that has generally had labor support.
"What is so frustrating here is that DOJ doesn't seem to consider the attitude of employees, flight attendants in particular," said Laura Glading, president of the Association of Professional Flight Attendants and perhaps the most visible labor supporter of the merger.
"Shouldn't we be figured into the equation?" Glading asked in an interview. "Nobody considers the employees who made the sacrifices, did everything right, willing to change the company -- and now getting kicked in the teeth by a Democratic administration."
On two earnings calls this week, two airline CEOs seemed to display some level of support for the merger. Of course, support from US Airways CEO Doug Parker is no surprise. But Parker pointed out on Wednesday that recent financial success by US Airways and American ought not be seen as an obstacle. He summarized an argument that may be made at the U.S. District Court hearing, scheduled to begin Nov. 25, if the case is not dropped or settled before then.
"One of our accomplishments of late is that the company's credit rating was raised one notch from B minus to single B," Parker said. "While we're happy to see a credit rating increase, a single B company still needs five upgrades to get to investment-grade.
"So, as well as we're doing, we still have a company that is nowhere near investment-grade, nowhere near where other companies that merge and their businesses are," Parker said. "I just want to make sure everybody understands that what we're really talking about here is merging a single B credit with a bankrupt credit."
Meanwhile,
Delta
(DAL)
CEO Richard Anderson spoke Tuesday of China's airline policy. Anderson has been a frequent critic of the United States government's lack of an airline policy.
In response to an analyst's question about the potential for an Open Skies agreement with China, Anderson said that "the Chinese carriers are continuing to develop and the Chinese government, to their credit, views, unlike the United States, the Chinese government views aviation as a strategic asset for its country.
"They're making the kinds of investments in growing and developing three strong flag carriers," Anderson said. "And if you were in their situation, you would take similar steps."
The statement did not represent an endorsement of the merger, but it did draw a contrast between China's support for its three global carriers and the United States' lack of support for a policy that would enable the existence of three global competitors. "What bothers me is that the DOJ relies on the assumption that American can compete as a standalone," Glading said. "Nobody else shares that view."
-- Written by Ted Reed in Charlotte, N.C.
>To contact the writer of this article, click here:
Ted Reed