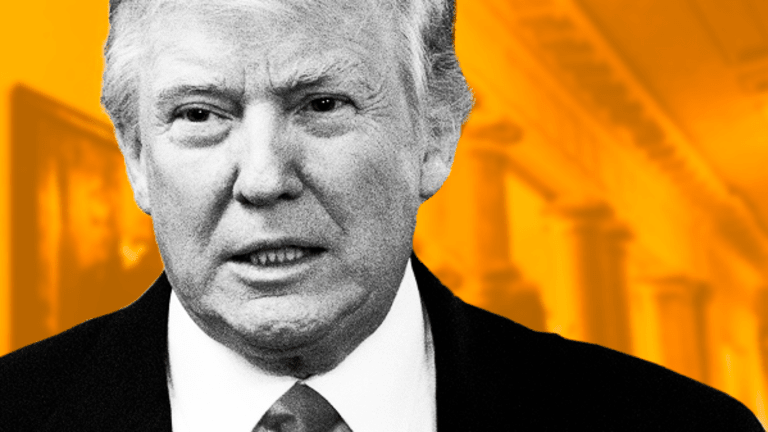 President Trump Wants to Move Government to the Cloud
The White House envisions a cloud software marketplace, private-sector-style apps and services and cyber security.
The White House envisions a cloud software marketplace, private-sector-style apps and services and cyber security.
As Jared Kushner's Office of American Innovation looks to move legacy systems to the cloud, the Trump administration wants to launch a cloud marketplace where companies can sell software-as-a-service applications to the government. The Trump administration also has ambitions to improve services and security, although attracting tech staffers amid tightened budgets will present a challenge.
President Trump, Kushner and other administration staff were able to pick the brains of cloud and digital tech luminaries Alphabet Inc. (GOOGL) - Get Report Executive Chairman Eric Schmidt, Amazon.com Inc. (AMZN) - Get Report CEO Jeff Bezos, Microsoft Corp. (MSFT) - Get Report  boss Satya Nadella, Adobe Systems Inc.  (ADBE) - Get Report CEO Shantanu Narayen and Apple Inc. (AAPL) - Get Report CEO Tim Cook at a White House technology summit on Monday.
"The 'why' of the summit is pretty clear," said Katell Thielemann, a vice president of research in Gartner Inc.'s Public Sector group. "There is a tremendously challenging federal IT environment." The issues range from old equipment and skill gaps among staffers to arcane procurement rules.
"What I thought was fascinating was the 'Who,'" Thielemann added. "Who was in the room but also who was not in the room."
While there was plenty of Silicon Valley star power assembled, neither acting federal Chief Information Officer Margie Graves or deputy Chief Technology Officer Michael Kratsios were there. "Also absent were all of the established federal venders who have been working in the federal IT environment for decades," she said. Accenture LLP CEO Julie Sweet attended, but Thielemann noted that Leidos Holdings Inc. (LDOS) - Get Report , Booz Allen Hamilton Holding Corp. (BAH) - Get Report , CSRA Inc. (CSRA) and CACI International Inc. (CACI) - Get Reportwere not.
"We want to create a cloud marketplace to make it easy to sell [software-as-a-service] products to the government," states a document outlining discussion points that the administration distributed to the CEOs attending the summit. Bezos, Naraven and Cook could certainly give the administration tips on how to set up an online app market.
"This notion of creating a one-stop shop for software, that's all well and good maybe for enterprise," Thielemann said.
The concept might not work as well for some of the large government agencies. "If you're [the National Oceanic and Atmospheric Administration] and you are flying weather satellites you have an entire IT infrastructure that needs to be modernized, that will not be served by a marketplace of software-as-a-service solutions," she said.
The discussion points cite the "sprawl of legacy systems" in government IT, which the administration wants to update with cloud and digital infrastructure. Cloud spending in Washington is actually down this year, according to Forrester Research Inc. After reaching $2.6 billion in fiscal year 2016, or 3.2% of total Federal tech spending, Forrester expects Federal cloud spending to drop to $2.1 billion, or 2.6% of the total IT bill, in fiscal year 2017, which ends Sept. 30.
The Department of Defense is the biggest cloud spender among government agencies, with the cloud accounting for a little more than $1 billion, or about 3%, of its $30.3 billion IT spending tab, Forrester reports. The National Archives is the highest proportional spender, with $14 million in cloud spending, accounting for 12% of its $115 million fiscal year IT budget.
Apple,Alphabet and Adobe are holdings in Jim Cramer'sAction Alerts PLUS Charitable Trust Portfolio. Want to be alerted before Cramer buys or sells AAPL, GOOGL or ADBE? Learn more now.
In addition to a cloud marketplace, Trump said in remarks at the summit that he wants "dramatically better services for citizens, stronger protection from cyber attacks."
The government could provide more polished, app-like services that are closer to what consumers experience in the private sector, the backgrounder suggested. "[I]t should be as easy to apply for benefits as it is to deposit a check on your phone," the document listing discussion topics states.
The Russian hacking scandal and the WanaCry ransomware have demonstrated the political and business risks associated with cyber security. "Federal agencies are often operating legacy systems that are vulnerable to new threats," the backgrounder states. "As cloud services are adopted and industry manages more data for the government, new approaches are needed to protect against the most advanced adversaries."
As the Trump administration looks to tweak how the government spends an $80 billion IT budget, it can draw on resources the Obama administration put in place.
Former Defense Secretary Ashton Carter set up the Defense Innovation Unit Experimental, or DIUx, to help the military adopt new technology. Raj Shah, a former fighter jet pilot with the U.S. Air Force and a veteran of cyber-security company Palo Alto Networks Inc. (PANW) - Get Report , runs DIUx. 
The Obama administration also created the U.S. Digital Service in 2014 to work on government tech projects such as stabilizing the Healthcare.Gov web site and improving the process for handling disability claims from veterans. Former Google engineer Matt Cutts runs the program.
Projects such as DIUx and U.S. Digital Services reflect the government's recognition that it needs talent from Silicon Valley to make its tech efforts work. Forrester suggests that keeping those staffers will be one of the governments' biggest challenges as it upgrades its IT systems, especially if budgets limit the compensation it can offer tech workers with valuable skills. 
The federal government faces diverse information technology challenges, Thielemann noted.
"Some of them have to do with technology," she said. "Most of them have to do with culture, process, budgets and acquisition reform [or buying and managing IT]."