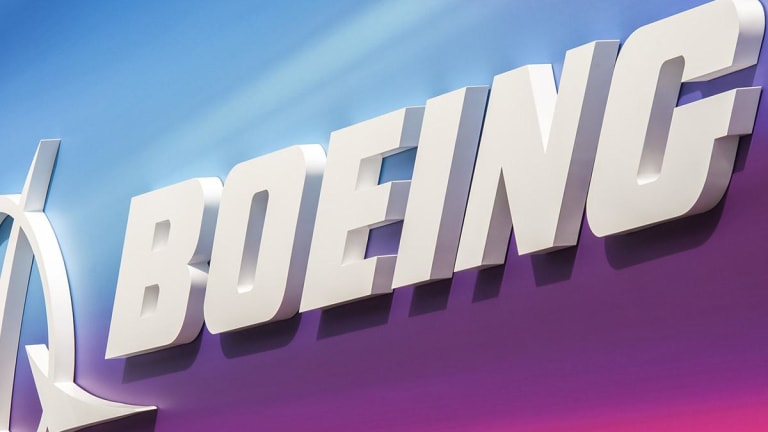 President Donald Trump Orders Grounding of Boeing 737 MAX 8 and MAX 9 Planes
President Donald Trump ordered the immediate grounding of Boeing's BA controversial 737 MAX 8 and MAX 9 planes following similar decisions from aviation authorities around the world in the wake of Sunday's deadly crash in Ethiopia.
President Donald Trump ordered the immediate grounding of Boeing's (BA) - Get Boeing Company Report controversial 737 MAX 8 and MAX 9 planes Wednesday, following similar decisions from aviation authorities around the world, in the wake of Sunday's deadly crash of Ethiopian Airlines Flight ET302.
"The safety of the American people, all people, is our paramount concern," the President said in a statement from the White House. "Any plane currently in the air will go to its destination and thereafter be grounded until further notice. Planes that are in the air will be grounded upon landing at their destination. Pilots will be notified. Airlines have been notified and have agreed with us."
Boeing shares extended declines on Wall Street following the President's decision, falling a further 2.8% by mid-afternoon trading to change hands at $364.70 each, a move that takes its three-day slide close to 13.4% and cleaves around $30 billion from the company's market value.
"On behalf of the entire Boeing team, we extend our deepest sympathies to the families and loved ones of those who have lost their lives in these two tragic accidents," Boeing CEO Dennis Muilenburg said in a statement immediately following the President. "We are supporting this proactive step out of an abundance of caution. Safety is a core value at Boeing for as long as we have been building airplanes; and it always will be."
"There is no greater priority for our company and our industry," he added. "We are doing everything we can to understand the cause of the accidents in partnership with the investigators, deploy safety enhancements and help ensure this does not happen again."
Trump's decision, which came just 24 hours after the Federal Aviation Administration reiterated an earlier statement on the MAX' air worthiness and telephone conversations with Muilenberg.  
"The FAA continues to review extensively all available data and aggregate safety performance from operators and pilots of the Boeing 737 MAX," the agency said in a statement Tuesday. "Thus far, our review shows no systemic performance issues and provides no basis to order grounding the aircraft. Nor have other civil aviation authorities provided data to us that would warrant action."
Aviation and transport officials around the world, however, have reacted in near unison, with Canada's Transport Minister ordering restrictions on the use of 737 MAX 8 and MAX 9 jets based on new information that links the aircraft's deadly crash in Ethiopia and Indonesia.
Marc Garneau told reporters in Ottawa that Boeing jets won't be able to land in, or fly out of, Canadian airspace. He also said the nation's two biggest carriers, Air Canada and West Jet, did not protest the decision, adding he won't hesitate to take "swift action" if officials find any more safety issues with Boeing planes.
"As a result of new data we received this morning, and had the chance to analyse, and as a precautionary measure, we are issuing a safety notice that ... restricts the operation of any Boeing MAX 8 or MAX 9 aircraft, domestic or foreign, from arriving or departing over Canadian airspace," Garneau said.
More than two thirds of  the MAX 8's market has have grounded the MAX 8 jet, in defiance of safety assurances from the FAA, following Sunday's crash of Ethiopian Airlines flight ET302 from Addis Ababa that killed all 157 passengers and raised significant concerns for Boeing's most profitable aircraft.
Boeing has insisted it has "full confidence in the safety of the MAX", adding it will "continue to engage with (all civil authorities) to ensure they have all the information they need to have the confidence they need (to) safely continue to operate their fleets or return them to service."