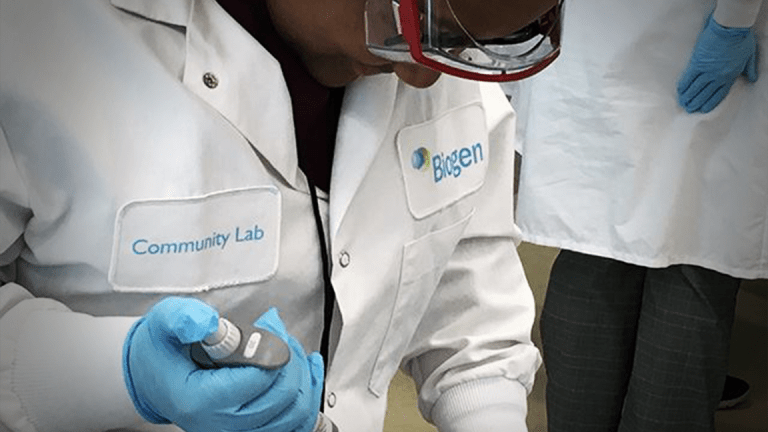 Prepare for Volatility Around Biogen Ahead of Alzheimer's Presentation: Leerink
Positive readings from the biotech giant's Alzheimer's drug could drive the stock to as high as $393.
It's time to temper the excitement around Biogen Inc. (BIIB) - Get Biogen Inc. Report .
Leerink Partners analyst Geoffrey Porges warned the Cambridge, Mass.-based biotech company's shares could experience "tremendous volatility" ahead of the release of detailed results from Biogen's Alzheimer's drug BAN2401 at the Alzheimer's Association International Conference meeting in Chicago on Wednesday, July 25. 
Porges estimated that the stock could fall by $20 to $334 if results showed a marginal difference in cognitive decline, but could gain as much as $40 to $393 a share if the data show substantial decreases, he wrote in a note. 
Investors expect a 15%-20% reduction in the rate of cognitive decline and would view anything over 20% to be especially meaningful, according to the note. However, medical experts would have to see a larger percentage to be excited about BAN2401, Porges wrote. Porges himself would have to see a 30% or greater reduction to see a huge positive upside in Biogen, which is also the percentage he thinks would support Food and Drug Administration approval of BAN2401.
"A positive outcome for BAN2401 could influence investors to assign a higher probability of success for aducanumab, a higher probability for BAN2401 or a higher likelihood that both antibodies come to market," Porges wrote.
Read More About the Significant Changes at Pfizer Via TheStreet
Aducanumab is Biogen's other Alzheimer's drug that utilizes the amyloid-reducing antibody premise that BAN2401 is designed around. It is further along in its clinical development than BAN2401, and late-stage trial results are expected to come in 2020. 
Biogen enjoyed a massive jump in its stock price earlier this month when it reported that BAN2401 significantly reduced cognitive deterioration compared to placebo over an 18-month period. Shares rose almost 20% on the encouraging results.
Porges attributed Biogen's surge to the support BAN2401 gave aducanumab in raising investors' confidence in the drug significantly meeting its endpoints in phase III trials. BAN2401 test results increased the probability of aducanumab succeeding from approximately 10% to 60%, Porges wrote.
"With the stock still trading close to his peak, in our view this seems a generous assignment of risk, given the perils of this indication, the variances between phase II and phase III for so many drugs in Alzheimer's and the diluted value Biogen receives for the product," Porges wrote.
But Porges is hesitant to recommend Biogen's stock before BAN2401 results are released next week. He maintains his "market perform" rating on Biogen and has kept his price target at $325 even though the stock is trading close to its 52-week high of $370.57. Overall, Porges said he sees Biogen losing market share in the future as the it faces "flat-to-declining" sales.
Shares of Biogen closed Thursday, July 19, at $358.11.