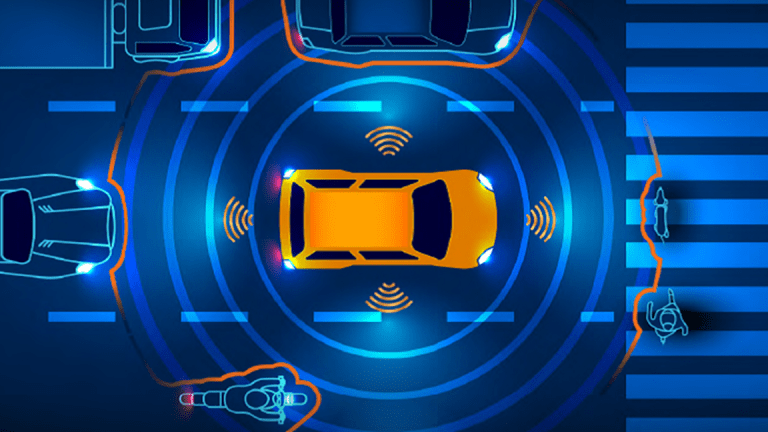 Who Will Win the Self-Driving Car Race? (Hint: Many Companies)
There are hundreds of names trying to grab a piece of the self-driving car pie, ranging from startups to the world's largest automakers.
Following Nvidia Corporation's (NVDA) - Get NVIDIA Corporation Report GTC Conference last week, self-driving cars are in focus now more than ever.
It makes many wonder what companies are operating in the space and who does what. Well for starters, it's no surprise that Nvidia is a big player in the autonomous vehicle race.
While Nvidia doesn't make automobiles itself, it makes many of the high-tech and powerful components that are needed to make autonomous driving realistic. In order to successfully pilot a self-driving car, it requires an immense amount of computing power.
Until recently, that's one thing companies have been lacking, which limited the powers of AVs. For the most part, though, that hurdle has been cleared and computing power is not so much an issue anymore. Now, it's the software that needs to catch up.
Thanks to deep-learning and artificial intelligence, though, these systems can train for millions of different scenarios without having to go on the road.
When some people think of self-driving cars, many picture a test driver sitting behind the wheel of one of the cars from Waymo, the self-driving car segment from Alphabet Inc.  (GOOG) - Get Alphabet Inc. Class C Report (GOOGL) - Get Alphabet Inc. Class A Report . As the car cruises through Northern Calif., the driver manually grabs the wheel whenever the car makes a mistake. 
In many minds, that was the only way to "teach" a self-driving car how to drive -- by actually hitting the roads and driving. While that's still a big component today, it's no longer the only way to do it. At last week's GTC conference, Nvidia showed off its new DRIVE Constellation platform, which allows a self-driving car system to "drive" in synthetic environments.
What does this mean?
In a nutshell, programmers can draw up all sorts of scenarios -- snowy conditions, heavy rains, the sun at inconvenient angles causing a blinding glare, a swerving car, a running child, etc. -- and run those scenarios on server No. 1. On server No. 2 is the self-driving vehicle's software, running lidar, radar and all sorts of cameras and sensors. It doesn't know the scenario isn't real, but for all intents and purposes, its "learning" how to maneuver these situations without encountering them in the real world.
Nvidia has more than 370 partners for its self-driving platforms, ranging from a titan like Mercedes-Benz to a number of small start-ups.
So who else is in the race?
Technology Companies
With little surprise, self-driving abilities require an immense amount of technology. It ranges from chips and sensors -- a company like Intel Corp.  (INTC) - Get Intel Corporation Report comes to mind, particularly after its Mobileye acquisition -- to computing and processing power.
That involves Intel, Nvidia, NXP Semiconductors NV (NXPI) - Get NXP Semiconductors NV Report , Qualcomm, Inc. (QCOM) - Get Qualcomm Inc Report , Cisco Systems, Inc. (CSCO) - Get Cisco Systems, Inc. Report  Broadcom Ltd (AVGO) - Get Broadcom Inc. Report and even BlackBerry Ltd (BB) - Get BlackBerry Limited Report .
Nvidia, Alphabet and Broadcom are holdings in Jim Cramer'sAction Alerts PLUS Charitable Trust Portfolio. Want to be alerted before Cramer buys or sells NVDA, GOOGL or AVGO?Learn more now.
But one of the more well-known tech names in the space has to be Waymo. Waymo actually partnered with Intel for sensors and connectivity after its more than $15 billion purchase of Mobileye in 2017. Waymo was one of the first companies to put a driverless car on public roads and has been a pioneer in the up-and-coming industry.
While European courts may consider Uber a transportation company, it very much serves as a technology company and the middleman between consumer and driver. Although its platform has led to widespread disruption in the transportation space, Uber isn't done yet.
It's work in the self-driving space comes with a black eye, though. Last month, an Uber AV was involved in a fatal accident with a pedestrian. Its caused a ripple effect across the group, causing some companies -- like Nvidia -- to temporarily suspend its self-driving car space. Uber also acquired Otto for $680 million in mid-2016, a self-driving company focused on trucking modifications.
Automakers
With big-tech pouring funds into its R&D budget for AVs, it's no surprise then that automakers are doing the same. Some companies find it more beneficial to partner with others instead of leading the charge on their own.
For instance, Jaguar and Waymo recently announced a deal involving 20,000 vehicles. Fiat Chrysler Automobiles NV (FCAU) - Get Stellantis N.V. Report and Honda Motor Co Ltd (HMC) - Get Honda Motor Co. Ltd. Report  have also partnered with Waymo. Volvo is working with Uber.
But then there's companies like General Motors Company (GM) - Get General Motors Company Report and Telsa Inc.  (TSLA) - Get Tesla Inc Report , two that many consider leaders in the AV race. GM could have a fleet of fully autonomous taxis suited for dense urban environments in just a few years. As a result, rather than a one-time sale, it can continuously milk revenue from these now-service vehicles. It could generate hundreds of thousands of dollars in sales per unit as a result.
Tesla's Autopilot feature has found itself smeared in controversy more than once. But because of the company's willingness to push the envelope, many consider it a leader in the space. Tesla also unveiled an electric semi-truck, banking on the idea of "fleet" driving. In other words, there could be a human driver in the lead, closely followed by several autonomous semi-trucks.
Ford Motor Company (F) - Get Ford Motor Company Report , Audi (and its parent, Volkswagen), Toyota Motor Corp (TM) - Get Toyota Motor Corp. Report -- the last of which recently plunked down several billion dollars aimed at the cause -- and many others are looking to ride this disruptive wave.
Criticism and doubts aside, self-driving cars are coming. From a safety perspective, it makes too much sense and from a financial and productivity standpoint it also makes too much sense. As a result, these companies are doing everything they can to get ahead of tomorrow's technology, today.
This article is commentary by an independent contributor. At the time of publication, the author had no positions in the stocks mentioned.