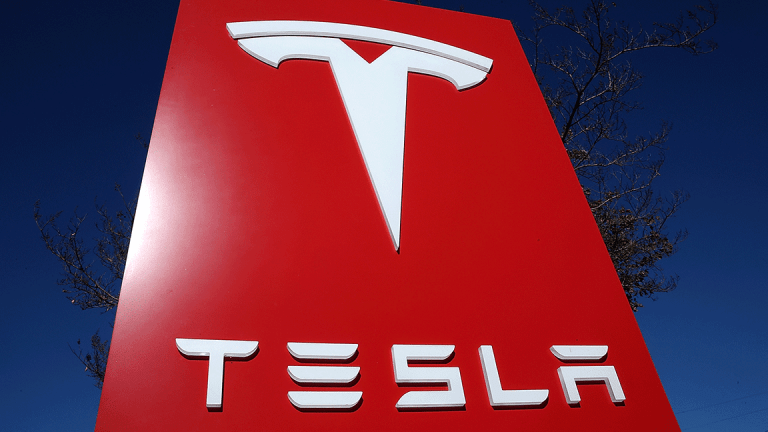 Is Tesla's Stock a Buy Now That It's 'Back on Earth?'
Shares of Tesla have been beaten down, but is that pain about to subside?
It's been a hellacious start to 2018 for Tesla Inc.  (TSLA) - Get Tesla Inc Report . 
On Thursday -- the last trading session of the holiday-shortened week and last business day of the first quarter -- shares jumped more than 3% and closed near $266. Optimists were hoping that its recent low near $250 would be the end of its pummeling, given the beatdown Tesla stock has suffered over the last six weeks.
That isn't the case, though. Shares plunged more than 7% in early Monday trading and briefly falling below last week's low. However, despite the broad market selling pressure, shares of Tesla closed lower by "just" 5.13% Monday, ending the day at $252.48 and above last week's key low, (more on trading Tesla stock in a minute). 
Shares are now down 17% over the last five trading sessions and 24% over the past month. It's been a tough stretch, but could the pain be coming to an end?
On Monday, Jefferies analyst Philippe Houchois upgraded the stock to hold from underperform and maintained his $250 price target. May we just say, what a great call so far by Mr. Houchois, who downgraded Tesla in September 2017. 
Part of the title from his note reads, "Shares Back on Earth," which may be appropriate given its high valuation and recent tumble. According to Houchois, there's a high probability that Elon Musk and the rest of management will take "more drastic action" when it comes to guidance, funding and restoring credibility.
Although, some may argue, that take doesn't jive with Musk's bankruptcy joke over the weekend.
The company has seen its bond prices and stock price take a dive over the past few weeks, in part due to Tesla's slow progress in ramping up production of the Model 3 sedan. As "production hell" persists -- a term from Musk in a recent conference call -- investors continue to worry about Tesla's cash situation.
Should it need to raise funds, the stock could see even further declines. However, if the potential capital raise is less than the market expects, this could actually be a good thing for the stock price, Houchois argues. Especially if it helps lower some of the risk associated with production of the Model 3.
So what are the charts saying?
Let's keep it simple: With Monday's plunge, Tesla stock took out its recent low near $250. Should it fail to get back above this level, it puts the $200 to $210 level in target. If Tesla can close above $250 and put in a short-term bottom, a return to previous support near $290 is in the cards.
Subscribe to our Youtube Channel for extended interviews, Cramer Replays, feature content, and more!
This article is commentary by an independent contributor. At the time of publication, the author had no positions in the stocks mentioned.