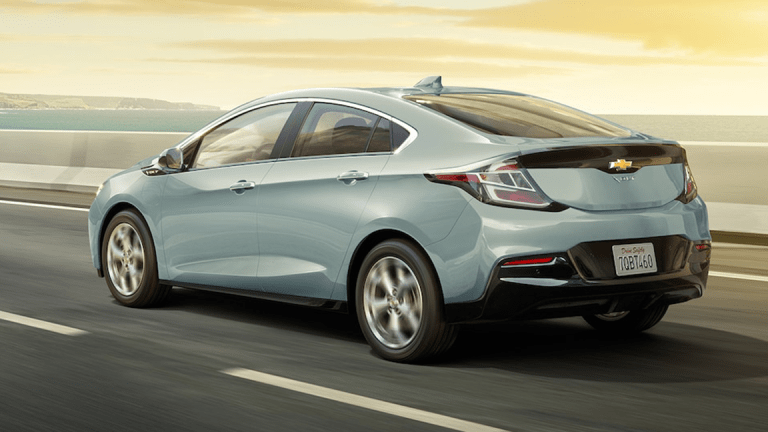 Tesla vs. General Motors: Which Is the Better Self-Driving Car Play?
If you had to choose right now, Tesla or GM, which would it be?
Thanks to its Autopilot feature, Tesla Inc.  (TSLA) - Get Tesla Inc. Report has been considered one of the leaders in self-driving cars.
Many still consider that to be the case, as videos on YouTube show a great number of customers riding in their cars without having to steer or control the car. Without a doubt, it's impressive.
But just like Tesla got off to a fast start with its best-in-class Model S electric car, it's no longer the only game in town.
A huge number of companies have entered the autonomous vehicle race, ranging from Nvidia Corporation (NVDA) - Get NVIDIA Corporation Report and Intel Corporation (INTC) - Get Intel Corporation Report to Ford Motor Company (F) - Get Ford Motor Company Report and Uber.
While big tech will benefit from the intense demands that AV require, automakers are sure to benefit as well. Of the group, General Motors Corporation (GM) - Get General Motors Company Report might be one of, if not the biggest, winners.
So between Tesla and General Motors, which is the better play on self-driving cars? I believe it's the latter, for a few reasons. While Tesla might have the most impressive technology right now, I think GM has one of the larger opportunities in AV. Additionally, its financials are stronger, it has more experience and the stock's risk/reward is better.
Nvidia and Apple are holdings in Jim Cramer'sAction Alerts PLUS Charitable Trust Portfolio. Want to be alerted before Cramer buys or sells NVDA or AAPL?Learn more now.
General Motors and the AV Race
Back in December, GM management announced a plan to investors: It will launch a fleet of self-driving taxis intended for dense urban environments featuring no steering wheels or pedals.
When will this futuristic fantasy become a reality? Management says as early as 2019 -- next year! Many on Wall Street seem skeptical of this and I can understand why. But even if they are off by a year or two, it's not the end of the world.
The company -- which at the time announced new sales numbers and a record average transaction price of $37,000 per vehicle -- says each AV in the fleet could generate hundreds of thousands of dollars in revenue.
Right now, GM realizes a bulk of its revenue when it sells a vehicle. Duh, right? But rather than ringing up a one-time sale for each car, what if it could extend its revenue potential? What if the taxi AV could generate $111,000 in sales -- seemingly on the lower end of management's original forecast -- over its life?
That would be roughly triple the company's average selling price for a vehicle.
Further, people still have to get from Point A to Point B in good times and bad. Historically, the automakers are cyclical companies, meaning business is strong when the economy is strong and vice versa. People might not buy a new car in a sluggish economy, but those in the city will still hail a ride to get from one side of town to the other.  
In other words, a fleet of service-revenue taxis could help smooth out GM's volatile cyclical business when the economy stalls.
Think of it like a tech stock: Investors like when a hardware company -- be it Cisco Systems, Inc. (CSCO) - Get Cisco Systems Inc. Report or Apple Inc. (AAPL) - Get Apple Inc. Report for instance -- diversify away from the one-time hardware sale, and get into the higher margin, dependable service revenues. Better margins and higher, more consistent revenue improves the business.
It also helps garner a higher valuation from Wall Street.
Valuing GM vs. Tesla
That's another dynamic to why GM stock seems like a better play than Tesla right now. There's no doubt Tesla has an amazing product on the road and its Autopilot is an excellent driving-assist program. Over-the-air updates make it even more impressive, as the automaker can continually improve the program in its push to go fully autonomous.
If you had no budget and were looking to buy a car with the most self-driving features, there's plenty of reasons to go with a Tesla over a GM car.
Tesla Shares Rise on Latest Model 3 Production Numbers
But from an investment standpoint, GM is a clear winner. There are the obvious data points: A forward price-to-earnings ratio of 5.7, a dividend yield north of 4%, billions in profit per year.
Compare this to Tesla, which cannot properly be valued on a price-to-earnings basis because it doesn't yet turn a profit (although forecasts call for earnings of $2.34 per share in 2019, meaning shares trade at about 111 times that figure). It doesn't pay a dividend either.
This data should be taken in stride as well. Tesla is still in the early stages of its business, while GM has been manufacturing cars for many, many decades. Of course, one is still struggling with production numbers, while the other has a well-oiled machine, so to say. But dollars don't discriminate and at a glance, GM stock is the obvious pick. Plus, look at its chart:
Off its highs and with support nearby, investors could find a number of charts that look worse. Combined with the information above -- high yield, low valuation -- and GM makes for an interesting speculative bet on the future of AV.
For the record, here's how Tesla's chart is shaping up.
Make no mistake, Tesla has great technology and an excellent product. But from an investment standpoint, GM seems to be the more sure bet right now. Given the differences here, it's surprising that Tesla's market cap is less than $6 billion below that of GM's $52 billion valuation.
This article is commentary by an independent contributor. At the time of publication, the author had no positions in the stocks mentioned.