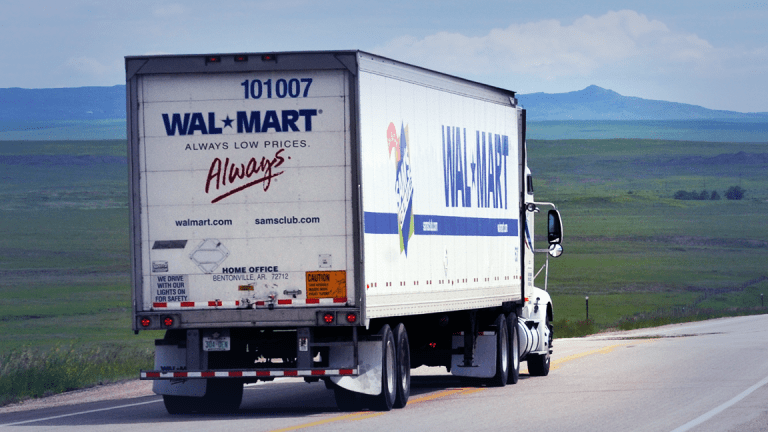 Walmart Might Have a Mind-Blowing 2018
One analyst expects a 5% dividend increase for Walmart investors in 2018.
That busy moms are always in a hurry is a given. That's true for Walmart Stores Inc.'s  (WMT)  , too, which plans to swiftly transform itself in 2018, according to CEO Doug McMillon. 
Next year, the retail giant is prepared to cater to those aforementioned moms and other new customer groups and pick up its "speed" overall, McMillon told TheStreet during an interview in November. And likely, considering its track record in recent years, it will go after more acquisitions.
"We're moving faster as an organization," McMillon said, "but none of us feel we're moving fast enough."
Such efforts under McMillon, including beefing up how much stuff it sells online, has fueled sales, expanded its customer base and drawn upbeat marks from Wall Street. In the third-quarter, the company's e-commerce sales grew by 50% and U.S. same-store sales were up 2.7%.
"[Walmart delivered] better customer service, a renewed focus on fresh, sharp tactical execution and aggressive investments in e-commerce [that] all drove better results," wrote KeyBanc analyst Edward Yruma, following Walmart's third-quarter earnings in November. "Strength was broad-based (U.S. supercenters, e-commerce, Sam's Club, and international), and we remain confident results will continue to strengthen as the initiatives drive compounding benefits."
Here's what else could be in store for Walmart in 2018.
Larger Dividends for Investors
John Zolidis, president and founder of Quo Vadis Capital, Inc., told TheStreet in an email that next year he "expect[s] the company to return more cash flow to shareholders and, in particular, a larger dividend increase than in recent years." That could help lift Walmart's already attractive 2% dividend yield even higher. 
Walmart's most recent dividend was 51 cents a share, an amount that may rise 5% in light of the new tax law, said Jennifer Necir Olson, a senior financial analyst, at Apriem Advisors.
More New Shoppers in the Mix
Calling all new Walmart customers to aisle 10: it welcomes your business to fatten profits in 2018.
Walmart's bold acquisitions, such as Jet.com and new partnerships, have widened its net of customers. So has selling merchandise on Walmart.com from tony Lord & Taylor, owned by Hudson's Bay Company (HBC) , and hip men's e-tailer Bonobos, which it bought earlier this year. Add to those newbies, Walmart.com has tripled the number of items for sale to 70 million stock-keeping units (SKUs) over the past year, McMillon said on a Nov. 16 earnings call. Notably, the site has also begun selling other upscale brands like Bose electronics and KitchenAid appliances.
Walmart already owns the lower-income customer, but it's struggled with the higher-income thrifty one. "These customers were good targets for Prime [delivery service owned by Amazon.com Inc. (AMZN) ], because they can afford the membership and accept delivery," said Zolidis. He added that Walmart can capture those better-heeled shoppers with a combination of lower prices, more enticing selections and convenience, including using its stores to promote speedy deliver and expand pickup choices. 
One of Walmart's alleged new ventures blends its interest in serving moms with speed by offering a personal shopping service to upscale urban mothers through a subsidiary called Code Eight. Several news sources reported on the service last week; Walmart, however, declined to comment on it when contacted by TheStreet. 
It's likely to continue to push the envelope in 2018, perhaps with a broader rollout of personal shopping. 
Fresher Ways to Shop
Ask any shopper what they value as much as price, and the lightening-quick response is speed. Walmart has started to take that into account.
"We've expanded online grocery pickup, launched Mobile Express Returns, and we're testing automated pickup towers and same-day grocery delivery. We're also learning how to automate some routine functions in our stores like scanning for shelf level out of stocks and modular accuracy," said McMillon on the Nov. 16 earnings call.
In March, Walmart announced the launch of Store No. 8, an incubator to encourage startup businesses in-house. A Walmart spokesman declined to say what's planned in that arena for next year. But, can one really rule out Walmart debuting a small, tech-centric store that doesn't have cashiers? It would be silly not to do so, seeing as Amazon has already tested a similar concept. 
More Acquisitions on the Horizon
Walmart's success with its e-commerce acquisitions, notably the startup Jet.com in 2016 for $3 billion, followed by many others, including Bonobos and Modcloth in 2017, have encouraged the company to seek more.
"Walmart has been targeting two areas with its acquisitions: technology and brands," wrote Zolidis.
From a technology standpoint, he wrote, Walmart wants anything that helps solve the management of inventory, supply chain, customer information and relationships. Digitally native and higher-end brands and those that appeal to millennials are likely on Walmart's wish list of acquisitions, too, according to Zolidis. 
Olson maintains that Walmart's acquisitions have been "reactive" to Amazon to compete with the e-tailer, and she expects that to continue. Walmart may go for e-script companies to enter the healthcare space, she said, a logistics company or, in another vein, a company like home furnishing site Overstock.com (OSTK) , whose low prices are in line with Walmart's philosophy.
Overstock CEO Patrick Byrne recently told TheStreet (below) that a decision on a sale of the company will come at the latest in March. 
Big Profit Boost From Tax Law
Walmart could catch a one-two punch to its bottom line in 2018, thanks to the new tax law. 
Walmart's effective federal tax corporate rate has been in the 31% range for three years, according to calculations done by Apriem Advisors.
The new law lowers the federal corporate tax rate to 21%, meaning a potential profit windfall to the world's largest retailer. Given Walmart's deductions in recent years, the retailer will likely be paying at a corporate tax rate of 19% under the new tax law, according to Olson. Hypothetically, were the new tax rate applied to Walmart's 2017 figures, the giant retailer would save $2.54 billion on $20.5 billion of pre-tax income, said Olson.
Meanwhile, according to Walmart's latest annual report, the company holds nearly $6 billion in cash overseas from its operations in 27 countries outside the U.S., which generated some 24% in fiscal net sales. If the retailer chooses to bring all the cash back to the U.S., the 15.5% repatriation tax rate would shave that amount to free-and-clear cash of $5 billion. The company could use the extra funds to invest in its workforce, buyback stock, pay out higher dividends to shareholders or buy, buy, buy what it needs to take down Amazon. 
Walmart is mum about its plans for using the newfound stashes of cash...for now. Come 2018, that's likely to be a different story.
More of What's Trending on TheStreet: