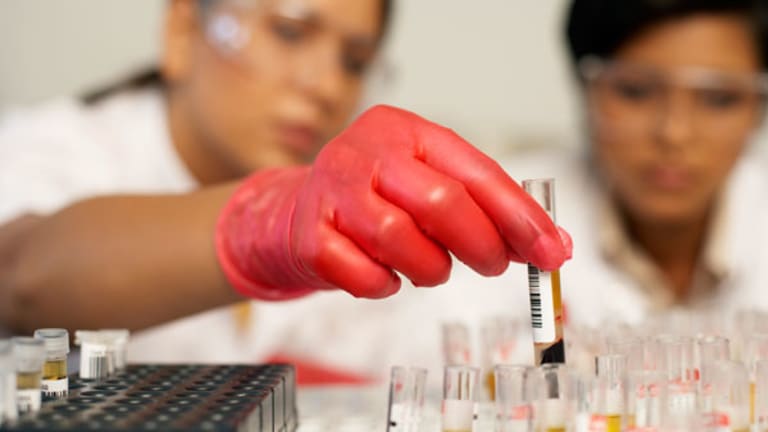 Updated with more information throughout.
BOSTON (TheStreet) -- The two leading drugs to treat Duchenne muscular dystrophy, drisapersen and eteplirsen, are accepted officially for priority review by the U.S. Food and Drug Administration.
With the intrigue about regulatory filings out of the way, investors can now focus solely on what really matters -- the outcome of the FDA reviews and the impact on the drugs' respective sponsors BioMarin Pharmaceuticals (BMRN) - Get BioMarin Pharmaceutical Inc. Report and Sarepta Therapeutics (SRPT) - Get Sarepta Therapeutics, Inc. Report .
I won't bury the lede any further. I believe FDA will approve drisapersen and eteplirsen. BioMarin and Sarepta both win. This doesn't mean I believe the drugs are equivalent. I'm still in the "eteplirsen is better than drisapersen" camp, although I acknowledge my Sarepta favoritism comes with a generous helping of blind faith in the relatively scant eteplirsen clinical data.
Approving both drugs is the most politically expedient decision FDA can make. The drisapersen and eteplirsen reviews are still nominally about the science, but in this case, equally about making good on promises (explicit and implied) to the families of kids with Duchenne muscular dystrophy (DMD) to approve first-of-its-kind treatments as soon as possible.
The FDA is essentially approving every drug that comes before it. There are multiple reasons for why the agency has adopted a warm-hug policy on new drug reviews, but the desire for good press and bending to public pressure are certainly on the list. Put it another way, FDA just approved the female libido drug Addyi based largely on an astroturf campaign of women's sexual fairness orchestrated and paid for by the drug's sponsor. Never mind Addyi barely works and is quite possibly risky and dangerous for the women who might take it.
With this disturbing regulatory precedent fresh in everyone's mind, how can FDA say no to two drugs, drisapersen and eteplirsen, aiming to improve the lives of kids with a devastating, fatal disease?
The FDA can't and won't.
This is not to say affirmative decisions by the FDA are a slam dunk. The respective clinical datasets for drisapersen and eteplirsen are flawed. BioMarin comes to the FDA with a large, phase III study of drisapersen which failed to demonstrate a walking benefit over placebo. The company's pitch for approval requires throwing out data on patients where drisapersen didn't work, believing it works for other patients, not worrying too much about side effects and totally overlooking the absence of mechanistic data on dystrophin production. [The absence of dystrophin, a protein necessary for muscle function, is what causes DMD.]
Sarepta's eteplirsen data look better and durable but there's not much of it. Can FDA really trust the significant improvement in walking ability seen with 10 DMD patients in a phase II study are real? Eteplirsen's has proven to be remarkably safe to date, but again, side effects often only show up when a drug is studied in a large number of patients, which Sarepta has not yet done. [A larger phase III study is underway.] Sarepta has gathered additional data showing eteplirsen helps produce a functional form of dystrophin in treated patients. These data support the approval of the drug, but there is still an unsettled controversy over the methods used to measure dystrophin production and the correlation with improved muscle function.
My guess is FDA pours over these less-than-robust datasets, shrugs its shoulders and concludes, "Sure, why not?" Barring any big surprises, DMD patients could benefit from treatment with drisapersen or eteplirsen. Neither drug appears to place DMD kids at any additional, serious harm. And if one or both drugs are later found to be ineffective -- based on results from confirmatory studies -- FDA can always revoke approvals.
This "FDA will approve both DMD drugs" thesis depends on the agency unable or unwilling to parse significant differences between the respective datasets enough to choose one over the other. The FDA might be perfectly capable of making those distinctions, which means BioMarin's quantity of drisapersen data (even if some is negative) gives it the edge. Or, FDA picks Sarepta because eteplirsen is safer and produces functional dystrophin.
Picking BioMarin over Sarepta, or vice versa, at this point, will only bring criticism and headaches to FDA. What if the agency makes the wrong choice? It just seems so much easier and less risky for FDA to approve both drugs and leave the decision over which drug to use to doctors and the parents of DMD kids.
Before the FDA approval decisions, there will be an advisory committee meeting at which outside experts will review both DMD drugs and vote to recommend approval (or not.) I have not forgotten. FDA has not set dates for the drisapersen/eteplirsen panels but most people expect them to be held on Nov. 23 and 24.
While I expect BioMarin and Sarepta shares will experience a ton of volatility before and during these panels (traders win!), I find it difficult to see any scenario under which the panels vote against one of the drugs. (Unless, there is bad stuff lurking in the data we don't know about.) I believe the panels will vote to recommend the approval of drisapersen and eteplirsen, which provides even more reason for FDA to follow through with dual approvals.
The positive votes from the drisapersen and eteplirsen FDA advisory panels might be pre-ordained but that doesn't mean they'll be boring. Quite the contrary, the interest from investors and the DMD patient community is going to be intense. The testimony and debate over the data will be dramatic. The panels might also be the forum where we pick up differences between the drugs which could tilt the commercial playing field. [Recall, this is what happened during the 2012 FDA advisory panel reviewing the cholesterol-lowering drugs from Aegerion Pharmaceuticals (AEGR) and Isis Pharmaceuticals (ISIS) .] I plan on covering all the action with two days of live blogs, so please tune in. Shameless promotional plug!
A few more questions to ponder:
Who will FDA select to populate the advisory committee meeting? Most of the really knowledgeable DMD experts have worked with drisapersen, eteplirsen, or both. Under FDA's conflict of interest rules, the best DMD experts could be disqualified from sitting on the panels. That would be a shame. Let's hope FDA goes big with conflict of interest waivers.
Will the presentation order make a difference? BioMarin submitted drisapersen to FDA before Sarepta did same with eteplirsen. Does this mean BioMarin will present on the first day? Is this an advantage? What if the presentation order is switched?
Will the expected announcement of trial results this fall from PTC Therapeutics' (PTCT) - Get PTC Therapeutics, Inc. Report DMD drug effect the FDA deliberations over drisapersen and eteplirsen. PTC's Ataluren is being studied as a treatment for DMD caused by nonsense mutations. This is a different DMD patient population sought by BioMarin and Sarepta, but if Ataluren fails, will it make FDA more conservative and cautious about drisapersen and eteplirsen? European regulators approved Ataluren based on a failed study. If the ongoing phase III study demonstrates that Europe made a hasty and wrong decision, the FDA could take a step back.
Update: A Twitter friend reminds me that Sarepta could be presenting additional, updated eteplirsen results from the phase II study at the World Muscle Society meeting, Sept. 30 to Oct. 4. Most important would be new dystrophin production data.
Adam Feuerstein writes regularly for TheStreet. In keeping with company editorial policy, he doesn't own or short individual stocks, although he owns stock in TheStreet. He also doesn't invest in hedge funds or other private investment partnerships. Feuerstein appreciates your feedback; click here to send him an email.