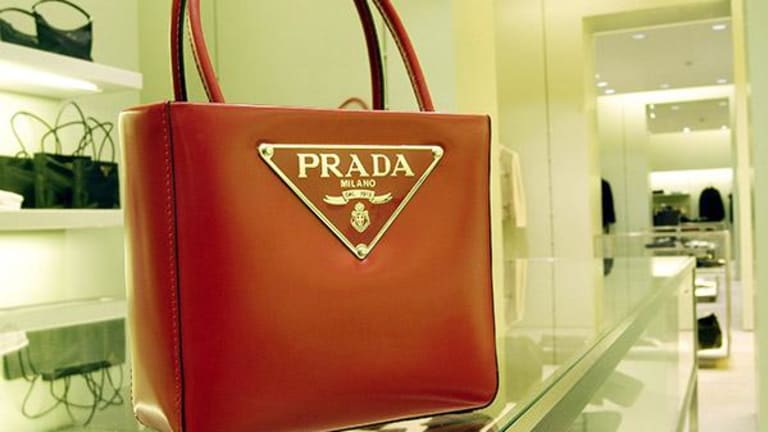 Prada Sees 2016 As 'Turning Point' Despite First-Half Slump
The fashion house aims to boost online sales as it fine-tunes its retail network.
It's been a devil of a year for Prada (PRDSY) , which saw its first-half revenue fall more than expected amid challenging conditions in Asia and falling tourism in Europe.
On Friday, the Hong Kong-listed, Milan-based fashion house said that first-half 2016 revenue declined 15% to €1.55 billion ($1.8 billion), undershooting the €1.65 billion projected in a Bloomberg News analyst consensus.
At constant foreign exchange rates, the year-on-year decline amounted to 13%.
Ebitda was 25% lower than a year ago at €330 million, as net profit also fell by the same percentage to €141.9 million.
Net sales fell in almost all regions, including an 18% drop in Asia Pacific, where the company said conditions remain challenging albeit with the first signs of improving trends in mainland China and stabilization in Hong Kong and Macau.
In Europe, sales were also down by 18%, as declining tourism figures overshadowed "resilient" local consumption, a strong July start in the U.K. when the pound took a pounding after the June Brexit referendum, and double-digit organic growth in Russia.
And while the U.S. market "remains tough," Prada said that Latin America performed very well.
The results were released after the close of trading in Hong Kong, where Prada shares ended the day 2.1% higher at $HK21.75 for a market capitalization of around HK$55.7 billion ($7.18 billion).
While Prada gave no full-year outlook, CEO Patrizio Bertelli boasted of 2016 as a "turning point," as it seeks a new pathway to sustainable growth.
It aims to boost online sales through the rollout of an electronic platform, giving priority to China, Hong Kong and Singapore, and fine-tune its bricks-and-mortar store network through closures of non-strategic locations and "selective openings" in high-potential markets.
In the past month alone it's opened stores in Seoul, Beijing, Amsterdam, Moscow and Zurich, announced an expansion and renovation of its Hong Kong stores on Canton Road, the city's main shopping street, and re-opened at Plaza 66 in Shanghai with a "three-level luxury boutique."
Whether Prada will fare better in the second half remains to be seen.
"The global luxury goods industry continues to rise only slowly this year," said Fflur Roberts, head of luxury research at Euromonitor International in London, via email ahead of Friday's results.
She noted that while the Prada brands retains "considerable credibility" and clearly holds strong opportunities, "the business strategy has been self-destructive."
She added: "Partly to increase margins and help with capital expenditure as it expanded, and partly as a result of its branding strategy, Prada has tried to copy Chanel and Hermès (HESAY) by pushing its prices too high and making its offer too narrow and too static, without fully emulating these brands. The result was a strategy that has become overly dependent on very expensive designer handbags."