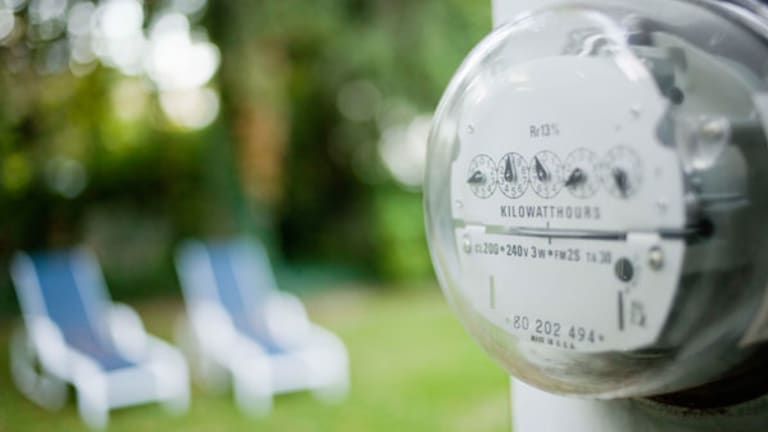 Power-One: Solar About 2019, not Europe 2011
Solar inverter company Power-One says investors and Wall Street are missing the bigger picture in the solar sector.
NEW YORK (
) -- Solar inverter company
Power-One
(PWER)
is focusing on the long-term, no small feat in a sector like solar where investors are attuned to every short-term fear and forecast of oversupply doom.
After Power-One's annual analyst day in New York on Tuesday, Stifel analyst Jeff Osborne wrote that the company had done a good job of explaining its product portfolio and planned product introductions, but added, "We would have preferred to see more specifics on how it has come up with its guidance, more quantitative and qualitative evidence about the health of the inverter market and channel inventory absorption and more granular commentary on how they intend to penetrate the U.S., China and India and the associated financial impact. We believe the mix toward these regions will come at lower ASPs and face very stiff incumbents and new entrants alike."
The U.S., China and India are indeed at the forefront of solar investors concerns about the future growth of Power-One's inverter business, which soared during the hyper-demand conditions of 2010, to become the No. 2 inverter supplier in the solar market. The European leading markets of Italy and Germany are expected to slow -- Power-One forecasts a German market of 5 gigawatts to 5.5GW in 2011, and an Italian market between 2.5GW and 3GW.
If solar is leaving the hyper demand environment of 2010 and has not yet reached the grid parity moment which may not arrive until 2015, the new reality of solar supply and demand is not a market that has Power-One running scared.
TheStreet
sat down with Power-One CEO Richard Thompson after the analyst day in a conversation about the emerging solar markets, and why he still thinks that Wall Street and investors aren't giving the inverter company, and the solar sector, enough credit.
TheStreet
: On Tuesday, Chinese solar module vendor
Trina Solar
(TSL)
guided gross margins down to the low-20% range and some analysts believe that going forward solar stocks aren't going to reflect the hyper demand we saw in the past year, with margins and earnings having reached a peak and now set to pass that peak for good. Was 2010
for the solar industry?
Thompson
: Inverters are different from solar modules. Panels, or modules, are 50% of the cost of solar deployment and those costs continue down and some companies we've talked to believe the whole system will cost $2
versus $4 in a few years. The inverter is a small part, 5% to 10% of the system price. Pricing will be affected over time, but even from a 20GW market today to a 120GW market in 2019, if inverter prices drop by half, we can live with that equation and still make handsome margins as we create lower cost products and broader, higher efficiency technology, with a better total cost of ownership for our customers.
What's more interesting to us is how the industry shapes up going forward. Do best of breed companies join together or do we see more of the
Total-SunPower/GE buying solar company-type
deals? It's ownership of the industry and how all the pieces come together that is still in question.
TheStreet
: All eyes are on Europe right now, nonetheless. What is the situation on the ground in Europe after the halt in Italy and the slow start in Germany in 2011?
Thompson
: The inventory oversupply as we exited 2010 will be solved by the second half of the year or will be well on the way to being solved. Across Europe we are starting to see orders again. March was very weak and in April things started to gradually improve and in May it's continuing. We had to get Italy behind us, and now we have, and on a weekly basis incoming orders for delivery in the second quarter are going up. The worst is over, I would think. In Germany it will be a back-end loaded year. We feel good about our position in Italy and Germany and the rest of Europe, expanding our service footprint, growing our sales offices and putting inventory in place to deliver string inverters in two weeks or less, and commercial inverters in 4 weeks.
Remember Europe is still over 50% of the market, and the rest of Europe will have a much slower decline rate than Germany and Italy.
Germany will still be a 5GW to 5.5GW
market in 2011. The French residential market is growing and there are new markets in southern Europe. Greece and Turkey. Yes they do have financing issues, but they also have no fossil fuels themselves and are importing energy. If you can justify a solar array in the U.K., you can eventually do so in Greece and Turkey. Europe is a 10GW to 11GW market today and as you watch growth in Europe it will be 45GW to 55GW of the 120GW in the future, still in the 40% to 50% range of the entire solar market. People are constantly bashing Europe but let's remember Europe is still over 50% of the market.
TheStreet
: Even if modules are 50% of a solar project's cost and inverters only 5% to 10%, there is an argument made today that no part of the solar value chain is immune from the coming pricing pressure, and it will be severe. Does the convention wisdom that inverters are "insulated" from pricing pressure really hold water after what we've seen in terms of the inventory glut this year?
Thompson
: 2010 was a great year, a hyper demand year, and we performed exceptionally well because we controlled our supply chain and did the right thing for customers by not raising pricing. That's coming back to us now, for example, with German engineering, procurement and construction (EPC) companies expanding to the U.S. and now buying our inverters.
The inverter space is transitioning from a market that had hyper demand, demand that totally outstripped supply, to now where supply has caught up and we are see more rational pricing in the market. I still think most companies should resist fighting on price, and I don't think we will see the pressure that panel manufacturers face, at least not yet. We believe we can be successful over the next six years to eight years, even if prices decline 50%.
We haven't had to cut pricing because key competitors started off 2010 at 8% to 10% higher than us. We've been matching the competition where we've had to, but they have taken substantial drops. No. 1 solar inverter company globally SMA Solar was marginally profitable in the first quarter. We expect to have rational price declines and we were expecting 7% to 8% this year and we've already conceded about that amount with customers. So we will see what the second half of the year brings, and if we need to offer more price declines, we will to meet competition, but we don't plan at this time another across-the-board price reduction.
TheStreet
: Critics maintain that as Europe declines, Power-One has not transitioned fast enough to gain market share in the emerging solar locales, including the U.S., China and India. As far as your business growth and diversification, what do you think is the single most important headline that investors and Wall Street are missing?
Thompson
: People say we are not making progress in North America and China. If you look at the customer names we shared today at the analyst meeting, that's not the case.
MEMC Electronic Materials'
(PWER)
SunEdison,
BP's
(BP) - Get BP p.l.c. Sponsored ADR Report
BP Solar,
Canadian Solar
(CSIQ) - Get Canadian Solar Inc. Report
, and
GCL Poly
are all companies we are doing serious business with, though we are limited in what we can disclose, so the proof will have to be in pudding. But we are in relationships with them and have big orders in the tens of megawatt range to start with, and with the promise of growing to the hundreds of MWs range.
As we start bringing these relationships onto the P&L, we will have to perform and I think it will start taking away some of the naysayers. Canadian Solar is a completely new relationship. SunEdison is a very new relationship and they chose our products over other inverter companies for large projects in the U.S. and Asia, so we feel good about doing inversion for them right off the bat in key markets.
TheStreet
: How about China, specifically? Power-One estimates the market will grow from 500 megawatts in 2010 to 1 gigawatt in 2011. Still no national feed-in tariff to support solar project development, and in some cases, reports that projects undertaken by big Chinese solar companies like
Suntech Power
(STP)
are generating negative gross margins. Can the economics in China work without pricing going over a cliff?
Thompson
: We are already doing business with some larger EPC companies in China that we think will be important over time. China is a completely different market than Europe, a utility market that is more sensitive to price than other markets, but the build out will be huge over a number of years, and we need to find ways to participate. We've had quite a few discussions with panel and EPC players in China. We have been in China for 20 years as a manufacturer so we are as close to planting a solar flag there as indigenous Chinese companies.
We also have low cost products regionalized to be China-specific, a 250 kilowatt and 500KW unit that are very different in architecture than units for Europe, designed to meet needs of Chinese projects and generate margins that are reasonable. We've designed these products to meet our margin profile and economic criteria for investing in new products. We expect these products to have a lower price point than the U.S. and European utility markets. We are still able to make a reasonable living at it and we will continue to lower costs and make a handsome profit.
TheStreet
: Some big module vendors, like
First Solar
(FSLR) - Get First Solar, Inc. Report
, have been talking up the big opportunity in India, where Power-One is also expecting rapid growth above the 100 megawatts installed in 2010. Yet
in its recent earnings commentary that project financing in India is a hurdle. What are the growing pains in India and will they limit the growth of this emerging solar marker?
Thompson
: The India market is suggested to be between 600MW to 900MW in 2011. That's a small market, and India is a very cost sensitive market, but we believe we can take the model we developed for the cost sensitive market of China to India also. India is mostly utility-grade solar for delivery to the grid. There is very little commercial rooftop, and there are local content requirements, and the FITs are not generous by any stretch of the imagination, but they have ambitious plans, 20GW by 2020. That's a significant growth rate, but the market's desire to grow quickly is a little ahead of the infrastructure, which isn't quite in place yet to do it.
TheStreet
: If solar has passed the hyper demand period and has yet to reach grid parity, how would you define the new reality in which the solar sector is positioned today?
Thompson
: New reality is the way to describe it. The hyper demand period is over and we won't see it again until after grid parity and I suspect there will still be peaks and valleys and lumps through the quarters. Once we get to grid parity it's a whole different equation, and I'm more interested in what causes the jump to grid parity than the end of the hyper demand period. I think there will be a solar panel breakthrough or something like that. I think there will be a technological breakthrough getting us to that point quickly and lower costs, instead of $4 a watt model to $2 a watt. That will happen in the next few years. We need to have a breakthrough in materials and how we process them, and then it's off to the races.
TheStreet
: If there is one financial metric that you think investors should pay more attention to, what is it?
Thompson
: I think one generally overlooked financial metric is ROI
return on investment, post FIT changes in Europe. We are still looking at strong single digit, in some cases double digits in the largest markets, and that is very good for the industry and investors. Lots of people will still step up and take an annual return of 8% to 10%. The ROI is critical to all of us.
TheStreet
: The first quarter earnings reports in the solar sector and outlook for the second quarter has been weak. Power-One had to lower its first quarter revenue given the situation in Europe. You also face competition in emerging markets from
Satcon
( SATC),
Advanced Energy Industries
(AEIS) - Get Advanced Energy Industries, Inc. Report
and
SMA Solar
, and a total of at least 80 solar inverter companies. How can you have confidence amid so much uncertainty?
Thompson
: This is a nascent industry. We are still in the early years and if I can liken it to the oil fields, its Spindletop days
the first major Texas oil boom find of 1901. Until solar hits grid parity, we will have lumpiness, because solar does depend on subsidies to make markets grow, but after we hit grid parity, the global solar market goes from 2014, when we expect 34 gigawatts in the PV market, to 120GW by 2019. I can't think of a better market to be in.
We have to make sure we align our resources and invest in new products and make sure we are among the main players, as we are today, in 2015 and beyond when we hit grid parity.
In the inverter space, your products are expected to last 20 years, and we have a five year warranty, but many other customers are buying an additional 15 years of coverage. In the customers' minds, you have to have the balance sheet to be there for 20 years. There are at least 80 inverter companies and the top five have 75% of the market, but some of those 80 won't have the balance sheet to support terms and give the buyer confidence.
-- Written by Eric Rosenbaum from New York.
RELATED STORIES:
>>Solar Stocks: Trina Solar and the new Solar Reality
>>Germany Takes Aim at Solar Again
>>Solar Losers: Evergreen Solar on the Brink
>To contact the writer of this article, click here:
Eric Rosenbaum
.
>To follow the writer on Twitter, go to
.
>To submit a news tip, send an email to:
.