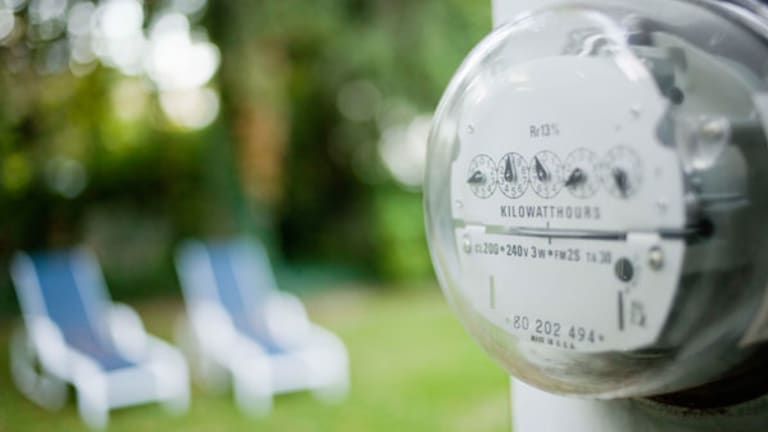 Power-One Shares Up, Says Europe Improving
Solar inverter company Power-One reports an in line first quarter, and sees improvements in Europe.
(Power-One earnings story, updated for Friday trading, China news, analyst comment)
NEW YORK (
) -- Solar inverter maker
Power-One
(TSL)
saw its shares turn higher after reporting an in line first quarter after the market close on Thursday.
Power-One earnings per share of 20 cents were one penny behind the average analyst estimate of 21 cents, while revenue of $245 million was slightly ahead of the average analyst net sales target of $241 million. Both figures were close to the reduced guidance that Power-One gave earlier in the year when an inventory backlog in Europe, and a slowdown in Italy, began to weigh on its sales effort. Power-One has been one of the primary inverter players in Europe, and in Italy.
Power-One shares, which are among the most heavily shorted in the green energy space, were up more than 7% on Friday morning, a bullish morning for the markets and solar stocks specifically. Volume in Power-One shares was heavy at the opening bell on Friday with the stock's average daily volume met within a half hour of the market open. Power-One shares have declined 22% this year.
Power-One's outlook for the second quarter and full year was in line with the average analyst estimate. The company lowered the high-end of its full year revenue guidance slightly, taking it down from $1.3 billion to $1.25 billion, but the range of $1.1 billion to $1.25 billion was consistent with the average analyst estimate of $1.1 billion.
Power-One's second quarter forecast for revenue of $250 million to $270 million was below the average analyst estimate of $271 million in revenue. Power-One noted that second quarter revenue "is expected to be impacted by inverter inventory in the channel, albeit at lower levels than in the first quarter." The company said it expected faster growth in the string inverter market in Europe versus ground mount systems.
Analysts seemed to conclude that Power-One, if only reporting in line and taking down full year guidance slightly, had done better than the worst-case scenario. "While PWER lowered full year revenue guidance, the small reduction was likely better than feared. In the near-term, business conditions remain challenging with excess channel inventory in Europe, but PWER's expansion into new markets in N.A. and Asia are driving growth," wrote Needham & Co. analyst Edwin Mok on Friday.
The Power-One results also showed that its power business, as opposed to inverter business, rebounded more sharply, and that its lower margin profile has to be taken into account versus the rapid growth of the inverter business in 2010.
"PWER's Power business is tracking better than expected and is driving some of the upside. However, we believe sector weakness will continue to pressure prices and margins. With the new Italian subsidy plan in place, we expect slow sector improvement to limit the stock price. We believe a larger portion of the 2Q11 and 2011 revenue guidance is coming from the strength in the power business, which unfortunately carries a lower OM than RE," concluded Needham's Mok.
Auriga Securities analyst Mark Bachman noted that it was the second quarter in a row that the Power Solutions business unit surprised positively, this time with both higher sales and margins. The first quarter 15% operating margin was higher than the prior target of 8% to 12%. "While this suggests a new and higher target at least as high as 15% is somewhere on the horizon, we would caution investors that the Power Solutions unit is still in recovery mode and that margins here are likely to fluctuate, even if they are at higher levels somewhat sooner than we originally expected," the analyst wrote on Friday, adding that the increased margin offset the lower earnings estimates from lower inverter shipments.
Pricing in the inverter market is still the primary issue for what had been a space much more insulated than solar modules from pricing pressure. Auriga's Bachman cited what he sees as "excessive focus placed on channel inventory and potential resultant price declines," in referencing the Power-One management estimate that inverter prices would decline 5%-10%.
Renewable energy operating margin declined by 15% in the first quarter to 28.4%, and Needham estimates that an average sales price decline of 12% quarter over quarter was one of the culprits. Auriga Securities agreed in estimating the inverter price drop as 12% in the first quarter.
"This pricing trend isn't going to change, the Needham analyst said. "While volume is expected to pick up in the coming quarters, we believe PWER faces a competitive pricing environment, which could pressure margins over the next few quarters."
Net income at Power-One increased from $4 million last year to $30 million in the first quarter 2011, though Power-One's profile in the inverter market grew rapidly in the second half of 2010 as European demand aligned with the company's new inverter strategy.
Power-One CEO Richard Thomson dealt directly with the issues in the European solar market in his earnings commentary, stating, "We anticipate the solar market will begin to gain momentum as Italy recently passed its legislation and the German market is showing signs of heightened activity."
The new Italian solar policy, made official on Thursday, had both positive and negative aspects for solar installations in what had been the most explosive market globally. Yet analysts, and solar companies, have concluded that future growth has to come outside of Europe, as Germany and Italy both deliver less explosive annual growth.
The Power-One CEO alluded to this, also, stating, "We expect our focus on new geographies, particularly North America and Asia, will add revenue in renewables and lead to improving profitability."
Power-One also pointed to China as a key growth market. On Friday,
Reuters
reported that China is planning to double its solar growth target from 5GW to 10GW by 2015, citing a paper prepared by a Chinese agency. It's not the first time that this goal has been referenced, though -- First Solar mentioned the potential Chinese solar growth target increase in its earnings commentary this week, based on previous reports.
North American sales-focused solar inverter company
Advanced Energy industries
(AEIS) - Get Advanced Energy Industries, Inc. Report
earlier this week reported strong results from its inverter business, results which analysts read as a sign that the North American inverter market is healthy, though the results could not be extrapolated to other companies in the sector.
The U.S. market is one in which Power-One has yet to prove itself, in terms of taking market share from competitors like Advanced Energy Industries, SatCon and Germany's SMA Solar, which is also targeting North America as European demand slows.
The outlook from solar sector companies to report so far as been cautious as far as the second quarter and full year demand and pricing profile, though most companies have still reaffirmed full year guidance, like Power-One.
First Solar's cautious outlook on Tuesday, coupled with a weaker than expected second-quarter sales target, sent its shares down to their lowest level since last December, but it reaffirmed full year guidance.
Jinko Solar
(JKS) - Get JinkoSolar Holding Co., Ltd. Sponsored ADR Report
earlier this week reported solid first quarter earnings, though its commentary too was cautious. Most importantly from the analyst perspective, Jinko Solar showed a movement away from Italy in its geographic diversification, from 50% to 30%.
LDK Solar kicked off the earnings trouble when it pre-reported a $100 million revenue shortfall for the first quarter, though most of the bearish analysis has assumed companies meet first quarter numbers while missing in the second. ReneSola's commentary on pricing set off alarm bells specifically about the pressure on solar industry pricing in the second half of the year.
Europe's biggest solar wafer marker, REC Solar, reported its first-quarter results on Wednesday, and while REC also benefitted from strong wafer pricing in the first quarter, it's outlook was more of the same "cautiousness" about the solar sector. REC Solar warned on Wednesday that "margin pressure on modules and wafers will remain in the second quarter, and "weak market conditions may lead to inventory buildup and REC may need to reduce capacity utilization."
Reviewing the new Italian solar policy on Thursday, Wedbush analyst Christine Hersey wrote, "If the Italian market for larger projects slows dramatically as we expect in H2:11, we would expect installers and module manufacturers to focus more on the German solar market, given the market's stability and sensitivity to price."
-- Written by Eric Rosenbaum from New York.
RELATED STORIES:
>>First Solar Earnings: Bad Year for Back-End Loading
>>Solar Losers: ReneSola, Evergreen Solar
>To contact the writer of this article, click here:
Eric Rosenbaum
.