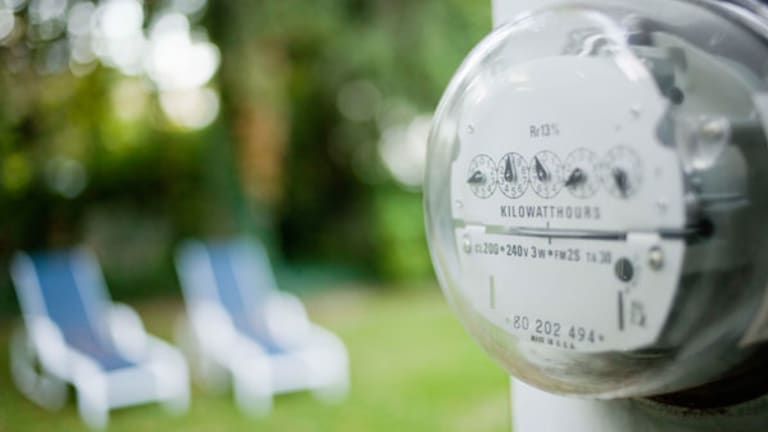 (Power-One story updated for Monday trading action, CEO interview)
NEW YORK (
) -- Solar inverter company
Power-One
(PWER)
continued its slump on Monday. After declining 22% on Friday, shares of Power-One were down 5.5% on Monday, and again, the negative trade was heavy. More than 16 million Power-One shares traded hands on Monday, versus an average day of 6 million shares. 35 million Power-One shares were traded on Friday.
The Monday trading action in Power-One shares reinforces what analysts, even those who remain bullish on the long-term for the high-flying -- and highly shorted -- solar company, were telling
TheStreet
last Friday: the stock is "dead in the water" and a "dead money" stock for at least a quarter.
The case can be made that Power-One shares are inexpensive -- after the 27% dip in the past two trading sessions, Power-One shares only trade at 8 times earnings -- yet the case can also be made that Power-One has officially joined the rest of the volatile solar sector in compressed multiple-land. Most of the Chinese solar stocks trade between 4x and 8x earnings.
The critical issue for Power-One is how fast it can work through the inventory glut that it said has caused a revenue shortfall for the first quarter, and how well pricing will hold up as long as an excess supply of inverters exists in the market.
Power-One said the two things in its 2011 outlook that are more or less the recipe for a selloff in volatile solar. The solar inverter company said that feed-in tariff declines and excess inventory are going to cause a less-than-expected revenue performance from the company, and even though Power-One wouldn't say specifically, solar margins will be down.
>>Power-One Takes Big Dive on Earnings
Add to this the fact that Power-One cited bad weather as a reason for the weak outlook, and it's really the triumvirate of triggers to be negative on a solar stock. The first quarter in Europe always starts weak due to winter weather, so it's typically discounted in Street models, and it's debatable whether the severe winter this year can really explain 10% of excess inventory that Power-One is experiencing, since some Street models already include a 5% to 10% discount based on the usual winter weather impact. Across corporate America, winter weather has been viewed this season as the "excuse" for misses and weak outlooks. In solar, with Germany the key market and winter weather worse than usual, there is no doubt an impact on solar business, but solar module companies are expecting quarter-over-quarter sales and pricing that holds up.
In any event, Power-One isn't going to transition from being "dead money" in the minds of investors to printing money again based on the weather forecast. The inventory glut, how long the inventory glut takes to work through, and how well Power-One pricing holds up are the more important issues.
Power-One said in its earnings that it should take four to six months for the excess inventory to be worked through. The company said pricing should be down in the high single digits -- yet IMS Research, which predicted a major pricing decline in solar inverters in 2011, has stated that the pricing could decline 10% to 15%.
SMA Solar, the German inverter giant, had long ago said that market size in 2011 could be down as much as 10%, an early 2011 read that spooked the markets in November.
Yet since then, SMA is playing its cards close to the vest, even well into the first quarter. Here's what it said about 2011 in its Jan. 17 outlook:
"It is very difficult to forecast the development of the global photovoltaics markets in 2011. In particular expected changes in incentive programs in individual countries may have considerable effects on the global market volume in 2011.... Despite very high installation rates all over the world in the last year it is not possible yet to recognize a definite trend for the market development in 2011."
SMA said more or less the same thing back in November, and one would hope that it had a better read on the market now -- yet its more recent comments don't suggest that it does, or is willing to share it.
The major problem here is that no one seemed to see the inverter glut coming, including Power-One and the Street, and that means there has to be a grain of salt in trusting Power-One that the excess inventory will be worked off in four to six months.
Power-One CEO Richard Thompson told
TheStreet
in an exclusive interview that the four-to-six-month target for the inventory glut working itself off is actually conservative, and that there is a good chance that the supply/demand balance will be healthy sooner rather than later. Thomson also spoke to
TheStreet
about looming feed-in tariff declines in Europe and the potential impact on the solar market.
>>Power-One CEO: $9 a Share Doesn't Make Sense to Me
Even as the Power-One CEO told
TheStreet
that Power-One declining to $9 a share didn't make sense to him as a reasonable reaction to earnings, Power-One shares were below the $9 mark after the decline of 5.5% on Monday.
Bill Ong, analyst at Merriman Curhan Ford, covers Power-One, but also has a history of covering semiconductor and LED sector companies, where gluts are common reasons for stock volatility. Ong said that in the inverter market, there has not been any reliable data on inventory, and so, Power-One isn't "dead money" because its four- to six-month timeline for working off the inventory won't be right, but because investors won't be willing to bet on that outcome. "The key is to go back and talk to industry contacts and see, as we get into late March, if we can get a more focused effort from the Street on how inventory is going," Ong said.
Merriman Curhan Ford's Ong said it rarely takes one quarter for an inventory glut to work itself out, so the Power-One guidance that it could take four to six months was upfront. Also, even in calling Power-One shares "dead money," he said that after its huge dip on the earnings, there was no reason to downgrade the stock.
"At 8 times P/E, what's the point in downgrading? At $9, it's about what do you think the stock will be at the end of the year, and I still think it will be higher at end of the year," Ong said.
The Merriman Curhan Ford analyst said the major risks to the Power-One recovery are pricing that is much weaker than the company expects due to the glut, and a North American market -- one of its key growth markets -- that doesn't ramp as quickly as expected in 2011 due to the cumbersome regulatory process for solar projects.
Jeff Osbourne, analyst at Stifel, wrote on Friday that it is hard to get more constructive on Power-One shares right now. "While we are encouraged by the 20MW in sales to the U.S. market in 4Q10, our checks suggest Power-One is having little success in the U.S. market thus far based on data from the California Solar Initiative database, and the company will need to see a rapid shift in customer preferences to see meaningful growth in the U.S. in 2011.... While the stock is likely to trade off severely on poor guidance, we are not inclined to chase shares on weakness given what could set up to be fundamental problems in a flattish solar market in 2011," the Stifel analyst concluded.
The Power-One selloff also raises the question of whether its weak outlook can be applied to the solar sector more generally.
>>Power-One: Canary in the Solar Coal Mine?
Ong sees margins for Power-One slipping to 38%, and margin estimates between 36% and 38% were corroborated by other analysts covering the company, even though Power-One declined to provide a near-term margin target. "The real concern I have is how does inventory clear? Inventory clears through pricing, and people will get tired of waiting and fire-sale product if they need to," Ong said.
Power-One CEO Rich Thompson said on the earnings conference call to expect an 8% to 10% decline in pricing, but that was consistent with its previous outlook for a general pricing decline in 2011.
Stifel analyst Jeff Osbourne added in his hold rating on Power-One, "Until we have more comfort on stable pricing and Power-One's ability to execute in transitioning their geographic exposure, we are not inclined to get more constructive on the stock."
Mark Bachman, analyst at Auriga Securities, who remains at a buy on Power-One shares though he took down his price target to $13 from $14, said that he is being more bearish than the company about first quarter pricing and assuming a 12% decline.
If there is a strong case to be made for opportunistic Power-One buying on the dip, even Bachman doesn't see it. "This stock is dead money for one to two quarters and clients need to be comfortable with the second half sales ramp. Investors will shy away from the stock until they feel better about future inverter sales," Bachman said.
-- Written by Eric Rosenbaum from New York.
RELATED STORIES:
>>Power-One CEO: $9 a Share Doesn't Make Sense to Me
>>Power-One Takes Big Dive on Earnings
>>Power-One: Canary in the Solar Coal Mine?
>To contact the writer of this article, click here:
Eric Rosenbaum
.
>To follow the writer on Twitter, go to
.
>To submit a news tip, send an email to:
.