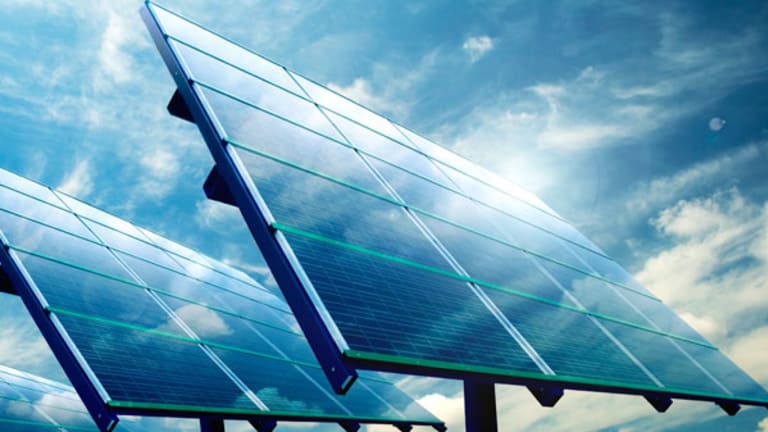 Publish date:
Power-One CEO: $9 Shares Don't Make Sense
Power-One CEO Richard Thompson says investors just don't get the company after its big postearnings dive.
Power-One CEO Richard Thompson says investors just don't get the company after its big postearnings dive.
(Power-One CEO interview updated for Monday trading)
NEW YORK (
) -- Shares of solar inverter company
Power-One
(PWER)
dropped to less than $10 on Friday, after a 21% share decline. On Monday, the post-earnings selloff in Power-One shares continued, with another 5.5% decline amid heavy trading volume.
It's been an "up and to the right" period for Power-One, moving from as low as $3 in early 2010 to as high as $13 in the past 52 weeks.
Yet that upwards trajectory in Power-One shares has not exactly been a straight line, to say the least, and earnings day has been the trigger for Power-One to either skyrocket or sink, with nary a quarter in recent history that has seen a sideways earnings reaction.
By the end of the second-straight selloff day on Monday, Power-One shares were below the $9 mark, in a share price territory that Power-One had not seen since November.
When Power-One shares first passed the $10 mark after its second quarter earnings in July, analysts covering the solar inverter company suggested it was a good barometer for the health of the stock. Power-One shares slipped to $8.75 on Monday, after a weaker-than-anticipated 2011 outlook that included a host of "spooky" solar industry tells such as excess inventory and feed-in tariff declines. Nevertheless, Power-One CEO Richard Thompson remains confident that the bears -- some of whom make the claim that Power-One shares are going to $5 -- will be proven wrong.
TheStreet
spoke with the Power-One CEO on Friday to get his take on the earnings, the earnings reaction, and the outlook for the solar inverter market in 2011.
TheStreet: In high-growth sectors such as the solar inverter market, it often comes down to gross margins for investors. Power-One delivered on margins in the fourth quarter at 40.7% -- a decline but one that was anticipated. Yet the company wouldn't provide guidance on margins for the first quarter, sticking with the long-term 40% margin target. We hear that a range of 36% to 38% for the first quarter would be a fair assumption given the excess inventory in the market. Is that fair?
Thompson
: As a rule, we don't provide margin guidance. Modestly lower margins makes sense to me, given our manufacturing ramp costs that we've disclosed previously and the short-term inventory issue. If you think about the growth rate of the inverter market and hyper demand last year, inverter companies were running factories at 110%. We had great absorption even if it was offset somewhat by higher component prices due to supply constraints. This year, it's expected to be the opposite, with the loss of overabsorption somewhat offset by component cost reduction, but saying the overabsorption by materials savings offset is 100% is not practical.
TheStreet: It's the first quarter and 2011 revenue outlook that has taken its toll on shares. One analyst I spoke with gave Power-One credit for providing a full-year revenue guidance range, even if it disappointed. Yet analysts still ask why the 'radio silence' from Power-One, in terms of margin guidance, especially now?
Thompson
: We've thought through this carefully. I, for one, would rather give no guidance, but with 15 analysts covering the company now, it's important that we give demand guidance. I didn't want to be silent on the year and first quarter, yet I haven't wanted to provide profitability guidance yet, and it will likely stay that way. The analysts are capable of making their own profit calculations.
TheStreet: Margins relate back to pricing, and with excess inventory, pricing has to decline. You said in the earnings call that pricing will only decline 8% to 10%, in line with your previous forecast. Yet IMS Research has predicted a decline of 10% to 15% in 2011, and given the excess inventory, why won't there be a fire sale with inverter companies dumping product on the market?
Thompson
: Keep in mind that we didn't raise prices last year, and at the same time we found that the largest competitors were higher-priced than us. We were pricing 3% lower than the market, and given the hyper demand it's easy to understand why competitors raised pricing. Now, even if they reduce pricing by 5%, the real difference they have to make up is 8% to get to status quo with us, and that's hard to do successfully.
We are the category leader in profitability, and if competitors lower prices that hurts them more than us, but it's not good for the industry overall. I believe we remain in a leadership position, having negotiated pricing for this year with most of our customers and believe the industry is well within the range of 8% to 10% declines. We may experience more price concessions over time, and we still have to see how the markets behave, but even with the ramp of two new factories and a general pricing decline impacting margins, I think margins will be strong.
TheStreet: You mention that you've already negotiated pricing with customers, yet it's typical in solar that there is wiggle room for pricing to adjust based on market conditions. Is there wiggle room in the pricing you're already negotiated?
Thompson
: Yes, these are not firm fixed contracts. These are indications from customers who plan to buy, and pricing is determined by the megawatt levels they share with us, but it's not a fixed commitment.
TheStreet: In your outlook, we could call it the unholy trinity of causes for the lower guidance -- bad weather, feed-in tariff declines, and excess inventory. Yet with a midyear FIT cut coming in Germany, and an expected cut in Italy, why would there not be a classic demand pull-in now, as opposed to FIT declines being a negative contributor to the revenue guidance missing the Street mark?
Thompson
: Obviously countries have been changing, and not holding firm to their normal patterns, creating concern for us. We expect Germany perhaps to get more aggressive. It has jobs to protect and 5 gigawatts to 6GW is a likely market size in 2011. Basically, the feed-in tariff situation remains an unknown for us. We think we will be able to respond well if demand is pulled in, and we are lowering our lead times globally. So if we are wrong on the upside, we will be able to respond.
Yet also keep in mind that our numbers from the fourth quarter include a bubble of demand in the power solutions business. We shipped $15 million of past-due demand in the power business, and that's not repeatable, so we are losing 5% off the revenue number there. Inventory oversupply can cost as much as 10%, and normal seasonality due to the European winter 10% to 15%, so all those factors led to our view of $260 million to $290 million in first quarter revenue. We think we will be safely within that range, and we hope $260 million is the floor.
TheStreet: Winter weather in Europe is always discounted in Street models since the solar market is still Germany-dependent and German rooftops are full of snow this time of year. Even with a severe winter this year, shouldn't that already be more or less in the Street numbers?
Thompson
: It's been a severe winter in Germany, but what's just as critical is the amount of rain in Italy, which together makes it more difficult and slows down the market.
TheStreet: No one on the Street or inside Power-One saw the excess inventory issue coming, even if IMS Research was predicting a glut in January. So if everyone got it wrong once, how can investors be comfortable with the idea that it will work itself out in four to six months, as you've guided?
Thompson
: First, when IMS Research released its data in early January suggesting oversupply, we immediately went out to our customers. We literally walked to warehouses to make an estimate and verify the IMS numbers.
How the excess inventory rolls off customer by customer is a matter of their efficiency now. They need to complete installations and that's not clearly predictable. So we actually chose what we think is a longer period of time, and the working off of inventory could occur earlier than four to six months. This industry has increased tremendously over 2010, and I don't know if anyone knows the proper inventory level. I know customers were ordering to what they saw as unbridled demand and now we plan to respond to customer needs on a shorter time frame.
TheStreet: Italy is on the minds of all solar investors, especially after the recent release of the data from Italy indicating that 6GW of solar installations may have been on the ground in Italy in 2010. You referred to this data as 'suspect' in your earnings conference call. How so?
Thompson
: Basically, I think applications got out of hand there, and we verified that through some customers, and through well-placed sources on the ground in Italy with knowledge of the utility industry. Six gigawatts is just way too high. We do expect Italy to take a more of German-like posture in regards to FITs, and change FITs by project type, for example, ground-mounted projects on arable land getting reduced to a different degree than the rooftop market, where more demand will be driven by FIT changes. That makes sense to us, and it would reflect Italy tailoring use of FIT dollars to satisfy the desires of the government, including protecting precious vineyards
Gordon Johnson, analyst at Axiom Capital, has noted in his research that Italy makes more money from wine-region tourism than doling out solar subsidies for projects on arable land.
We still think Italy will grow 3GW to 4GW next year, though we would be pleased with 3GW as the leader in that market.
TheStreet: So everyone wants to know if there is any corollary for what you are seeing in the market and for the solar modules companies?
Thompson
: I can't speak to the panel market as far as excess inventory or bad weather. The supply-and-demand dynamic means panel pricing should be down this year and stimulate more demand for field installations, and that's good for us.
TheStreet: You have a much greater focus on the U.S. and China this year as difference makers. How does the global solar growth story play out in 2011?
Thompson
: Overall, we are looking at Europe, led by Germany, being down substantially. Germany's decline followed by France and the Czech Republic, all offset a bit by Italy, but the European market, which has been the largest for years, will be down for the industry. We expect to make up the difference in North America and China.
TheStreet: Some solar analysts remain concerned that the regulatory hurdles in the U.S. will lead to a slower growth rate than projected for the U.S. solar market. Is that a risk?
Thompson
: Regulations in the U.S. are a risk, and we've heard words from President Obama that he wants to cut the red tape and achieve renewable energy goals, but we need to see action, not just talk. We think North America will be a 2GW market in 2011.
In China, they favor Chinese vendors first, but we already have a footprint there, and I feel we are an indigenous vendor in China. The bottom line is we need demand in several new markets. Take Australia, where the continuation of floods has slowed their solar market down. Queensland is where most of the solar installations occur and that's where the flooding is. So some things are stacked against us, but we're optimistic.
TheStreet: How would you rank the risks, in terms of the North American market not living up to billing, the risk of a pricing decline greater than anticipated, and the risk that the inventory excess takes longer to work off than currently estimated?
Thompson
: Risk of regulatory slowdowns in the U.S. is hardest to predict. A pricing decline greater than our current view would be a second-level risk, and third on the list would be the oversupply taking longer than four to six months to work off. We think that's a very conservative view. Remember, we were conservative on 2010 and ended up above our original demand estimate, and had a conservative view after the demise of Spain for 2009, so this is a totally unpredictable industry, and perhaps we're being too conservative on 2011.
TheStreet: Some analysts have made the comment to us that Power-One shares are "dead money" right now, and investors won't be comfortable again until there is proof that the inventory excess is declining and the company is having success in the U.S. Is it a fair criticism of Power-One shares?
Consensus earnings after our earnings announcement is at approximately $1.20, and a reasonable trading multiple provides much higher share price than today's. I believe we are undervalued, and I remain surprised at that with our great performance and how well we managed the growth. I recognize that we are newly profitable and the company has been a restructuring story for years, but in a few short years we invested in the right product line and took costs to the right level and carefully adjusted operating expenses and are building out our business, so I feel confident in the team here. To some extent the marketplace we have to survive in is dictated to us, and we believe we can do better than the competition.
Nine dollars a share doesn't make a lot of sense to me. I understand investors were disappointed and we are among the first to publish earnings in the sector, but look at how we trade relative to EBITDA. We are consistently profitable and just don't deserve this low multiple. On the other hand, I understand what investors are looking for, and we have to prove that we can be successful in North America, and at the time, there is stiffer competition and big cap companies coming into the inverter space, almost on a weekly basis, so we will see where it all leads.
TheStreet: Is this the shakeout year for the solar inverter companies?
Thompson
: There are so many unknowns and some are not so bad. We will just have to wait and see what happens to the industry. There are 80 inverter companies and so maybe the top 15 survive. Can the rest show the balance sheet and bankability, and deliver the maintenance required over 5- to 10-year warranties and maintain service footprints globally? It could well be the shakeout year in inverters.
-- Written by Eric Rosenbaum from New York.
RELATED STORIES:
>>Power-One is Dead Money: Analysts
>>Power-One: Canary in the Solar Coal Mine?
>>Should Solar Stocks Trade on Rising Oil Prices?
>To contact the writer of this article, click here:
Eric Rosenbaum
.
>To follow the writer on Twitter, go to
.
>To submit a news tip, send an email to:
.