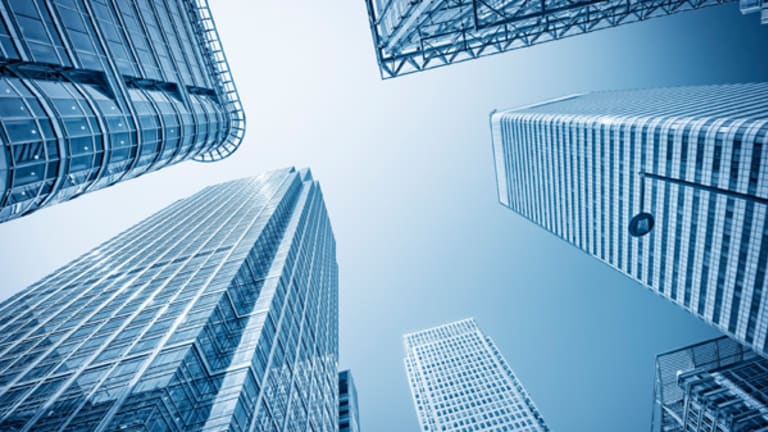 Potash Corp. Hopes for Autumn Rebound
Potash Corp. faces headwinds as it readies to report second-quarter numbers Thursday, but bullish sentiment has reentered the stock on hopes for an autumn rebound.
NEW YORK (TheStreet) -- Potash Corp. (POT) , along with fertilizer purveyors in general, at the mercy of their farmer-planter customers, have suffered through a rather mediocre summer.
As a result, Potash Corp. may tweak its earnings-guidance range for the coming periods in a negative direction when it reports second-quarter numbers, slated for release before the opening bell Thursday morning, some company watchers say.
For the period ended in June, analysts are looking for the Saskatoon, Saskatchewan, outfit to report earnings of $1.19 a share on revenue of $1.4 billion, which would be a substantial improvement over the year-ago period's 62 cents a share on revenue of $780 million. Potash managers had guided analysts to expect between $1.10 and $1.30 a share in the second quarter.
But bullish sentiment appears to have reentered the stock in recent sessions as some investors, looking further ahead and beyond the here-and-now, take note of elevated crop prices and place their bets on flush farmers increasing their purchases of crop nutrients during the fall planting season and next year.
"The past few months have been terrible for those stocks, but little by little more optimism and hope has crept in," said Edlain Rodriguez, an agribusiness stock analyst with Broadpoint Gleacher in New York.
Potash shares climbed about 1% Wednesday afternoon to $98, extending a three-week rally in the name. Like other fertilizer stocks, Potash shares had plunged by 34% to fresh 52-week lows since touching 52-week highs of more than $128 in March. Investors viciously sold off stocks in the sector, reacting to the euro-zone crisis in late spring, worried that the elevated dollar would do damage to fertilizer makers' bottom lines.
Potash's results have been curtailed for a number of reasons. A foreshortened spring planting season in North America -- weather was so perfect in May and June that farmers finished their plantings earlier than normal -- meant that farmers didn't use as much nutrient as they typically would. Distributors, meanwhile, have been wary of restocking. Indeed, North American inventories of potash slipped in June (though remained above the historical norm), while the U.S. price of potash this summer was $390 a ton, less than the $405 a ton that the nutrient had earlier been fetching.
But with corn prices holding around $3.90 a bushel -- anything above $3.50 is considered lucrative for farmers -- growers may be financially confident enough this fall and in the spring of 2011 to spend their dollars on fertilizers, re-upping on crop nutrients and giving a boost to the likes of Potash.
Though it's true that a bumper harvest appears to be in the making, demand has held steady as well, creating a "tight" market, industry watchers say. And it could have been worse: in June, the USDA said the amount of land planted with corn in the U.S. this year would likely reach 88 million acres or thereabouts, less than the 90 million acres that many had expected. As a result, corn futures prices rose sharply.
Farm-belt sentiment hasn't been the only thing helping potash stocks of late. Shares of
Mosaic
(MOS) - Get Mosaic Company (The) Report
, a Potash Corp. rival based in Plymouth, Minn., rose nearly 4% Wednesday on heavy volume, possibly driven by more speculation regarding
BHP Billiton's
(BHP) - Get BHP Group Limited American Depositary Shares (Each representing two) Report
intentions in the potash space. The multinational mining giant has long made it known that it wishes to
become a major player in the business
. Market scuttlebutt has in the past named Potash Corp. as a potential acquisition target. On Wednesday, Mosaic's name emerged in the same light.
-- Written by Scott Eden in New York
Follow TheStreet.com on
and become a fan on
Scott Eden has covered business -- both large and small -- for more than a decade. Prior to joining TheStreet.com, he worked as a features reporter for Dealmaker and Trader Monthly magazines. Before that, he wrote for the Chicago Reader, that city's weekly paper. Early in his career, he was a staff reporter at the Dow Jones News Service. His reporting has appeared in The Wall Street Journal, Men's Journal, the St. Petersburg (Fla.) Times, and the Believer magazine, among other publications. He's also the author of Touchdown Jesus (Simon & Schuster, 2005), a nonfiction book about Notre Dame football fans and the business and politics of big-time college sports. He has degrees from Notre Dame and Washington University in St. Louis.