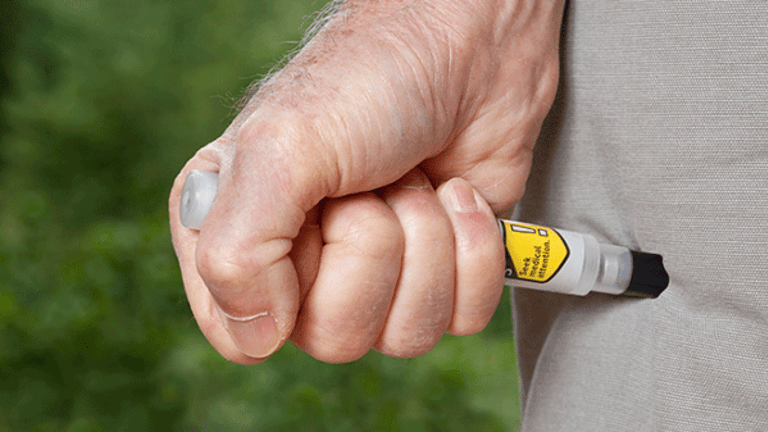 Politicians Question EpiPen Competitor's High Pricetag
Chuck Grassley is hammering the privately held drug company on its $4,500 EpiPen competitor.
It looks like Mylan (MYL) isn't the only autoinjector maker to be hit with questions from Congress on high drug prices. 
Sen. Chuck Grassley, a Republican from Iowa, sent a letter to Kaleo Pharma executives questioning the high price tag on its epinephrine autoinjector, which is used to treat severe food allergies and anaphylaxis.
"Your pricing of Auvi-Q appears to draw parallels with concern about EpiPen's pricing structure," Grassley wrote in the letter, released after market's close Wednesday. This letter was released just as Democratic Rep. Elijah Cummings met with President Donald Trump about drug prices, which both say are too high, Wednesday.
The letter questioned the $4,500 list price per two-pack of Auvi-Q. Most patients don't see that list price -- Kaleo has a program that covers the total cost for anyone making under $100,000 in yearly income, and insurance, PBMs and coupons also drive down its price. 
But the number is astonishing when you consider the list price per two-pack of Mylan's EpiPen is roughly $600, according to GoodRx. Again, most patients don't see that price -- with coupons, the price is about $300 per two pack, and insurance can drive it even lower. 
Grassley's letter asked why the list price of Auvi-Q is so high, and what entities in the healthcare system have agreed to pay the list price. But most major players, includingExpress Scripts (ESRX) and Cigna (CI) have said they will not cover this pricetag.
Grassley has vocally questioned Mylan's pricing of EpiPen several times since August.
"In the case of EpiPens, I am concerned that the substantial price increase could limit access to a much-needed medication," Grassley wrote to Heather Bresch, chief executive officer of Mylan, in August. "In addition, it could create an unsafe situation for patients as people, untrained in medical procedures, are incentivized to make their own kits from raw materials."
Mylan's shares barely moved on news that Grassley was hammering Kaleo with questioning. They closed Wednesday at $43.47 apiece. Kaleo is a privately owned company. 
A third player in the epinephrine autoinjector space, Impax's (IPXL) shares saw a nice boost Wednesday, though this was on separate news of a strategic review. The generics company makes a generic version of an EpiPen competitor called Adrenaclick.
Reuters reported late Tuesday that Impax had engaged Morgan Stanley advisers to undergo a strategic review. Shares popped 3.03% to $9.40 apiece on the news Wednesday. 
Kaleo could not be reached for comment Wednesday.