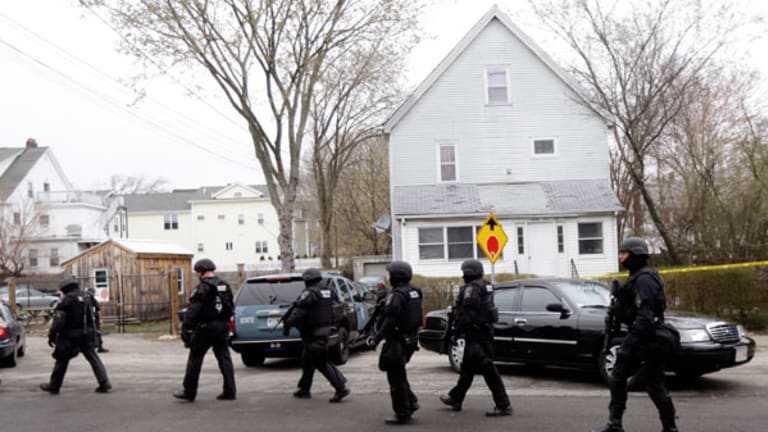 Boston Police Hunt for Second Suspect in Marathon Bombing: Reports
Police in Boston are hunting a suspect in the adjacent city of Watertown, according to the Boston Herald.
This story has been updated with information about the manhunt in Cambridge and Watertown, Mass.
NEW YORK (
) -- Police in Boston were hunting for a second a suspect in Monday's
focusing their attention in Cambridge and the nearby adjacent city of Watertown, according to press reports from the
Boston Globe
and
Boston Herald
.
SWAT teams and FBI agents were going door-to-door in Watertown in pursuit of Dzhokhar A. Tsarnaev, 19, one of two suspects identified as allegedly planting the bombs that killed three people and maimed scores of bystanders and runners, a government official told the Globe. All vehicular traffic has been banned in Watertown while public transportation in and around the metro area has been suspended, according to the report.
The Herald
reports that residents in Boston, Watertown, Cambridge, Newton, Waltham, Belmont and elsewhere have been ordered to stay home with doors locked.
Early on Friday, another suspect, Tsarnaev's brother, Tamerlan, 26, was killed in a firefight with police and FBI agents following the shooting of a university officer, according to reports from the
Boston Globe
and
Associated Press
.
The
AP
reported that the suspects are from a Russian region near Chechnya, which has been plagued by an Islamic insurgency. Dozens of police also raided a home in Cambridge where the brothers were believed to have lived, the report said.
-- Written by James Rogers in New York.
>To submit a news tip, send an email to: