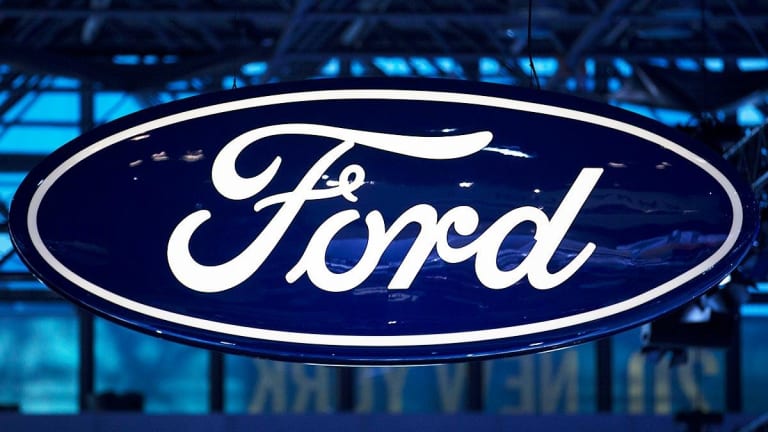 A Play on Frail Ford Into Wednesday's Earnings Report
Given that protection is priced so cheaply, be sure to hedge this risky trade.
Growing up in the shadow of Shea Stadium, I remember being so excited when my beloved New York Mets had traded for Willie Mays in 1972. My Mother, an avid New York (baseball) Giants fan from their days in Gotham was just as excited as I. (My Dad is a Yankees fan.) We understood that the "Say Hey" kid was a great ballplayer. We did not understand that for Willie, the sun no longer shined brightly on center field.
The Ford Motor Company (F) - Get Ford Motor Company Report is expected to put their third-quarter results to the tape after the final toll of the bell at 11 Wall Street on Wednesday afternoon. Consensus expectations are for EPS of $0.28 on revenue of $33.3 billion. There are some whispers out there that EPS will come in higher than that. Will a simple beat be enough? Let me ask you something. How attractive does taking an equity stake appear for a name currently sporting both a forward looking P/E ratio of just 6x, as a 7.1% dividend yield? Eek. The Cat.
My guess is that you may have noticed this name traded at a multi-year low on Friday in response to the downgrade from Overweight to Equal Weight at Morgan Stanley. Morgan also cut the firm's target price from $14 to $10, while analyst Adam Jonas opined on the potential for tens of thousands of job cuts at Ford.
The Chart
Despite Current and Quick Ratios that remain above the key "one" level, the firm, as of the second quarter, has seen year over year erosion in sales, margins and cash on hand, all while total debt has been on the rise. Levered Free Cash Flow? Yes, that's a minus sign. The point is that this firm was suffering even before these current trade conflicts kicked into a higher gear -- and domestically, the U.S. economy, though robust at a headline level, appears to be past peak autos (and housing and retail).
--Get Market Recon delivered to your inbox every day.
The stock does not have a lot of downside left, and the share price could benefit from the reduction of overhead, unless that reduction comes in the form of a dividend cut going forward.
By the way, if you are already long these shares, they will trade ex-div today, payable December 3. That payment is fine, but I mean moving ahead, the dividend does seem exorbitant.
There obviously is not a lot of nice things that one can say about this chart. The daily Moving Average Convergence Divergence, Relative Strength and Money Flow are all ugly with a capital "U". The Pitchfork, if held through not only earnings, but to the end of November, suggests eventual $8.25 resistance, as well as support that could drop to levels in between $7.50 and$ 7.75.
I do not feel comfortable buying this stock, and shorting this name could blow up on the trader very easily on the slightest positively perceived news. Fortunately for short sellers, only a rough 3% of the entire float is held in short positions, so this is not a crowded trade, but if going that route, the trader will surely need to hedge the position. Here's how.
Trade Idea (minimal lots)
--Sell Short 100 shares of Ford Motor at or close to the last sale of $8.50;
--Purchase one Oct 26 $9 Call Option (last: $0.05); or
--Purchase one Oct 26 $8.50 Call Option (last: $0.16).
Given that protection on this trade is priced so cheaply, this is one time where I would not oppose the use of options in order to mitigate risk overtly, rather than to simple manipulate net basis. If the equity trade is carried forward, I would suggest maintaining the hedge throughout the life of the position.
At the time of publication, Guilfoyle had no position in the stocks mentioned.