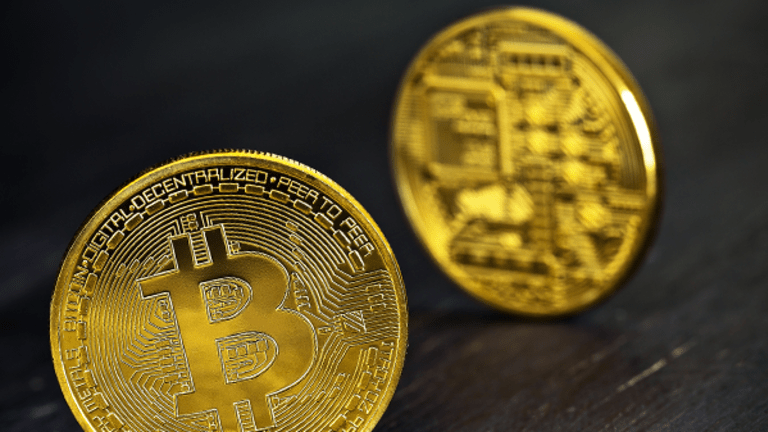 Nvidia's Stock Is a Great Way to Invest in a Historic Day for Bitcoin
Nvidia has the better chart over AMD to play the historic Bitcoin split.
The cryptocurrency world is making history on Tuesday, after news hit that a second version of Bitcoin called Bitcoin Cash will start live trading Tuesday.
Basically, Bitcoin split Tuesday morning in a technical move called a "hard fork." However, not everyone will get to participate in the Bitcoin split since not all of the exchanges, or bitcoin-storage services, are honoring the split. Nevertheless, this news is sure to heat up the cryptocurrency market once again, since the new Bitcoin Cash will be faster at processing transactions than the original Bitcoin.
At last check, Bitcoin was trading at $2,6716, or up 1%, and Bitcoin Cash was trading at around $641, or up 197%.
It's hard to predict how the cryptocurrency markets will adjust to the Bitcoin split until we see at least a few weeks or months of trading. So, if we turn to the equities markets, there are two names that have been clear-cut winners of the crypto madness. Those names are Nvidia Corporation (NVDA) and Advanced Micro Devices Inc. (AMD) .
Both of these names are winning off the crypytocurrency trends, since they produce graphic cards that are flying off the shelves for the purposes of crypto mining. Let's turn to the charts for both and see what could be coming for the graphic chips players.
First, let's look at Advanced Micro Devices. This stock has been in a strong uptrend since its May low of $9.85 a share to its recent high of $15.65 a share. This stock recently attempted to break out above some key overhead resistance at $15.55 a share. That breakout failed, since shares of Advanced Micro Devices reversed lower after touching a high of $15.65 a share.
Shares of Advanced Micro Devices are now trading around some key uptrend line support. This stock is either going to find some buying interest right here, and get back into its uptrend and potentially re-test that recent high of $15.65, or there's some risk it breaks below that uptrend line and trades back down to either its 50-day moving average of $12.79, or its 200-day moving average of $11.56 a share.
Now let's take a look at the chart for Nvidia, which I prefer of the two. Shares of Nvidia recently attempted to break out over some major resistance at $168.50, but it only made it as high as $169.93 a share, before reversing lower back to it 20-day moving average. Shares of Nvidia have not pulled back as deep as Advanced Micro Devices did after failing its breakout.
Bitcoin Is About to Have the Biggest Moment in Its History: Market Recon
The accumulation/distribution line momentum indicator remains in very bullish territory for shares of Nvidia, which demonstrates the stock is still in control by the bulls. I would look to play Nvidia off the Bitcoin split news for a potential breakout trade into new 52-week high territory.
Traders should look for long-biased trades in Nvidia if it manages to clear some key near-term resistance levels at $165 to its 52-week high of $169.93 a share with strong volume. Look for a move or close above those levels with volume that hits near or above its three-month average action of 22.70 million shares. This stock also looks buyable on dips toward its 20-day moving average at $160.68, or its 50-day moving average of $153.27 a share. I would avoid this trade all together, if the stock closes back below its 50-day moving average.
If that breakout hits soon, some possible upside targets are $175 to $180, or even $185 to $190 a share. Ultimately, if this breakout hits and Nvidia continues to trend into new 52-week-high territory, we should see a $200 print before the end of the year.
More of What's Trending on TheStreet:
Apple Is a Secret Undervalued Bank, and Billionaire Warren Buffett Will Be Laughing All the Way
Here's Your Buy Signal in Amazon! -- It's Happening Right Now
This article is commentary by an independent contributor. At the time of publication, the author held no positions in the stocks mentioned.