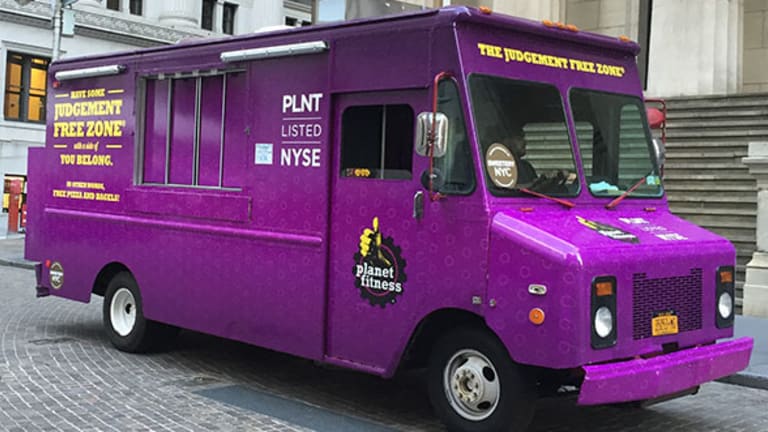 Planet Fitness Stock Will Slump -- You Should Sell It Short Now
As majority owner TSG Consumer Partners dumps shares of Planet Fitness (PLNT), investors would be wise to consider selling short this stock.
Planet Fitness (PLNT) - Get Planet Fitness Inc. Report has an unsustainable business model and is highly leveraged. Increased competition from similar gyms and other kinds of fitness centers will push this stock lower in the short term. Investors would be wise to sell short shares of this company.
The fitness-center industry is a highly competitive and fragmented one. Planet Fitness has marketed its gyms as a "Judgement Free Zone" in an effort to attract a wide variety of members, not just those with ripped biceps and six-pack abs. The company has also touted its low-price model.
Other gyms, however, including Crunch and Retrofitness, are using a low-price model to attract new customers. That increased competition is likely to be a major threat to Planet Fitness' business. 
The fitness-center model has been rapidly changing, too. More traditional gyms featuring cardio and weight equipment have been challenged by CrossFit "boxes," SoulCycle and spinning locations and boot camps -- all of which don't require the type of upfront and fixed costs as a traditional gym. Niche fitness products and programs have done extremely well in recent years, and while the names of these fitness fads may change, their threat to the traditional gym model will not.
Planet Fitness has frequently mentioned a goal of having 4,000 gyms in the U.S. This figure is unrealistic when you think about the numbers. If a typical Planet Fitness gym has approximately 6,600 members, 4,000 gyms would have more than 26 million members. 
To put that in perspective, the International Health, Racquet & Sportsclub Association states that there are currently 34,460 clubs across the U.S. serving approximately 54 million members. Even assuming that not every gym-goer is in Planet Fitness' target audience, it is not realistic for Planet Fitness to believe it can attract such a large percentage of existing gym attendees.
There's another reason to sell, though. TSG Consumer Partners, a private-equity firm that took a majority stake in Planet Fitness in 2013, is continuing to unload its shares of the gym chain. TSG filed Thursday with regulators to sell 8 million shares on Friday. That block sale comes after TSG Consumer Partners filed at the beginning of September for the ability to sell its remaining stock in the company over the next two years.
Although TSG Consumer Partners did not disclose the purchase price of its of its majority stake in Planet Fitness, court documents in a lawsuit involving Planet Fitness pegged it at $505 million.
Having those 8 million shares floating around the market over the next few weeks is likely to put pressure on the stock's price.
What's more, investors should note that Planet Fitness is highly leveraged. Shareholder equity is only $18.6 million, according to the company's latest quarterly report filed with regulators, while quarterly net income attributable to shareholders was only $4.1 million. Meanwhile, the company has $478.0 million in long-term debt on its balance sheet. 
Planet Fitness has a high percentage of intangible assets on its books. Intangible assets and goodwill add up to $440.7 million and make up 57% of the company's total assets, according to the latest quarterly report. Planet Fitness' intangible assets include $146.3 million for brand and trade names. Another major intangible is "customer relationships," which is carried as an $106.6 million asset. 
Not much about Planet Fitness makes sense for investors. Heavy upfront costs and an antiquated gym model are not competitive in the current atmosphere of low-cost gyms like Crunch and newer niche fitness centers like CrossFit "boxes" and SoulCycle studios. With TSG Consumer Partners unloading its stake, the stock doesn't appear to have an attractive price point. These pressures make Planet Fitness an attractive short opportunity, and I have established a short position in the stock.
This article is commentary by an independent contributor. At the time of publication, the author held a short position in PLNT, which means the author will profit if the stock's price declines.