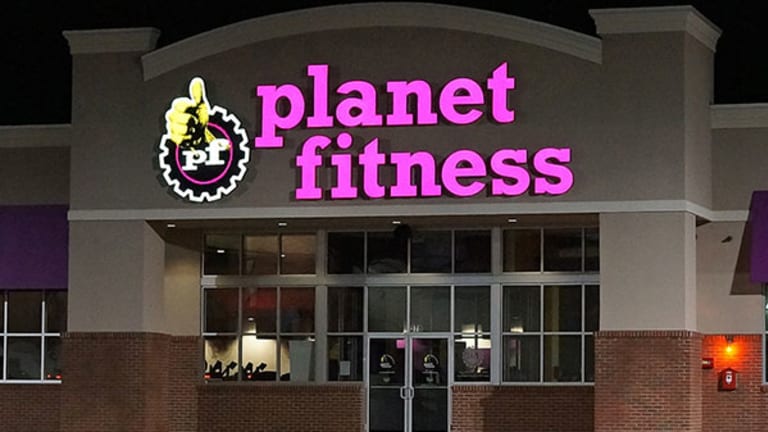 Planet Fitness CEO Sees More Gyms Opening for 2017
CEO Chris Rondeau expects more people will flock to more of Planet Fitness' gyms in 2017.
With 2017 only a few days away people all over the world will be making their New Year's resolutions, with health and fitness concerns taking the number one spot in people's minds.
Planet Fitness (PLNT) - Get Report is a franchisor and operator of gym centers in the U.S., and the company is expecting a New Year's boost in new subscribers and current members from the January to April months. Company CEO Chris Rondeau appeared on Thursday morning's "Squawk on the Street" on CNBC to discuss Planet Fitness' expectations for 2017.
"Eighty percent of the U.S. population doesn't have a health club membership," Rondeau said. "So with our affordability and atmosphere, it's just really top of mind coming out of Jan. 1."
One criticism that analysts have about Planet Fitness is whether or not the individual stores have enough space for its high number of members. The fitness company has 8.7 million members with around about 1,000 stores.
"We're open 24 hours a day at most of our stores. So usage is very spread out. They're big stores, they're 20,000 square feet [with] tons of cardio [equipment]. Almost upwards of 100 pieces of cardiovascular equipment, which is mostly what our members are using. [There's] a lot of circuit equipment."
What makes Planet Fitness appealing and allows the individual stores to cater to its large number of members is that people are able to come and go as they please. People aren't coming in for the "big balloon classes," which allows the company to service more customers.
CNBC anchor Wilfred Frost pointed out that Planet Fitness tends to stay away from the more trendy fitness crazes, and asked the CEO if that makes it more difficult for the business.
"No, I really think when all this excitement comes around, whether it's wearables or SoleCycle and things like that, when tides rise all ships rise," Rondeau responded. "I think it's good for the industry and just America in general."
One trend that is helping Planet Fitness is the duel membership. Consumers will pay the high cost of going to a SoleCyle class or something similar, but then supplement that with a $10 per month Planet Fitness membership, because you may not want to take a cycling class every time you look to work out, he said.
Looking to 2017, Planet Fitness has plans to move forward in expanding the business. At the moment there are 1,200 Planet Fitness gyms open in the U.S., Canada and the Dominican Republic. he expects to "open about 200 [stores] a year. Ninety percent of our units are opened by an existing franchisee. So it's not a onesie-twosie system. They're opening their tenth, their twenty-fifth store today. So they're excited about the brand, excited about the business and moving forward."