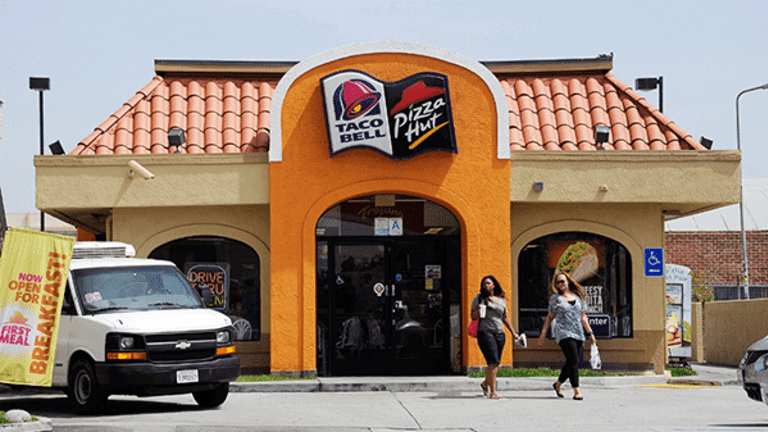 Pizza Hut to Deliver 15 Degrees Hotter Pizza on National Pepperoni Pizza Day
The No. 1 pizza chain in the U.S. is trying to beat back Domino's, which has gained share as Pizza Hut has lost it.
Low NFL ratings could weigh on Yum Brands Inc.'s (YUM) - Get Report attempts to turn around its Pizza Hut chain, which is implementing faster delivery times, hotter delivery bags and more consistent pricing as it's set to be overtaken by Domino's Pizza Inc. (DPZ) - Get Report as America's most popular pizza chain.
Excluding Monday Night Football, NFL ratings are down 13% year-over-year in week one of the season, Nomura analyst Mark Kalinowski wrote recently after a Yum Brands analyst meeting. That's one of the factors prompting him to reduce his expectation for Pizza Hut's same-store sales forecast to a 2% decline year-over-year, while he previously expected sales to be flat. In the fourth quarter, he now expects sales to be flat, while he previously predicted Pizza Hut would manage a 3% increase.
Pizza Hut's management touted recent efforts at Pizza Hut, including an improvement of six to seven minutes in delivery speed due to an "updated delivery algorithm" and mapping help from Google (GOOGL) - Get Report . The chain is also expanding the use of a new delivery bag, which is currently in use at about half of its U.S. units but should be in use across the country by the end of the month. The new bag, which Kalinowski said management called "the biggest improvement to our food in years," keeps pizzas 15 degrees hotter.
One challenge at Pizza Hut is inconsistent pricing, Kalinowski wrote.
"Pizza Hut U.S. has been on about two dozen different price points the last five years, with management admitting this has left consumers with a value impression of Pizza Hut that has been hampered," he said. Its new "everyday value" propositions include the two-topping large pizza for $7.99 introduced in March. "A much more consistent price-point approach would serve Pizza Hut well, in our view," Kalinowski added.
Another priority at Pizza Hut: focusing on delivery instead of eating in.
About half of Pizza Hut's locations have a dine-in component and were built for an even mix of eating in and taking out. Kalinowski expects that over time, Pizza Hut will transition to 100% "delcos," a company abbreviation for Delivery and Carry Out. The transition would help Pizza Hut expand in the suburbs, where Kalinowski believes the company "remains relatively underpenetrated despite having more U.S. units overall than any of its pizza-sector rivals." Pizza Hut management also believes it's "significantly underpenetrated" in major cities like New York City, Boston and San Francisco, he added.
Some Pizza Hut units "are not in the right location," Kalinowski quoted its management as saying, and this "real-estate issue" could take five to seven years to fully fix in the U.S.
Corporate parent Yum Brands, which also owns Taco Bell and KFC, is kicking in $130 million to Pizza Hut's "Transformation Agreement," with the possibility of further cash. The investments in Pizza Hut's turnaround could top $300 million over time, "with a considerable chunk of this monetary investment coming from franchisees," Kalinowski wrote.
Pizza Hut's transformation comes as rival Domino's is set to supplant it as the most popular limited-service pizza chain in the U.S. According to Technomic data, Pizza Hut's market share in 1995 was 25%, while Domino's, the second-largest pizza chain, held an 11% share. By last year, Pizza Hut's market share had shrunk to 14.3%, with Domino's closing in at 13.6%. Kalinowski believes Domino's will close the gap before the end of the year.
Kalinowski reiterated his Buy rating and $85 price target on Yum Brands' stock. Pizza Hut, which generates $12 billion in annual sales worldwide, accounts for about 20% of its parents' operating income. Shares fell 1.1% to $76.31 in Friday morning trading but are up about 20.6% year to date, above the S&P's 11.5% increase during the period.
Happy National Pepperoni Pizza Day.
Alphabet is a holding in Jim Cramer's Action Alerts PLUS Charitable Trust Portfolio. Want to be alerted before Cramer buys or sells GOOGL? Learn more now.
Don't miss these top stories on TheStreet: