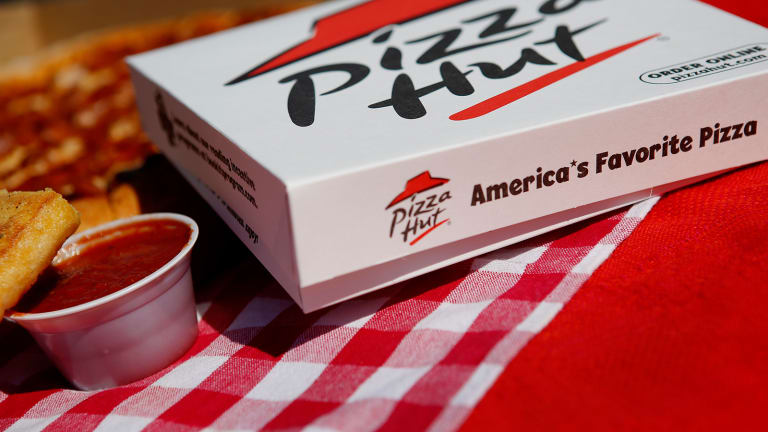 Pizza Hut Is Hiring 14,000 New Delivery Drivers as It Tries to Become the Pizza King Again
The company behind 'America's favorite pizza' is revving up its engines.
Yum! Brands' (YUM) Pizza Hut is preparing itself for faster delivery with plans to hire 3,000 new drivers a month for the rest of the year.
In total, the effort will bring in 14,000 new full- and part-time delivery driver positions, Pizza Hut said in a statement on Tuesday, July 18.
Plus, the company is launching an enhanced delivery tracking system, the Delivery Network Algorithm or "DNA." Pizza Hut said DNA monitors outside factors that could delay a delivery such as weather and traffic and then alerts customers during the trip when estimated wait times are extended or shortened.
DNA, which is now being used at all of Pizza Hut's 6,300 restaurants in the U.S., also helps drivers find alternate delivery routes, when necessary, to avoid traffic and construction, according to the company.
"We have a belief that, 'No One OutPizzas the Hut,' and for us that's so much more than a tagline. It's a promise that we are making to our customers," said Artie Starrs, president of Pizza Hut U.S., in a statement.
"We have been in the service business for almost 60 years, and our commitment to providing the best, most reliable delivery service and overall experience is as strong now as it ever has been," Starrs continued. "It has to be, because the customer expects that from us."
Pizza Hut Chief Operating Officer Nicolas Burquier said that the company is "serious" about its focus on change.
At a recent consumer conference at RBC Capital Markets, Greg Creed, the CEO of Yum, Pizza Hut's parent company, commented that Pizza Hut's main issue is rooted in its outdated delivery services, which is easier to fix than if the chain had a "product problem."
Pizza Hut, which has fallen behind rivals Domino's Pizza Inc. (DPZ) and Papa John's Int.'l Inc. (PZZA) in the digital realm, has consistently seen its same-store sales decline while Yum!'s Taco Bell and KFC brands post positive comparable store sales. In Yum!'s most-recent quarter, Pizza Hut's same-store sales dived 7%.
More of What's Trending on TheStreet:
Amazon Files Trademark to Get Into Meal Kits, Continuing to Haunt Blue Apron