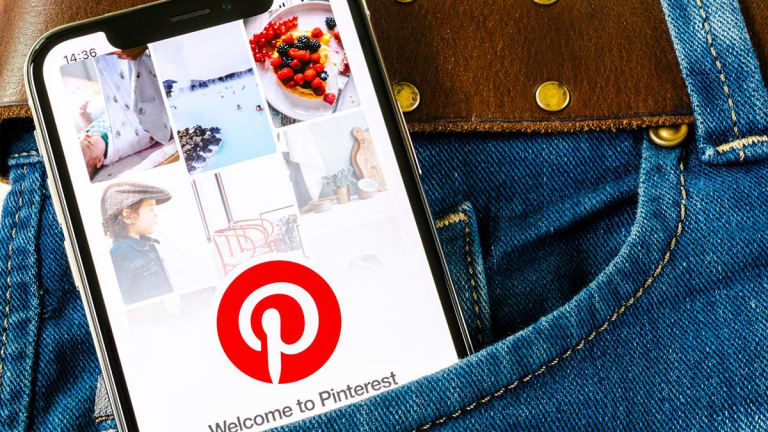 Pinterest's Simple Privacy Controls Could Be a Key Competitive Advantage
A relative lack of regulatory risks is a plus for Pinterest investors, according to one analyst.
Are we looking at a new golden age of social media stocks?
Shares of Pinterest (PINS) surged nearly 18% after the scrapbooking platform posted a blowout quarter on Thursday, beating both top-  and bottom-line projections. Loss per share came in at 6 cents, narrower than Wall Street's expected loss of 8 cents and a significant improvement over the year-ago quarter's loss of 27 cents. Revenue was $261 million, growing 62% year-over-year and beating analyst's estimates of $236 million.
In a note on Friday, D.A. Davidson analyst Tom Forte wrote that Pinterest may have a competitive advantage over bigger players in the realm of social media and Internet services. 
"We believe, Pinterest's privacy-related strategy provides it a competitive advantage against Facebook and Google, which is becoming increasingly important in today's global regulatory environment," Forte wrote.
That was partly in response to a comment by Pinterest CEO Ben Silbermann on its Thursday investor call, where he described the firm's philosophy on making privacy controls extremely clear, such as disabling recommendations or making a board private. 
"We think that's what consumers want, that's what we hear from them and we're committed to as we build products in the future, maintain that philosophy of clarity, control and value exchange," he said. 
As Alphabet, Facebook and others face increasingly regulatory pressures in the U.S. and elsewhere, including the specter of a federal privacy law, antitrust investigations and otherwise, Silbermann isn't the only tech executive highlighting his company's privacy cred to investors. 
On a recent earnings call, Snap's (SNAP) chief business officer Jeremi Gorman sang a similar tune, telling investors: "All-in, we're really comfortable with our position because of the regulatory notions and privacy concerns like those discussed in GDPR. Those have been embedded in our principles since the beginning as a company." Snapchat's business is grounded in so-called ephemeral messaging. 
Nowadays, a relative lack of regulatory risks is almost certainly a plus for investors, who have reacted positively this year to niche social media stocks like Pinterest, Snap and Twitter (TWTR) . Pinterest is up 13% since its April IPO; Twitter shares are up 46% and Snap's stock is up a whopping 188% since the beginning of this year.