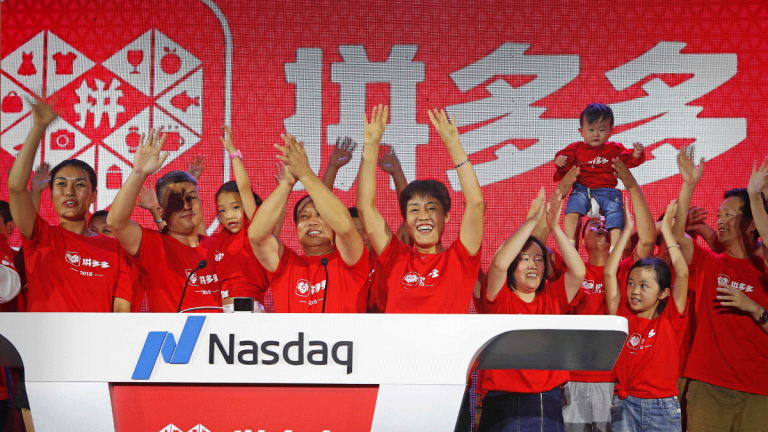 Pinduoduo, at Half a Billion Users in China, in No Rush to Conquer Rest of World
China's rising star in e-commerce is not in a hurry to expand beyond its home market, says its head of strategy, David Liu, as the company continues to find lots to do with nearly half a billion users in China.
Chances are most U.S. investors haven't heard of Chinese e-commerce outfit Pinduoduo (PDD) - Get Free Report , but in just four years it's already become the second-largest e-commerce platform in China based on annual active users, behind giant Alibaba BABA but ahead of JD.com. (JD) - Get Free Report
Even though it has designs on eventually exporting its group-buying model to the rest of the world, right now it's in no hurry, according to the company's vice president of strategy, David Liu, who spoke with the TheStreet following Wednesday evening's better-than-expected earnings report.
"At some point, we want to go abroad, we are still thinking very hard about how to do that, but at this point, 100% of our energy is focused on the domestic market, because there's still tremendous potential ahead," Liu told TheStreet. "Spending time and being focused in China will pay a very good return to shareholders."
Certainly, the numbers, reported overnight Wednesday, support the contention there's lots of business to be had in China. Pinduoduo's revenue rose a whopping 169%, year over year, to 7.29 billion renminbi, the equivalent of $1 billion. That topped expectations for 6.15 billion, despite the company continuing to spend at a break-neck pace to build its brand in China, with $889 million in sales and marketing outlay in the quarter, a doubling from the prior-year period. 
The company's "gross merchandise value," the total value of goods and services transacted via its app, in the twelve-month period ended in June rose by 171% to 709 billion renminbi, roughly $100 billion, during the quarter. 
Wednesday's stronger-than-expected numbers had the result of boosting Pinduoduo's American Depository Shares 18% to a recent $30.59. It is now up 36% for the year, which is significant given that the stock had lagged the broader market all year up till the report (the shares are up roughly 15% since the first-day close of their initial public offering in July of last year.)
Pinduoduo's challenge is not only keeping ahead of the efforts of Alibaba and JD.com  (JD) - Get Free Report to co-opt its particular flavor of consumerism, but also to not lose its distinct shopping-as-a-game  approach. Many e-commerce outfits start out with a cool gimmick, a novel twist on buying and selling, but lose that edge over the years and eventually turn into just another mass merchandiser.
If anything, the company's marketplace appears to be gaining momentum. Pinduoduo's user base last quarter topped 366 million monthly active users, and a total of 483 million annual active users over the trailing twelve-month period, increases of 88% and 41%, respectively. That 483 million annual number compares to 674 million for Alibaba and 321 million for JD, as of their most recent reported quarters.  
Pinduoduo has access, moreover, to consumers that may not be accessible to Alibaba. There are about 800 million Alibaba shoppers who access Alibaba's marketplaces through the "Alipay" app on phones, says Liu, but there about 1 billion users that can access Pinduoduo via the social media app WeChat, owned by Chinese internet giant TenCent (TCEHY) , which is a major investor in Pinduoduo. "That has also been a great source" of new users for the company, Liu says.  
Pinduoduo, whose name in Mandarin translates as "together more, more," has in effect "gameified" the shopping experience. Users who go on the company's smartphone app are presented with a continuous feed of product listings, rather like a social media app. They see one price for a regular purchase of an item, but a second, lower price if they can convince one or more people to buy the item with them at the same time. The company's founder, former Google engineer Colin Huang, has likened the experience to a combination of "Costco and Disneyland," meant to suggest big deals but also an amusement value.
The obvious risk to this strategy is that many e-commerce companies have tried gimmicks of one kind or another over the years, only to see those attempts unravel. Priceline was once the "name your price" place to fly, as long as you were willing be flexible with your travel dates and times. Now Priceline (BKNG) - Get Free Report has become just another travel booker like Expedia (EXPE) - Get Free Report and others. Groupon (GRPN) - Get Free Report  was once a popular group-buying site, but is now a shell of its former self.
One aspect that may help Pinduoduo is that it is working to make the gaming aspect integral to the supply-and-demand dynamics in China. By getting buyers to buddy up, the company is able to help suppliers, who number 3.6 million on the platform, to better plan not just their delivery but also the whole production system, based on a kind of forecasted demand.
"Because we have access to a large amount of consumer behavior, and we have the ability to aggregate demand, to some extent we can predict where the demand will be," says Liu. "And we have a sense of producers' production schedule, and we can influence or help optimize that production." That goes not just to the vast factory network of items "made in China," but also the rural communities where farmers have to plan the harvest. "It's totally inefficient; there is no control over the cost structure," says Liu. 
Pinduoduo actually advises some farmers on the platform what crops to plant and when to harvest it. "We will spend time with farmers, to tell them the type of fruit they should be planting, and when to pick," notes Liu. "Today, all that goes through layers of distributors, which means things have to be picked early in order to get to consumers," which obviously raises the risk of either unripe or rotten produce by the time things get to market. "We can shorten the chain, we can even do away with the whole chain" of elaborate distribution, says Liu.
In other words, Pinduoduo wants to solve the logistics problem not by building warehouses, but instead by changing the patterns of production and consumption that lead to a bottleneck in bringing goods to market in a timely fashion. But the company is still fighting to change its reputation as a vendor of cheap, lower-quality goods. A company representative spent a substantial amount of time by phone explaining to TheStreet the vigorous efforts Pinduoduo uses to fight counterfeit goods on its site. They include seizing vendors' deposits by up to ten times the value of fraudulent goods sold, the company says. 
And Pinduoduo is also trying to recast its image as a retailer catering and appealing only to the smaller towns in China. The company this quarter repeatedly emphasized that 48% of its GMV comes from China's largest "Tier 1 and 2 cities," up from 37% in January.  
Asked if the company can track how its shoppers are trending over time and whether they're sticking with the platform, Liu replied, "We don't disclose that data, but obviously, we see that data." The average consumer who's been on Pinduoduo for a year is spending at a rate "much higher than a new user a year ago," he says. Still, the average outlay for an "active buyer" is just 1,487 yuan ($209), over a twelve-month period, which Liu notes is well below the 4,000 yuan ($564) spent by a JD.com user and the 8,000 yuan ($1,127) or so spent on Alibaba.
"The reason spend is increasing with us is that buyers have much greater confidence in us and they are transacting for higher and higher-valued items," says Liu.
One thing that's not a priority for the moment is profit. The company had an operating loss of $217 million on that billion in revenue in the quarter. Asked when profit will come into the picture, Liu replied, "We continue to invest in building a user base, in yielding great GMV, and a great return in terms of revenue; the cost structure is straightforward, and it is a matter of time [until profit], but at this point it is not a priority for us." 
This article has been updated to clarify the relationship of Alipay to Pinduoduo.
Save 57% With Our Labor Day Sale. Join Jim Cramer's Action Alerts PLUS investment club to become a smarter investor! Click here to sign up!
Amazon is a holding in Jim Cramer'sAction Alerts PLUS Charitable Trust Portfolio. Want to be alerted before Cramer buys or sells AMZN? Learn more now.
Tiernan Ray neither trades nor owns any shares of any companies mentioned in this article.