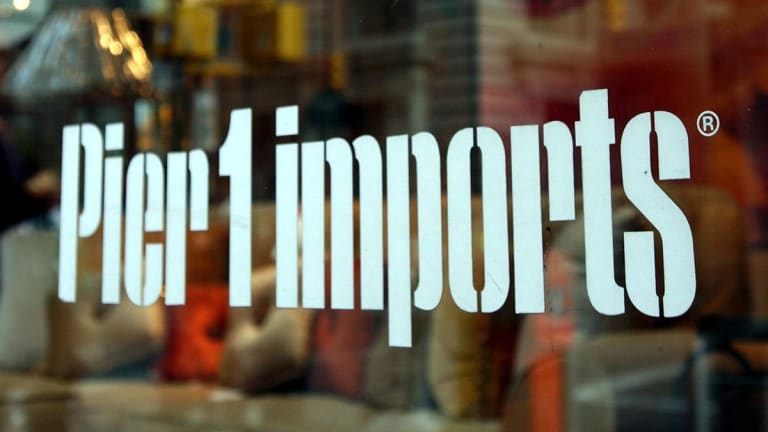 Rising Tide of Retail Stocks Lifts Pier 1 Stock Nearly 23%
Retail sector's rally pushes PIR up 22.6% just two weeks after NYSE threatened to delist the company.
This week's tide of good news for specialty retailers continued Thursday as long-struggling Pier 1 Imports (PIR) found itself in unexpected territory. A 22.6% rally in share price put it close to the top of the New York Stock Exchange gainers.
In significantly heavier than average trading, Pier 1 closed at $4.77 a share. This comes just two weeks after the NYSE warned the Fort Worth, Texas-based home-furnishings retailer was at risk of being delisted due to a low market capitalization.
On Aug. 8, Pier 1 disclosed that the NYSE had warned it might drop the stock because the company's shareholder equity and average global market capitalization were less than $50 million over a consecutive 30 trading-day period. That violates NYSE rules and represents All this is quite the fall for the once high-flying chain.
PIR stock traded as high as $28 in early March, giving it nearly half-billion dollar market cap. But six weeks later, the stock began a free fall after the company announced it would be closing 145 retail outlets in an effort to cut $100 million in costs.
Pier 1's market cap had been at about $25 million on average during the 30 days ended on Aug. 2, but Thursday's rally drove its market cap back up to $20.31 million. The gains also put Pier 1 on an impressive list of retailers whose stocks are doing well this week. Nordstrom (JWN) , Dick's Sporting Goods (DKS) , Target (TGT) , Home Depot (HD) , and Lowe's (LOW) -- have all reported better than expected earnings, sending their stocks into relief rallies.
Smaller retailers like PIR have risen as a result. But Jonathan Heller, retail columnist for our premium site Real Moneysaid Pier 1's Thursday rebound "does not mean much" given that the company recently did a reverse stock split and only had a $14 million market cap.
At the time of publishing von Hoffman held no positions in any of the companies listed in this article.