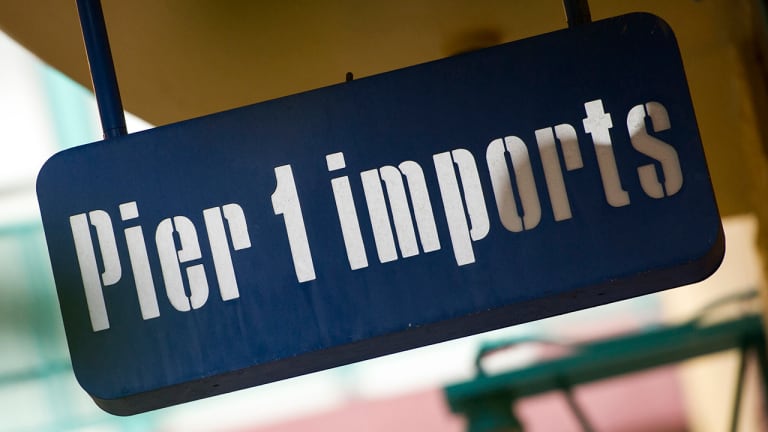 Pier 1 Imports Handily Beats Wall Street's Third-Quarter Expectations, Raises Guidance; Stock Soars
The home decor retailer said sales trends bounced back in the second half of November following the election, which allowed the company to top expectations.
Pier 1 Imports (PIR) - Get Report trounced expectations for the 2017 fiscal third quarter after sales trends rebounded following the November election with strength across nearly all of its product categories. The stock surged 35.34% to $8.77 in late-morning trading on Thursday.
The Fort Worth-based home decor retailer also boosted its full-year outlook and gave an upbeat view for the all-important holiday quarter.
"The Q3 EPS beat reflected a combination of strong post-election sales and better merchandise margins. Sales benefited from an easy compare, a step-up in marketing, and better web conversion as the free shipping threshold was lowered," Jefferies analysts wrote in a note. Better inventory management and an improved balance of promotions led to better gross margin, the firm added.
Gross margin was up 278 basis points above consensus estimates for an increase of 144 bps due primarily to improved merchandise margins. Gross margin expanded to 41.3% from 38.5% last year. Credit Suisse analysts said the magnitude of the gross margin beat was a "major surprise."
For the fiscal third quarter, the retailer reported comparable-store sales increased 1.8%, while the FactSet consensus was for a decrease of 1.1%. Pier 1 reported adjusted earnings of 22 cents per share, which handily topped analysts' estimates of 13 cents per share. Revenue fell 0.4% to $475.9 million from last year, but was above analysts' expectations of $466.4 million.
"Sales trends rebounded in the second half of November, following the election, which enabled us to deliver third-quarter results well ahead of our forecast," CEO Alex Smith said in a statement. "Our seasonal assortments are resonating with customers and we're seeing strength across nearly all our product categories."
The company now sees fiscal 2017 adjusted earnings per share between 37 cents and 41 cents, up from 24 cents to 32 cents per share. Analysts are projecting 27 cents per share for the full year, according to FactSet.
For the fourth quarter, Pier 1 expects adjusted earnings per share between 28 cents and 32 cents vs. analysts' estimates of 27 cents per share. The company reported a loss in the first and second quarters.
"We are encouraged by PIR's 3Q results and the company's ability to achieve positive, profitable growth this quarter," Nomura analyst Jessica Schoen Mace said.
But Nomura views the rest of fiscal 2017 with "cautious optimism" as about 30% of annual sales occur in the fourth quarter and Pier 1 is up against a significant amount of clearance activity in January vs. the year prior, she noted.
Pier 1 also appointed Chairman Terry London as its interim president and CEO effective January 1. Smith previously announced he would step down at year end. The company continues to search for a new, permanent chief executive.
"Headwinds persist for PIR. The company is now looking for a CEO to replace Smith. Competition within the home fashion sector remains stiff," Oppenheimer analysts said.
But the firm noted that third-quarter results were "surprisingly solid" and a "potential step in the right direction" for the company. Oppenheimer also pointed to sales growth across Pier 1, which strengthened meaningfully in later November.
More than 12.21 million of the company's shares changed hands so far today vs. its average 30-day volume of 2.30 million shares.