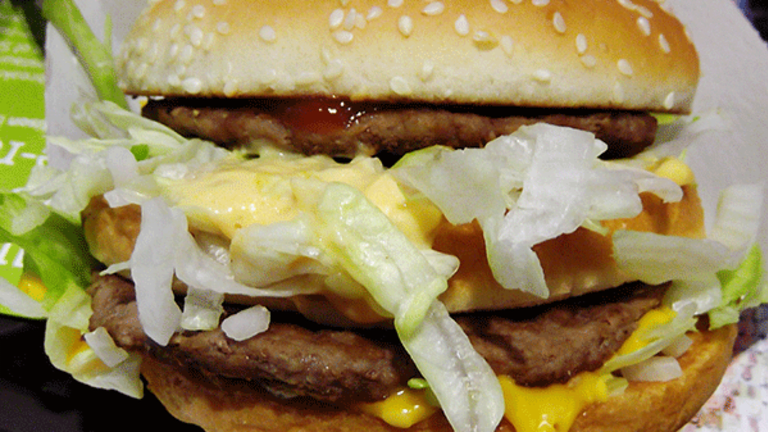 Pictures of McDonald's New Big Macs Are Already Sweeping the Internet
Here comes the latest caloric bomb.
Editors' pick: Originally published Jan. 17.
Updated with new photos.
People across the country are already stumbling across McDonald's (MCD) - Get Free Report all new Big Macs, which were originally unveiled last November and scheduled for an early 2017 launch. 
The Grand Mac, which rests on a larger sesame seed bun, is made with two beef patties that weigh in at one-third of a pound compared to a traditional Big Mac, which has two, 1.6-ounce beef patties. Think of this one as a supersized Big Mac. The Mac Jr. is a essentially a single-layer Big Mac, which may be more ideal for the hands of kids (great news, right?). Pictured below is Jim Lewis, owner of several McDonald's locations in New York City. 
Each sandwich has the traditional Big Mac sauce. 
McDonald's started testing the Grand Mac and Mac Jr. in more than 120 restaurants in the central Ohio and Dallas areas in April last year.
Ultimately, the new family of Big Macs doesn't do anything to move the iconic burger brand forward. Or, to play on McDonald's CEO Steve Easterbrook's tag line, the new Big Macs aren't "modern or progressive." For starters, both additions don't keep pace with the innovation being grilled up at upstart better burger joints such as Shake Shack (SHAK) - Get Free Report  or Smashburger.
Secondarily, McDonald's hasn't cleaned up its iconic Big Mac sauce. According to the McDonald's Web site, Big Mac sauce still has an astounding 32 ingredients, including the same high-fructose corn syrup that the company recently chose to omit from its sesame seed buns. The sauce also boasts as many as five preservatives (food additives) such as potassium sorbate and caramel color, which are quickly becoming relics of 1980s fast-food menus amid efforts by the industry to offer more natural ingredients to health-conscious consumers.
But hey, at least for a short time McDonald's has given diners something to talk about -- and post all over social media. Early reviews don't seem to be too bad, probably because these aren't really innovative new sandwiches.