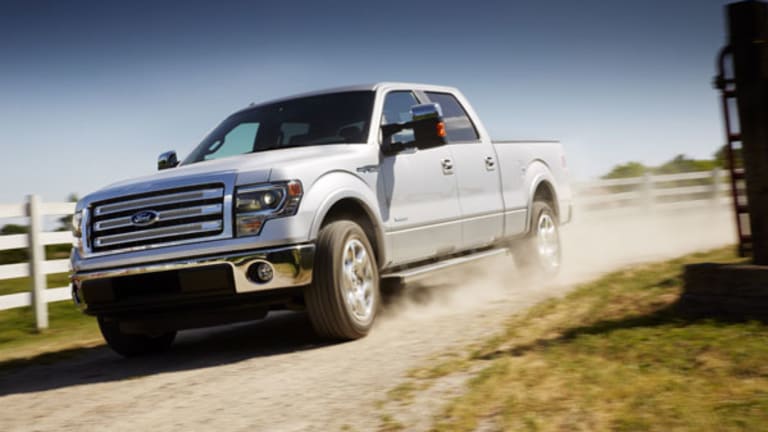 Pickup Demand Helps Ford, GM and Chrysler to May Gains
Increased pickup truck sales bring higher average transaction prices for Ford, GM and Chrysler.
Increased pickup truck sales bring higher average transaction prices for Ford, GM and Chrysler.
DETROIT (
) -- Continuing demand for new pickup trucks has the Detroit Three headed for strong sales gains as automakers prepared to report May sales on Monday. The sales gains are being accompanied by pricing gains, analysts said.
Forecasters anticipate that the overall sales gain for the month will be in the high single digits, with Kelley Blue Book at 6%, J.D. Power at 8% and Jefferies at 9%. Jefferies analyst Peter Nesvold projects that
Ford
(F) - Get Report
and
Chrysler
sales will gain about 10%, while
GM
(GM) - Get Report
will gain 7%.
Additionally, Kelley Blue Book expects
Toyota
(TM) - Get Report
to lose 1.5%, while
Nissan
(NSANY)
gains 20% and
Honda
(HMC) - Get Report
gains 3%.
"The big three will continue to benefit from a strong pickup truck market, with each domestic automaker anticipated to post gains slightly better than the overall industry average," said Kelley Blue Book analyst Alec Gutierrez in a prepared statement. "Growth in the truck segment has been driven by a jump in new-home construction, relatively affordable gas prices and high inventory levels."
Kelley Blue Book said full-size pickup trucks and compact crossovers will continue to drive the bulk of industry gains this month, with expected increases of 20% and 16%, respectively.
J.D. Power said the strong demand for pickup trucks is keeping average transaction prices at record levels. In the first 10 days of May, the average transaction price for all new vehicles was $28,921, the highest ever for the month and 3% higher than in May 2012, the firm said. It said higher prices are enabled by low monthly payments, a result of low interest rates; extended-term vehicle loans, for 72 months or longer; strong used vehicle values, which bring higher trade-in values; and lower new-vehicle lease payments.
"Collectively, these components mean that while industry new-vehicle transaction prices have risen by 19% during the past six years ($28,921 in May 2013 from $24,404 in May 2008), the average monthly payment for new-car buyers and lessees has increased only 3% ($455 in May 2013 vs. $443 in May 2008)," said John Humphrey, J.D. Power senior vice president, in a prepared statement.
J.D.Power affiliate LMC Automotive maintains its expectation for full-year light vehicle sales of 15.4 million, up from 14.4 million in 2012. "This is the time of year when the automotive industry holds its collective breath as the recent past has dealt with a spring slowdown in demand," said LMC analyst Jeff Schuster. "However, the current pace suggests full steam ahead for the second half of 2013."
-- Written by Ted Reed in Charlotte, N.C.
>To contact the writer of this article, click here:
Ted Reed